2018 Maserati Quattroporte GTS in India: Everything you need to know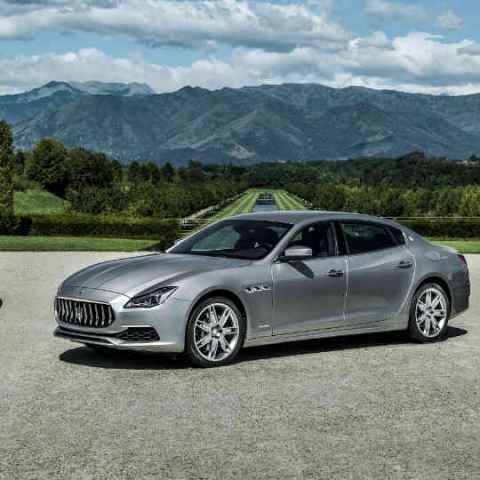 HIGHLIGHTS

The 2018 Maserati Quattroporte GTS comes with a Touch Control Plus infotainment unit, a 1280W 15-speaker Bowers & Wilkins audio setup, active headrests, and a 3.8-litre twin-turbo V8 engine that produces 530bhp and 710Nm of torque, mated to an 8-speed ZF automatic gearbox.
After announcing its first-ever SUV, the Maserati Levante, the Italian luxury carmaker has now launched its flagship luxury sedan – the 2018 Maserati Quattroporte GTS in India. The "fastest luxury sedan" comes to India in all of its glory, powered by a 3.8-litre twin-turbo V8 engine that produces 530 brake horsepower and 710Nm of torque, combined to an 8-speed ZF gearbox. The 2018 Quattroporte GTS was first shown at the 2017 Frankfurt Motor Show, and comes in two trims – the GranSport and GranLusso. As you'd expect, the Maserati Quattroporte GTS is priced at about Rs. 2.7 crore (ex-showroom, pan-India), which will vary depending on the kind of equipment that you choose to adorn it with.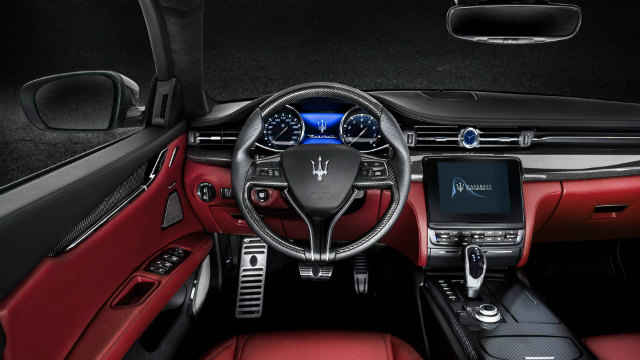 It also comes with a whole bag of technology, and becomes the first car apart from Volvo's new generation cars to comes with advanced driver assistance systems. The 2018 Quattroporte GTS' ZF-made gearbox is equipped with a microcontroller that adjusts the shifts and gear ratios automatically to match driving styles. The centre of the dashboard houses an 8.4-inch touchscreen LCD display, powered by the Maserati Touch Control Plus interface. It also includes physical control knobs alongside the touchscreen, and integrates a voice-based transceiver to operate the infotainment features with voice commands. It comes with an integrated Wi-Fi hotspot, along with built-in satellite-based navigation, Apple CarPlay and Android Auto. The digital instrument cluster is a 7-inch TFT display, which shows a digital speedometer and tachometer, alongside a central multifunction display panel. In terms of audio, you get to choose between either a 10-speaker Harman/Kardon setup with a 900W amplifier, or a 15-speaker Bowers & Wilkins setup with Kevlar-reinforced subwoofers and a 1280W amplifier, which is similar to what Volvo presents in the 2017 XC60 Inscription trim.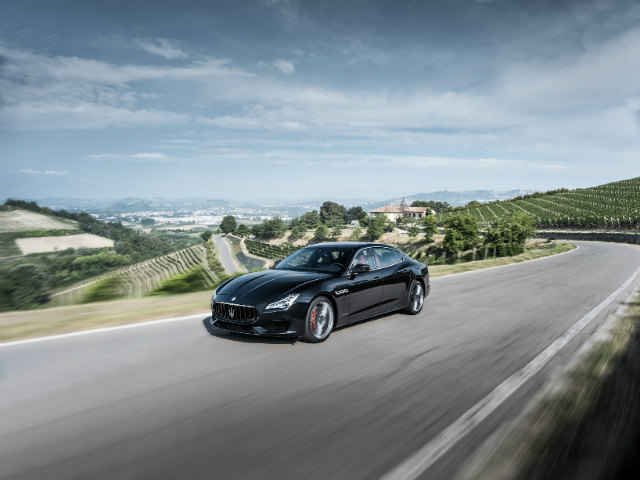 The advanced driver assistance systems in the 2018 Maserati Quattroporte GTS include advanced stability program, adaptive cruise control, stop-go traffic monitoring, lane keeping assistance, forward collision warning, active blind spot monitoring and rear cross path monitoring. All of these are enabled by the radar unit housed in the front grille, coupled with Maserati's own algorithms. Adaptive front headlights are included as standard equipment in both its trims. In its Q4 AWD trim, the Quattroporte also gets intelligent all-wheel-drive distribution that controls wheel slip, drive torque and power output to further optimise the drive. Inside, the front seats get 12-way power adjustment, seat heating, and memory slots for seats, steering wheel and door mirrors, along with massaging.
In terms of the design, the 2018 Maserati Quattroporte GTS GranLusso includes a front spoiler lip, chrome inserts on the front, 20" Mercurio light alloy wheels, black-painted brake callipers and soft-closing doors. On the inside, the GranLusso's wood-and-leather upholstery is curated by designer Ermenegildo Zegna, which fashion aficionados would relate rather well to. The GranSport, meanwhile, gets an optional carbon fibre package on the outside, along with red leather sport seats and sport steering wheel on the inside, along with glossy black wood on the central dash and stainless steel shifters. As has been the tradition in uber luxury cars, the 2018 Maserati Quattroporte GTS' dashboard also includes an analogue timepiece, similar to the Breitling timepiece on the Bentley Bentayga.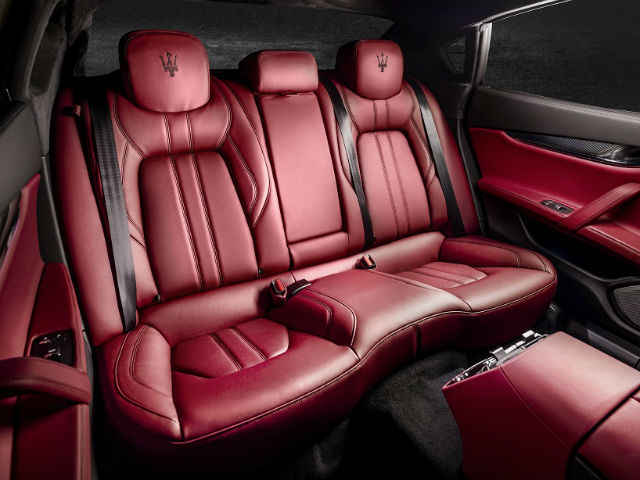 The 2018 Maserati Quattroporte GTS premieres in India just after its global launch in September, and will sell at an average price of Rs. 2.7 crore, depending on how much you'd want to splurge on customising it. Maserati has also stated that deliveries to its Indian customers will begin at the same time as in its international markets, even though it has been launched here three months later.
More photos