Price: Rs. 59.79 lac (ex-showroom, Mumbai);
Powertrain: 2.0-litre four-cylinder diesel, 190bhp/400Nm, 7-speed S-Tronic automatic gearbox, Quattro permanent all-wheel drive;
Fuel economy: 17.01kmpl (ARAI certified);
Pros: Smart styling, Top notch interior quality, Virtual cockpit looks great, MMI interface is incredibly smooth, Solid engine and smooth gearbox, Adaptive suspension makes ride smoother;
Cons: Lacks oomph, Steering wheel is too light, Lacks a bit of excitement, Audio system could have been better;
Rating: 4 out of 5
Talk to anyone about luxury cars in India, and there is not a single conversation that will go without mentioning Audi. Such has been the norm ever since the Indian car industry began to mature, and such has been Audi's consistency. With time, however, even the demand for luxury cars have grown, leading to far stronger competition from its key rivals. The Audi Q5, incidentally, sits squarely at the centre of all this.
The mid-budget luxury segment is a hotly contested one, and couple that with literally everyone wanting an SUV nowadays, you'd know why the 2018 Audi Q5 is such a crucial car. The mid-segment luxury SUVs are key to volumes and market shares for luxury car makers, and this is what makes it so very tricky for companies to get the balance of features, indulgence, drivetrain and technology just right, along with clever, conscious pricing.
Does, then, the 2018 Audi Q5 have adequate technology to be deemed future-ready? Does its German engineering precision match its rivals in terms of electronics, ergonomics and comfort? Let's find out.
Build quality, design and aesthetics
The first thing that you'll notice about the 2018 Audi Q5 are the taut lines running all along, spearheaded by the large, single-piece chrome grille with six distinct slats that lend a lot of character to the Q5's design. Every edge, crease and line are very straight and angular, giving the Q5 a solid, distinct appeal. The headlamp housing is now narrower than before, and the 2018 Audi Q5 actually manages to resemble its big brother, the Audi Q7, in overall styling.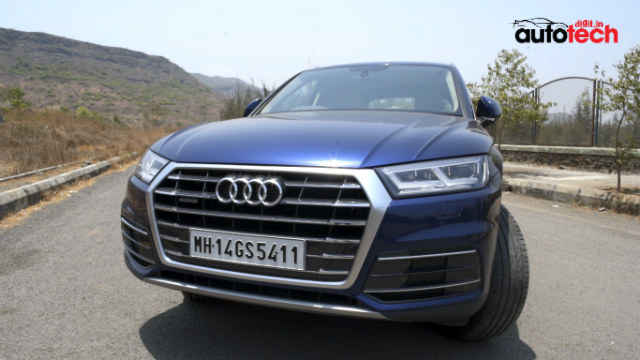 Move to the side profile, and the Q7-esque design language continues. It's all very minimalistic and trademark Audi in terms of design, and has a distinct sharp edge all along. The C-pillar has a sharp bend inward, and the tailgate has a distinct two-step texture that adds a nice fold to the design. The rear profile looks the most appealing according to me, although despite the presence of integrated roof rails, the side profile does look a bit too plain. It's good that the design is not too loud, but this feels a bit too muted. The rear scuff plate-mounted exhaust pipes look quite nice, and the 2018 Audi Q5 has a mature overall look to it. The new car has lost 65 kgs over its older generation, and looks visually less bulkier and more proportionate.
Inside, the story is more of the same. The dashboard, door panels and central column comprise black leather, a running strip of wood and beige soft touch plastic elements. Everything has a straight-laid approach, which also means that there is not much flair in terms of the interior's design. It feels a bit bland compared to what the new-generation BMW X3 and the 2017 Volvo XC60 provide, at least in terms of flair. What you cannot fault even one panel on, however, is the quality of every single component. Every bit - from the switchgear behind the steering wheel, the air condition knobs and dials, the system controls on the central column and all the tiny bits are of absolutely top notch, and the 2018 Audi Q5 thoroughly lives up to Audi's lofty quality standards.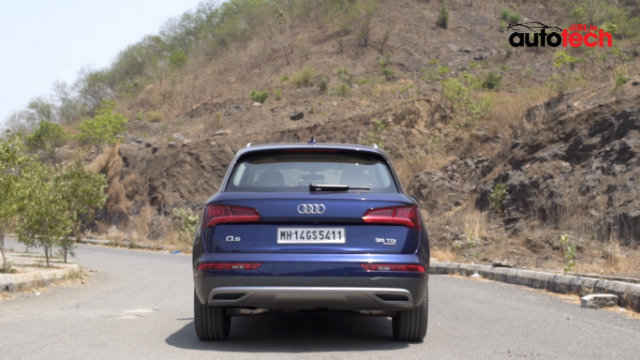 The panoramic glass roof further adds to the roomy cabin, and adds a touch of class to the car. To the rear, the seats can be adjusted slightly for pitch and recline, making them quite comfortable. Even here, every single element is simply of fabulous finish and quality. The beige seat leather with striated textures go well with the beige fabric roof lining, the dark plastic and leather on the doors and dashboard and the contrasting wooden trim to make for a pleasantly aesthetic layout. With the beige interiors, the car feels a bit roomier as well, although we presume a darker shade of leather inside would look more visually appealing. Here, too, the Audi Q5 does not dazzle you with LEDs or follow intricate design elements like the Mercedes-Benz GLE, and while that makes it a less exciting interior to be in, the Q5 has its own, understated appeal.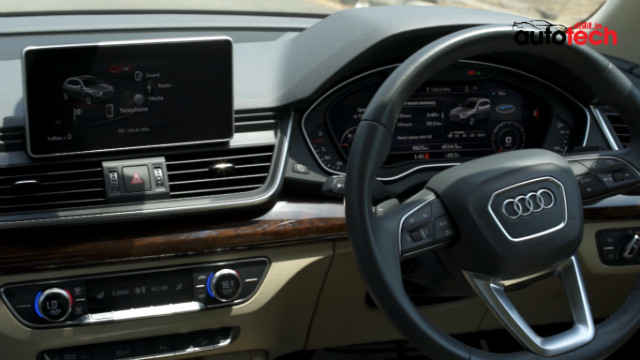 It strikes a chord with its minimal, no-nonsense design, and there really is nothing wrong here - you get everything you'd want in a midsize luxury SUV, laid out with particular emphasis to quality and perfection. There's hardly a millimeter out of place in the 2018 Audi Q5 in terms of its build quality and quaint aesthetics, and while design is always subjective, there's hardly anyone who would ever find the Q5's staunch lines and creases to be unimpressive.
Virtual cockpit and MMI infotainment
Audi was one of the first companies to adopt the digital instrument cluster format, which is gradually but steadily evolving into a trend now. With virtual cockpit, you get a 12.3-inch digital instrument cluster that replaces the mechanical dials. The fully digital instrument cluster has two views - standard and progressive. In standard view, you see the tachometer to the left and the speedometer to the right. Both the dials include multifunctioning digital sections inside them, with the left dial including the tripmeter, and the right including quick graphic navigation prompts.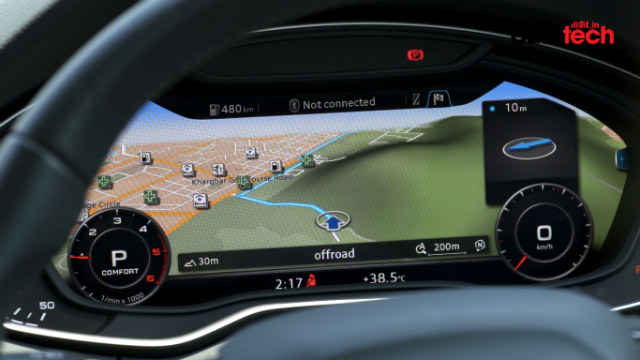 To the centre is a multi-information panel that includes trip and travel data, media, telephony and navigation. In Progressive mode, the two large digital dials shrink down into smaller ones, and open up the entire TFT display as one expansive section. At present, its best application is in displaying the graphic navigation data, although in future, once fully autonomous driving technology becomes legal, it may even display email and important message prompts, or even make video calls.
The map is versatile, and includes multiple map modes, views, map colours, quick navigation via latest routes and favourite routes, automatic/manual zooming, and a crisp, high resolution view in both the MMI display and the virtual cockpit. It is one of most aesthetically appealing instrument cluster layouts, and has a lot of room to be added to via firmware updates. For instance, it has ghost panels on the sides that can one day be used to assign tasks such as ordering food or checking social media feeds, once full-autonomous driving takes over.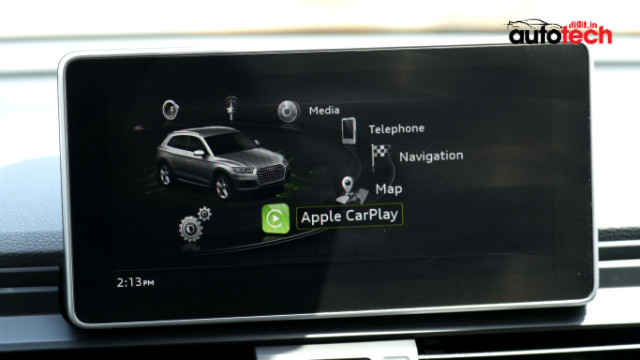 The 8.3-inch Audi MMI infotainment display is not fold-out like it once was in Audis, but still has a minimal floating design that doesn't distract on the road. The first thing you will notice is how incredibly smooth the interface is - the upgraded firmware just takes the smoothness and ease of use to an all-new level. The interface itself is similar to the circular arrangement that you will spot in Mini Connected systems, but has a smarter, less graphically jovial and more professional layout. The dark backdrop of the interface appears a little austere, but functionally it's absolutely fine.
From this interface, the full range of functions you can access include drive modes, customisable steering wheel shortcut, ambient lighting intensity, driver assistance systems (speed limiter, park assist, 'efficiency' assist, fatigue alert and automatic rain sensor), tyre pressure and oil level indicators, audio personalisation (treble, bass, speed-dependent sound, balancer and equaliser), media and telephony, all the navigation functions as accessible from the virtual cockpit, and Apple CarPlay and Android Auto. Operating Apple CarPlay without touchscreen input feels a bit strange at first, particularly if you haven't done it before. The fantastic multi-way toggle does ease operations, but it still takes a while to get used to. This shouldn't be a problem for owners, because the adaptation curve is very gentle.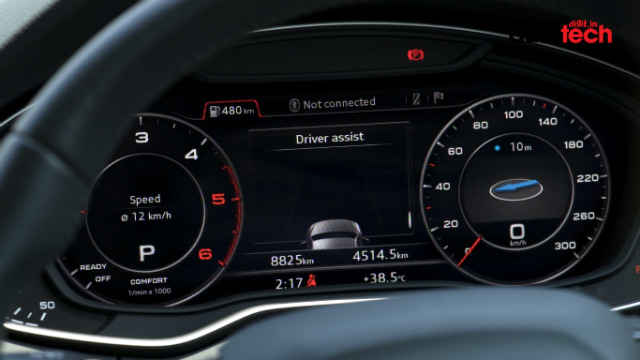 The Audi MMI infotainment system is not touchscreen, and you operate everything from the analogue dials and toggles on the central column. It is fairly easy to operate, but does have the tendency to feel slightly ponderous with the circular toggle and multi-way selector to operate it with. It excels in terms of ergonomics - all the main functions are directly accessible from the home screen, the finer adjustments are neatly divided into categories and can be accessed without having to fidget around forever, the handwriting recognition improves ease of input, and the smoothness of the interface is stunning. While the interface could have been livelier and had more flair to its design, you may well prefer the muted appeal of it, and it does feel continuous in terms of the overall design of the car.
Electronics and audio
The central column is key to the electronics of the 2018 Audi Q5, and I particularly love the jet thruster-like gear selector with its heft and feedback. The touchpad is precise and responsive, although I'd hoped for haptic feedback and smooth scrolling from it. Nevertheless, you get eight programmable shortcuts that respond to the faintest of touches, and the touchpad is clickable. You get two buttons on each side of the touchpad to access ancillary options, and two more to go one step back on the menu, and go back to the home screen.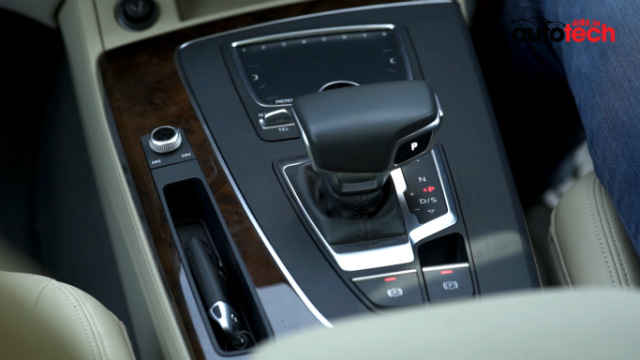 Below the touchpad and completing the entire multitasking hub is a central circular toggle and multi-way selector, and two two-way buttons that act as shortcuts to access navigation, telephone, radio and media playback. We kept the aspect of technology aside for a moment and marvelled at simply how beautifully crafted the buttons and toggles were. These provide some of the best feedback among all the in-car switchgear that we have tested, and is an ode to the epitome of quality that Audi vouches for.
The central toggle, for instance, has this slightly rigid, hydraulic feedback that not only assures you of quality but acts very precisely. The central column is flanked by striated, textured high quality plastic, generous lines of chrome (the buttons are all solid chrome), smooth leather and the standard veneer finish. Even the small music control toggle to the side is of impeccable quality, and is a joy to use. On the central column, the AC controls have analogue dials with digital displays at their centre for temperature readouts. The five chrome buttons have proximity sensors embedded, and each display a list of functions on the LED strip in the AC console.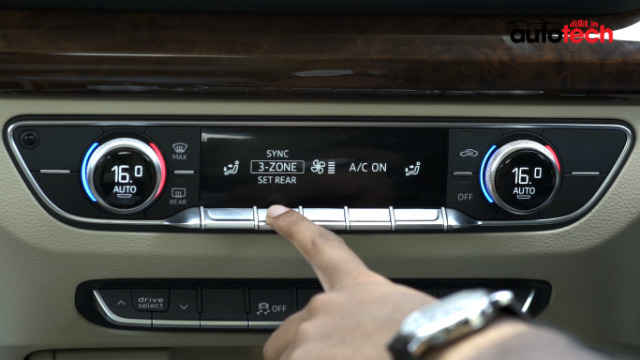 You get three-zone air conditioning in the Q5, and as is standard in every luxury car, an integrated air purifier too. Below the AC console, you get a drive mode selector (more on this later), and toggles for switching off the ESP, activating park sensors and the rear camera, and hill-hold control. What makes the Q5 feel special are tiny things like how solid and beautifully crafted things like the electronic rear view mirror controls are, the chrome-tipped automatic window switches, the smooth steering wheel adjuster, sun blind and sunroof, and the electric seat adjustments, all coming together to give you practically everything that you would need.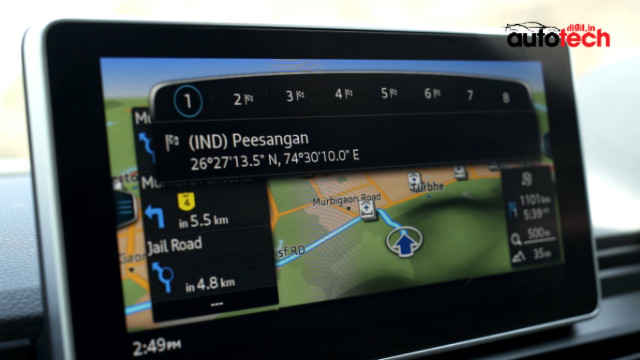 The audio setup is fairly decent, although it isn't exactly the best in class. In its own right, the speaker setup delivers enough loudness, and a decent punch in terms of its bass response. However, if you have a penchant for good sound aesthetics, you will find the mid-range output to be a bit lacking, and overall soundstaging, while decent, is not striking. The 2017 Volvo XC60's Bowers & Wilkins audio system thoroughly outdoes this one. The MMI system can be internet-enabled to receive live traffic updates, for which it comes with a SIM card slot along with two SD card ports. Connectivity interfaces also include USB, Bluetooth, aux and a CD/DVD player, in case you still prefer listening to music the old-school way. You also get a wireless charging pad that fits large smartphones like the Apple iPhone 8 Plus perfectly, and you can also natively load media to the system with 10GB of user-accessible storage.
Drive and ride quality
The 2018 Audi Q5 continues with the trend of smaller, more efficient and less polluting engines, using the trusted 2.0-litre, four-cylinder turbocharged diesel engine that produced 190 bhp and 400 Nm torque. This is paired with Audi's Quattro permanent all-wheel drive, and a 7-speed S-tronic dual-clutch automatic transmission. The engine is BS IV-certified and comes with elements like an oxidizing catalytic converter, water-cooled exhaust gas recirculation and a coated diesel particulate filter to reduce emissions.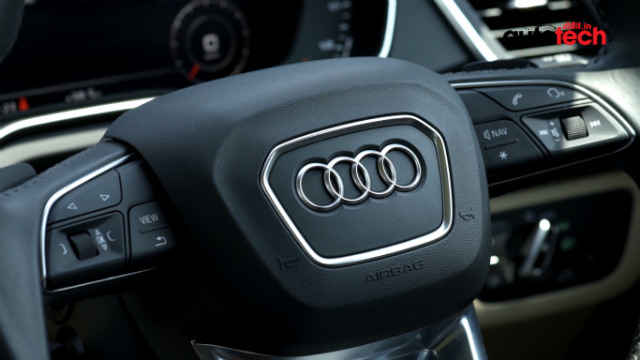 Driving down Mumbai's pothole-ridden roads in peak city traffic is often a ridiculously tedious affair, especially near my office region where people have a particular tendency of randomly jutting across lanes. Taking the 2018 Audi Q5 out through these roads and out on to the highway, had a steady calmness to it. The cabin insulation from noise, vibrations and harshness is simply supreme - not only is the engine refined and there's nearly no diesel-like clutter inside the car, but the Q5 does supremely well to block out most of the suburb's near-maniacal din. On highways, it effectively negative wind and road noise to give a calm, quiet cabin for you to travel in. The seats, too, are beautifully bolstered, and it is really easy to find the perfect driving (or riding) position. The rear row of seats can be brought forward to accommodate more luggage, or even get some additional recline, which we really loved.
But the Audi Q5 is not an out-and-out performance maniac. Instead, the new 2.0-litre diesel is very well-refined, and delivers its range of power in a calm, linear yet solid manner. You don't feel short of power at any point, and the Q5 pulls well right from the onset. In city, the engine presents you with minimal lag and a solid mid-range, making the Q5 one of the best cars that we've driven around in Mumbai. Put your foot down on the highway, and the Q5 pulls you away beyond initial triple-digit speeds in a whisker.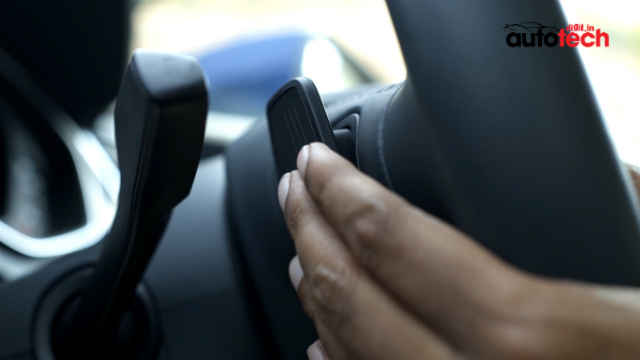 It's not lightning fast, speeding up gradually but fast enough for you to overtake other cars very easily. The 7-speed S-tronic dual-clutch gearbox is a charm, offering impeccable smoothness. It is versatile and works like a charm, pushing all the way to the red line if you're driving aggressively. The 2018 Audi Q5 does not get air suspension, but does get adaptive dampers that allow you to tune the suspension depending on where you're driving. For that, you get five drive modes - Offroad, Comfort, Auto, Dynamic and Individual. In city roads, set it to comfort/auto, and there is a distinct softness that reduces the impact. There is a slight amount of body movement occasionally, but none that really disrupts you. The Audi Q5 runs on 18-inch alloys, and they hold well in terms of the grip. Even though this is an SUV with raised ground clearance, the car sits squat on the road and feels planted at all points.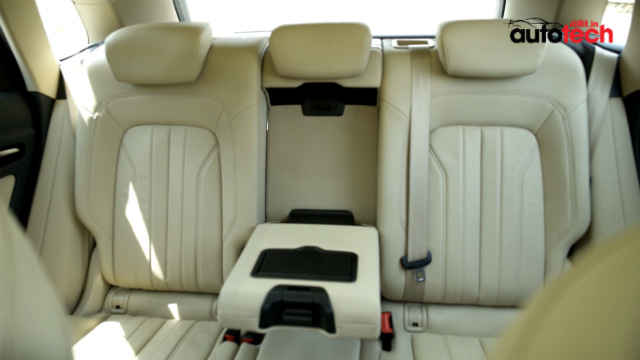 Hit the highway and set the 2018 Audi Q5 in dynamic mode to get the best of this SUV. There is minimal body roll, and discernible stability that induces confidence in you to tackle corners. Highway ride quality is excellent, making the Q5 an excellent car for long journeys. The only thing that lets you down here is the steering wheel - it is a bit too light for my preference, and while the smoothness really helps in city, it feels a bit vague out on the highway. The wheel itself is nice to hold, but I wish there was a bit more feedback to make the drive more engaging.
Final verdict
Understated elegance - that's the phrase that comes to mind when you see the 2018 Audi Q5. There's not a single thing that is 'not good' about this car - it is built solidly, looks smarter and faster than before, packs in all the technology that you'd use everyday, has a solid powertrain and offers good comfort. The only thing that you can fault it on is that it doesn't pack a sting, a whoa-this-is-unreal factor in the way it goes about its business. The steering feels a bit too light, the design, while smart, is not a major change from before, and some may not deem the Q5's package to be exciting enough.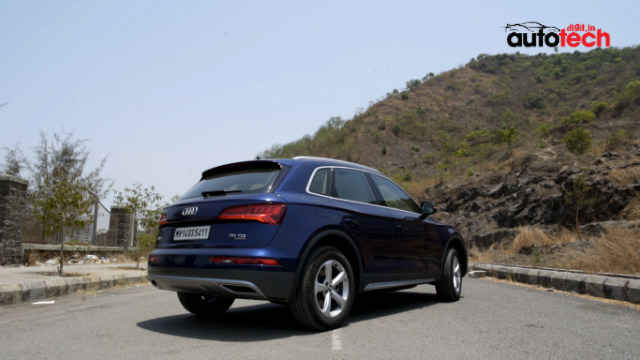 But you see, that's the thing. The 2018 Audi Q5 doesn't even try to do all that. It's not the snazzy, over-the-top nightclub that you'll hit once a year in stone-studded neon pink stilettos. Instead, it is the quaint Chinese joint playing Pink Floyd and serving the best hakka noodles in town, where you'd go wearing pyjamas. It is a car that you'll love to live with, a car that you'll never get tired of driving around, and one that can make both a teenager and the mid-aged businessman feel happy.
There are very few cars in the world that can do that, and despite its few flaws, the 2018 Audi Q5 is one of those.