Air pollution shot through the roof this festive season and its after-effects are still causing a negative impact on people's health in various parts of the country. Air purifiers have gone from being a home accessory to an absolute necessity. We already have an air purifier buying guide to helping you when making a purchase decision, but here, we are drawing conclusions from our own tests. We put ten air purifiers to the test this smog season. These devices range from top of the line, borderline industrial air purifiers to the barebones basic ones that even a college student could afford.
In this article, we will draw comparisons between some of these air purifiers to provide you with a better idea of how each air purifier works and which one you should go for, depending on the level of pollution in your area and the room you'd be using it in. Most prominent air pollutants are PM2.5 and PM10 particles. These particulates measure 2.5 and 10 micrometres respectively, and can cause a myriad of health issues for someone exposed to higher concentrations for a long period of time. Then, there are Total Volatile Organic Compounds (TVOCs) and other harmful gases that an air purifier needs to take care of.
The contenders:
IQAir HealthPro 250
We've already reviewed the IQAir HealthPro 250 (review) and it certainly lives up to its reputation of being one of the best air purifiers available. The device has a max Clean Air Delivery Rate (CADR) of 440 cubic meter per hour and is rated effective for an area of up to 914 sq. ft. It comes with three filters, a PreMax Filter, a V5-Cell MG filter and a HyperHepa filter.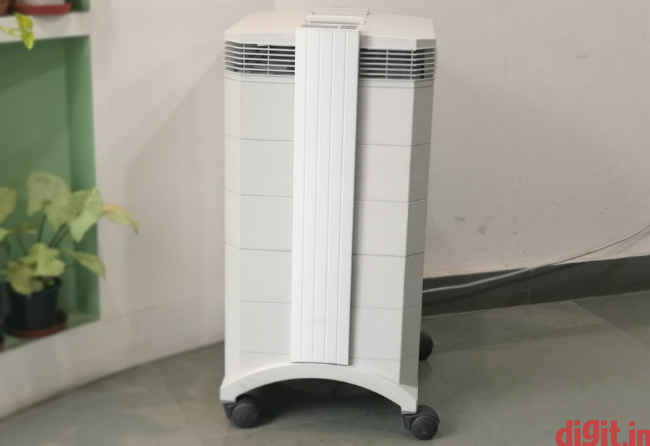 Blueair Classic 280i
The Blueair Classic 280i (review) features a simple boxed design and offers a choice between either a HEPA or a 2-in-1 HEPA and Carbon filter. The device has a CADR of 306 cubic meter per hour and is said to work efficiently for areas of up to 280 sq. ft. The air purifier is capable of silent operation with the HEPASilent technology and it features large filters, with whose help, the company says it can perform around 5 air changes in an hour. Click here to buy.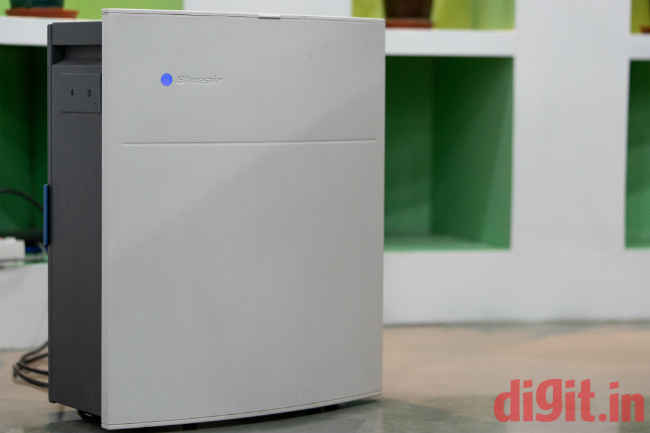 Dyson Pure Cool
The Dyson Pure Cool (review) features can be considered an amalgamation of an air purifier and a tower fan. Innovating with the design, Dyson managed to fit everything from a fan, to a HEPA and activated carbon filter in the device's cylindrical base. The device then pushes out clean air from the loop at the top that features a small aperture. It also features a small LCD display on the front that can show various metrics like AQI, PM2.5, PM10 levels and more. Click here to buy.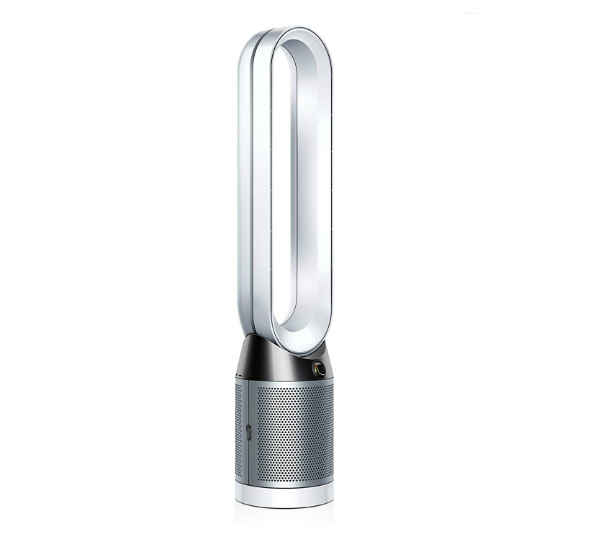 Samsung AX5500
Samsung announced its AX5500 air purifier right before the festive season this year. The AX5500 features three-way air flow for better clean air circulation and is equipped with three filters. It comes with a pre-filter, and a 2-in-1 HEPA and Carbon filter to trap minute particles and harmful gases. The device is touted to clean areas of up to 645 sq. ft and it features a CADR rate of 455 cubic meter per hour. Click here to buy.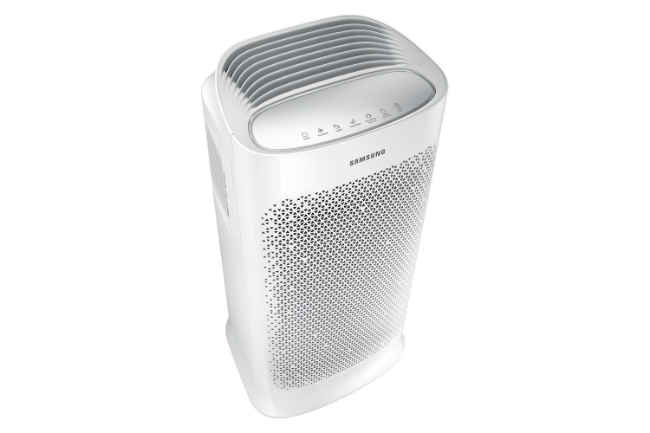 Smart Air Ladakh Mini
While the Smart Air Ladakh Mini's name will give an impression of a small device, that's definitely not the case. The air purifier features a rectangular design and is equipped with a HEPA filter. There is also an option to get a Carbon filter installed on the device. The Ladakh Mini is said to cover areas of up to 914 sq ft and has a CADR of 585 cubic meter per hour. Click here to buy.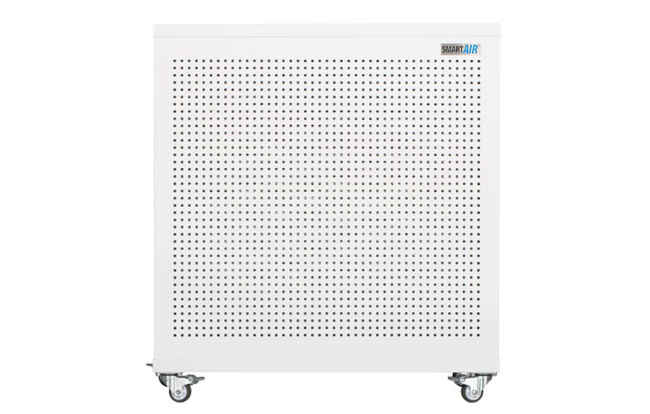 Sharp J60M
The sharp J60M can cover a surface area of 550 sq ft and has a max CADR of 396 cubic meter per hour. It uses three filters, a pre-filter, a HEPA filter and a carbon filter. The device also uses the company's proprietary Plasmacluster Ion Technology that is said to diffuse germs, bacteria and viruses floating in the air. The air purifier's design is also commendable as the device not only looks good but is also capable of maintaining good air circulation in a room.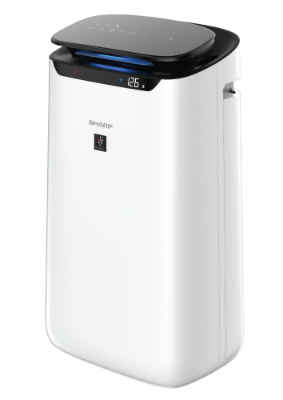 Mi Air Purifier 2S
The Mi Air Purifier 2S features a small form factor and comes equipped with a simple filter assembly. It combines a pre-filter, a HEPA filter and a Carbon filter. The device's squarish design features air inlets from three sides to suck polluted air in, filter it and spew it out from the top. It also sports a small circular OLED display to show the current PM2.5 reading inside a room.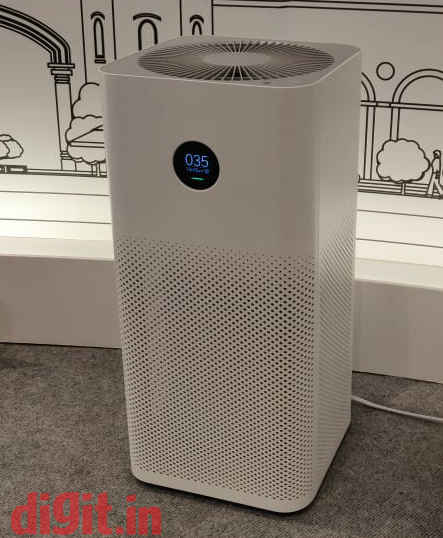 Sharp J30M
The Sharp J30M can be considered a miniaturized version of the Sharp J60M. The J30M features smaller filters and is meant to clean the air in areas of up to 250 sq ft. It also features the company's Plasmacluster Ion Technology to neutralize the bacteria and viruses in the air. The pre-filter is built into the air intake grill of the device and then the air passes through the Carbon and HEPA filters, before being expelled out from the top.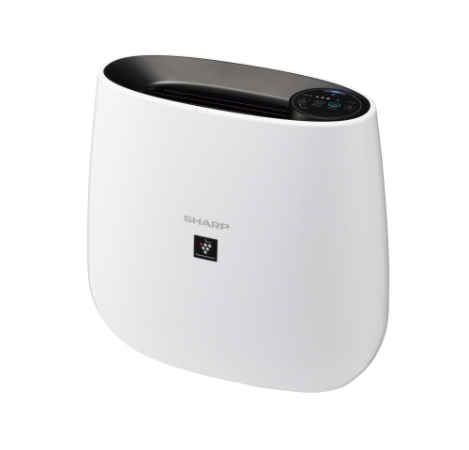 Philips Series 3000 AC3821/20
The Philips Series 3000 AC3821/20 air purifier also comes with a dehumidifier. The device is said to be effective in areas of up to 860 sq. ft. and it features a CADR of 310 cubic meter per hour. With a humidification rate of 600ml/h, the air purifier is touted to be capable of alleviating issues related with allergies as well. It comes with a HEPA filter that removes particles down to 0.3 µm in size and an activated Carbon filter that clears the air of harmful gases.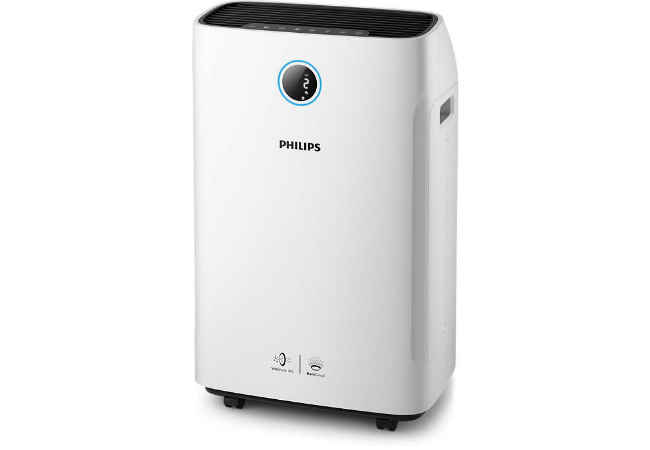 Blueair Joy S
The Blueair Joy S is suitable for areas of up to 172 sq ft as it has CADR of 195 cubic meters per hour. It features a cylindrical design, which can intake air from 360 degrees to purify and hurl air out the top. It also uses the company's HEPASilent technology for quiet operation and is equipped with a HEPA filter.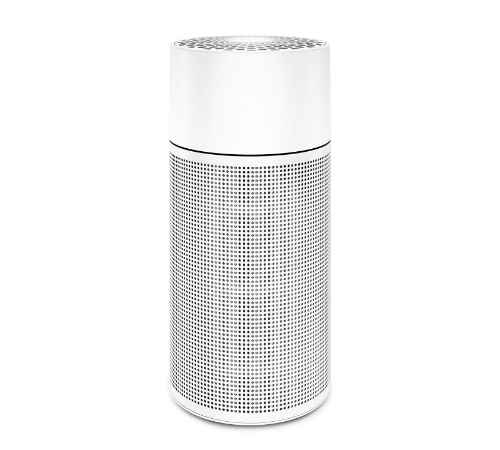 How we tested
We tested all the air purifiers in three different areas with varying amounts of PM1.0, PM2.5 and PM10 particulate counts. While two of the three rooms have a 10 ft ceiling height with an area of 120 sq ft and 190 sq ft, the third area has a ceiling height of 12ft with an area of 220 sq ft. To verify whether the devices are actually cleaning the air or not, we used an air quality monitor. Pollution levels outside is relatively high in one of the three areas, while for the other two, it is moderate and low respectively. To verify whether the devices are actually cleaning the air or not, we used an air quality monitor which gives us PM levels and also the particle count. Our standard testing procedure involves running the air purifier for 45 minutes and taking readings in-between to find out how much of a difference it makes to the air quality.
Ideally, an air purifier should be selected depending upon the level of pollution in your area and keeping one's health in mind. One can do a simple search on the internet to find out how good or bad the Air Quality Index (AQI) near their area is. In India, the AQI is calculated using a complex formula and the worst sub-index from eight pollutants like PM10, PM2.5, NO2, SO2, CO, O3, NH3, and Pb. Though complex in its derivation, the AQI is a simpler way of representing the overall air quality.
Which one should I buy…
If I live in a highly polluted area
The area you live in is highly polluted if the AQI levels are between 300 and 500. In case you reside in an area like Delhi or the NCR region, where air quality keeps wavering between Very Poor and Severe category, without a doubt, you should go for the IQAir HealthPro 250.
It has great air cleaning capabilities and while reviewing, it was able to bring PM2.5 and PM10 levels to 3 and 3 µg/m3, down from 45 and 46 µg/m3 respectively. It does not have any IoT functionalities but it is unrivalled as a pure performer. However, it is priced at around Rs 1.10 lakh but it's justified for those who have breathing problems or issues pertaining to the lungs.
Investing over a lakh rupees in an air purifier might seem too much to someone that doesn't have a respiratory problem. However, if you need a device that does not cost a bomb and has a relatively similar level of performance, the Sharp J60M is your best bet, followed by the Blueair Classic 280i and then the Smart Air Ladakh Mini. Out of the three air purifier, the Sharp J60M managed to deliver the best results in our tests and that too, in a consistent manner. The air purifier is equipped with a high-grade H-14 HEPA filter and using the company's Plasmacluster technology, it eliminates virus and bacteria from the air as well. While testing, the Sharp air purifier brought down PM2.5 particles from 141 to 9 µg/m3 in about 45 minutes.
If I live in an area with poor air quality
If the AQI in your region wavers between 201 and 300, it has poor air quality. In this case, the Blueair Classic 280i is a good device to go with. The Classic 280i is also a good performer and is slightly less expensive than the Sharp. While testing, the air purifier was able to lower PM2.5 and PM10 levels from 96 and 111 µg/m3 to 14 and 15 µg/m3 respectively. This level of performance certainly sets the device apart from its competition and more affordable as well since it costs around Rs 30,000 via third-party retailers.
The Smart Air Ladakh Mini puts us in a difficult spot. It's an impressive performer, better than the Blueair Classic 280i, however, it lacks basic functionality like an auto mode or even a timer. We tested the device around Diwali season and it brought down PM2.5 levels from 184 to 29 µg/m3 in a span of 45 minutes. The device's design isn't something to fawn though as it's too large to lug around and stands out in your house. Additionally, In this day and age, an air purifier without IoT capabilities might very well be considered an incomplete product. While the same goes for the Sharp J60M as it doesn't feature app compatibility or IoT connectivity, its performance and an auto mode on the device makes up for it.
If I live in a moderately polluted area
A moderately polluted area has AQI levels varying between 101 and 200. You can go for the Dyson Pure Cool or the Xiaomi Mi Air Purifier 2S in case the surrounding pollution levels are moderate. Both of these devices work well in mildly polluted areas and are IoT enabled too. The Dyson Pure Cool comes with a slew of features like oscillation, timer, diffuser function and auto mode. Meanwhile, even though the Mi Air Purifier 2S doesn't pack as many features, it is better suited for someone under a strict budget. Xiaomi's air purifier will cost you Rs 8,999.
The Dyson Pure Cool is priced at Rs 44,900 and while it might seem too much, one does need to consider the convenience of the device. Dyson's air purifier takes miniscule space and blends in with the decor of your home. Additionally, as mentioned before, it also doubles as a fan and has a slew of features to make use of.
TLDR;
Given that the air we breathe is such a critical component of good health, we would strongly recommend buying the right air purifier for the job. This doesn't necessarily mean that one needs to buy one of the most expensive ones. While IQAir Healthpro 250 is one of the best air purifiers one can buy in case they live in a highly polluted area or suffer from severe respiratory problems, there are also other options to explore like the Sharp J60M and the Blueair Classic 280i. These two devices also exhibit commendable performance, without breaking the bank.
However, In case you live in an area where pollution levels are relatively moderate, the Xiaomi Mi Air Purifier 2S and the Dyson Pure Cool are good options. The former is certainly a budget device that sits under the 10k mark and while the Dyson might be priced higher, it has a commendable functional design, style and several helpful features.