Let us all let out a sigh of relief now that Game of Thrones season 7 is finally out of the way and we can focus on something else other than the Great War (which sadly did not take place this season). There's loads of content lined up for binge watchers this September and some that might have gone unnoticed thanks to all the GoT drama. So without further ado, get ready to hit play on these exciting new and upcoming titles.
The Tick
Superheroes take their jobs too seriously. Not this one. The Tick is a new superhero series on Amazon Prime Video and is based on the comic book character created by cartoonist Ben Edlund in 1986. The Amazon original has managed to let go of childish tone of the cartoon series which was created by Fox back in 1994 (Yes millennials, you were not born yet). The story revolves around The Tick and his side-kick Arthur. The Tick is strong, yet impulsive and relies on Arthur to keep him in check. What follows is a hilarious chemistry between the two as Arthur tries to shrug off the superhero who won't seem to relent. Together the two embark on an adventurous journey to destroy the local super villain.
Platform: Amazon Prime Video
IMDB Rating: 7.3
Narcos season 3
As Pablo Escobar's drug empire crumbles to the ground, a new cartel is on the rise. Yes, Narcos will be back before you know it this September and this time around the DEA will be chasing one of the biggest drug peddling organisations to ever exist - The Cali Cartel. Pedro Pascal (Oberyn Martell from GoT) is back as the real life DEA agent Javier Peña and Mexican actor Damian Alcazar (Tuco Salamanca from Breaking Bad) plays the role of the leader of the Cali Cartel - Gilberto José Rodríguez Orejuela. We can't wait for the action to unfold.
Platform: Netflix
Release Date: September 1
Star Trek: Discovery
Although it is a CBS original, Netflix will be airing the much awaited upcoming Star Trek: Discovery season 1 on its platform in September. While the show's first episode will be released on September 24, it will hit Netflix a day later. It will be the first Stark Trek television series after a gap of 12 long years.
Platform: Netflix
Release Date: September 25
Designated Survivor: Season 2
Kiefer Sutherland is back for a new season of dealing with America's various problems as the all powerful potus. If you haven't yet seen season 1 of this political thriller/drama, it's time you get to it soon as season 2 is on its way.
Platform: Netflix
Release Date: September 28
Disjointed
From the creators of Two and a Half Men, The Big Bang Theory and The Daily Show comes a bone tickling workplace comedy about a woman (Academy Award winner Kathy Bates) who runs a medical marijuana store with her son (Aaron Moten) and a bunch of peculiar employees with a profound love for the green. Let's just say that anyone who has ever partaken of the choice herb will totally relate to this 10 part series. The show is well scripted and takes hysterical digs at the various consequences of smoking the 'Broccoli' (cos we are still a family friendly website). If you are looking for an easy Sunday in bed, you can get through the entire series in one go.
Platform: Netflix
IMDB Rating: 6.2
Little Evil
A happily married man (Adam Scott) discovers that his newfound 6 year old stepson is the antichrist. The trailer of the movie makes it seem like a funny take on the horror genre. Will it hit the sweet spot? We will only be able to tell once the film releases in September.
Platform: Netflix
Release Date: September 1
Final Fantasy XIV Dad of Light: Season 1
No, this is not a joke. Fans of the video game will be happy to know that the series is set partly inside and partly outside the game. The story revolves around a father and son who rekindle their bond through the MMO Final Fantasy XIV. The catch is that the father does not know that he is playing alongside his son. The series is inspired from a true story.
Platform: Netflix
Release Date: September 1
First They Killed My Father
Directed by Angelina Jolie, First They Killed My Father is a biographical thriller about Cambodian author and human rights activist Loung Ung. The movie recounts the horrors Ung suffered under the rule of the deadly Khmer Rouge, followers of the Communist Party of Kampuchea in Cambodia.
Platform: Netflix
Release Date: September 15
Jerry Before Seinfeld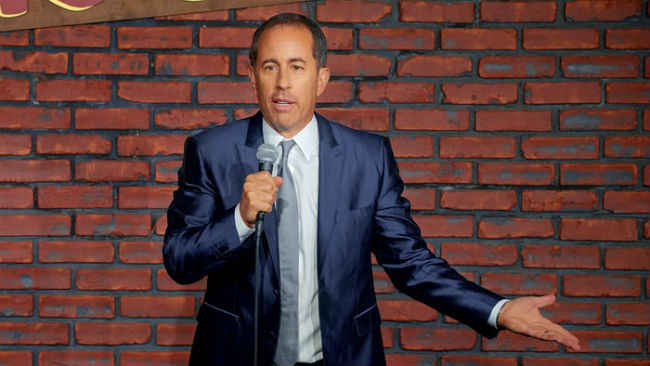 Who doesn't like Jerry Seinfeld? He is so good even now that he was the highest paid comedian in 2017. In this hour long episode, the comedian returns to the New York comedy club in his first ever Netflix stand-up special. The show will recount incidents from Seinfeld's life and will see the star comedian perform on the stage where he first started his career.
Platform: Netflix
Release Date: September 19
So there you have it, your binge guide for September 2017. Don't forget to share your feedback about the shows in our comments section. Happy streaming.