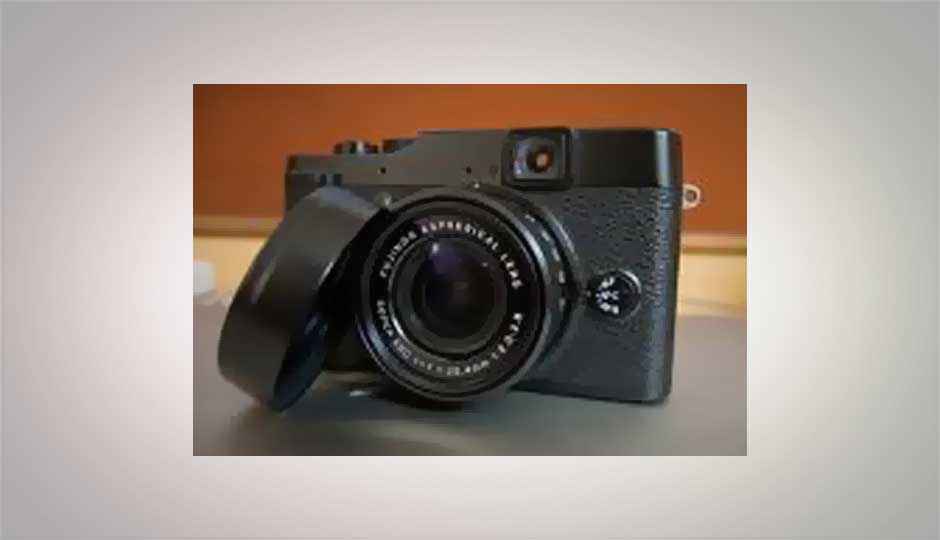 The Fujifilm X-10 is a camera that you will find very difficult to hate. If you're an old-school photographer, it might even mean love at first sight, all over again.
Fujifilm X-10 Rating

0

100
Our Verdict
The Fujifilm X-10 packs the finest Fujifilm DNA into a fine full-metal Rangefinder-like body. It's got a 12-megapixel 2/3-inch EXR-CMOS sensor that maximizes dynamic range and color depth along with a 28-112mm Fujinon lens with a maximum aperture of f/2.0-2.8. The specs are impressive and so is the performance, but the package comes with a hefty price tag of Rs. 44,990, much more than what the competing cameras are priced at. So what sets the X-10 apart and is it worth spending this kind of money? Read on!
PROS
Generously sized sensor
f/2.0-2.8 fast lens is great for shooting in low light
the viewfinder is a nice touch for shooting
Support for RAW format
CONS
Focusing is a little shaky at variable focal lengths
Black levels in video are higher than normal, leading to loss of detail
The unpocketable Rangefinder design might not be for everyone
Fujifilm X-10: Detailed Review
Fujifilm has been a hit-or-miss success story with respect to cameras. Their point and shoot cameras haven't picked up a lot of traction in the Indian market, but their X-series of cameras has been quite an attention grabber.
The X-10 was an instant hit with a lot of "old-school" photographers simply because of its close resemblance to the rangefinders from a time long lost. The fact that it included a 2/3" X-Trans sensor and a fast aperture f/2.0-2.8 lens also had a huge role to play in its popularity.
However, the question really becomes whether the performance and packaging justify the significantly exuberant price? Well, we've used the camera for quite some time now and here are our thoughts for you to consider.
Build and Ergonomics
The camera is a solid magnesium alloy construction, with a pseudo leather coating that feels very premium. If you've used any of those really old film cameras, like the Canon AE1, then the Fujifilm X-10 will be instantly familiar to you. It's heavy and it's all metal. We like that it doesn't require to be treated like a delicate porcelain doll. People might often assume that the lens on this one is removable, but it is not. In fact, the lens is an interesting design in itself, having not only the zoom ring built into it, but also the on-off switch. All one has to do to turn the camera on is turn the lens. Overall, the build of the camera and the lens feels extremely solid and we wouldn't be afraid to take it on a trek or two.
As far as the ergonomics go, the story is slightly less peachy. One of the reasons the current ergonomics are the way they are is because the design of the 70's camera was not very hand friendly. The same applies somewhat to the X-10. The design of the camera is an enthusiast's dream, being littered with dedicated dials and a screw-in port atop the shutter button for a manual shutter release cable. If you're thinking long-exposure star trail shots, the X-10 should be your choice of weaponry. Each dial and button is easily accessible and very clearly marked for what it does. Everything you need is laid out right on the back, without being overwhelming.
Features
The X-10 may be packaged to resemble a time past, but the insides of the camera scream modern. For starters, it's got a 2/3 inch sensor that spits out files with a 12 megapixel resolution. The size of the sensor may not match the APS-C specs of the Sony NEX series, but 2/3 inches is still almost double that what one would find in a typical point and shoot camera. Complementing the larger sensor is a 28-112mm f/2.0-2.8 Fujinon lens that is zoomed by twisting the lens itself.
The Fujifilm X-10 also features a number of film simulation modes that give the images the look and feel of the classical film that was once manufactured by Fujifilm. We're not going to lie, being able to shoot in Velvia mode is an absolute joy. Along with film simulation, the X-10 can also shoot off 7 frames per second at full resolution (10 fps if shooting 6 megapixel files). However, our most loved feature is the viewfinder which is true to the rangefinder design (showing a bit of an offset from the actual frame), but sadly it offers only 85% frame coverage. It's still better to have on the camera, than not have at all.
Image Quality
The Fujifilm X-10, armed with a large sensor and a fast aperture lens, is a formidable shooter. We were pretty brutal with the X-10, throwing it into shooting situations that we normally reserve for our DSLRs with fast aperture prime lenses mounted on them, but the X-10 seemed to keep up pretty damn well. The camera shot well in low light, better than what we'd expected actually. The f/2.0 aperture on the Fujinon branded lens does quite a good job with low light situations and the lens is surprisingly sharp. There's a lot to like about this nifty little camera as far as images go, so we're going to break it down for you.
First of all, we noticed that at the very wide end, the camera had a tendency to underexpose, something that we'd noticed even in the X-Pro1. However, this isn't an issue if you're shooting in manual mode, or if you turn that exposure compensation dial set at 1/3 EV (or more if needed). Other than that, all we had to do was ensure we were shooting RAW, as it makes editing the files later a lot easier.
Along with visibly better dynamic range, the sensor on the X10 is very good at resolving detail too. We happened to chance upon a little kitty cat by the side of the road who patiently glared at us as we went shutter happy on it with 5 different cameras. It's amazing that at full resolution, the fibres on the cat's fur are quite easily discernable and the sharp lens has a lot to contribute to this end.
However, there was one area we found ourselves a little disappointed and that was in the AF performance. The Fujifilm X-10 has a built-in AF illuminator which spreads out green light in order to lock focus. We found that when shooting at the widest of the lens the camera had issues locking focus. We found this to be especially prevalent when trying to photograph a single person in a relatively large room. The focusing speed is somewhat of a trickier topic though. The speed with which the X-10 focuses comes down to the distance the lens has to travel in order to focus. If your subject is close to the lens (anywhere between 1-6 feet), the X-10 locks focus pretty quickly. Beyond 10 feet of distance (when zoomed out all the way to 28mm) expect at least a second or two worth of delay before the camera can lock focus. Minimum focusing distance increases considerably the more we zoomed in, meaning that locking focus might be impossible if your subject is too close to the lens combined with the lens being zoomed in all the way to 112mm.
The X-10 also shoots full HD video (1920x1080 at 30fps) along with audio that comes in through its stereo microphones. The video quality is surprisingly good, with rich colours and strong contrast and the lens itself lends a good amount of sharpness to the video. What we didn't like, however, was that the blacks were a little too strong, with hair often losing detail. We didn't notice this behaviour in the photos, so we were a little surprised to notice such behavior in the video. Regardless, the deeper blacks don't lead to the footage to becoming underexposed, so that's a saving grace.
Conclusion
The Fujifilm X-10, a delicate mix of what was and what is, brings together the best of two worlds. The solid metal body resembling that of a rangefinder is a shell to the newest imaging technology. A bigger than normal sensor, which is built on Fuji's proprietary design delivers excellent image quality and the last f/2.0 lens is a great companion to it. The camera is quite well endowed with features, matching those of any top-tier advanced point-and-shoot camera. The focus is a little shaky, but definitely not a poor performer. One slight catch though. As good as the camera is, it's priced at Rs 44,990, much higher than its closest competitor, the RX100, which is a whole Rs 10,000 cheaper!