Luxury cars are all about the little extravagant things that you buy to celebrate magnanimous achievements in life. When you walk into the Porsche Centre in Worli, Mumbai, you are possibly there to choose a bespoke piece of automotive machinery to celebrate your own success. Going by their heritage, Porsche happens to know all about bespoke luxuries and experiences, and it is this that the company provides its patrons, through the Porsche Car Customisation Centre in their expansive showroom.
The configurator
As you would have seen if you've browsed through luxury car brands and their online portals, a car customisation segment is imperative for each. This allows a potential buyer and enthusiasts to experience how commissioning a bespoke Porsche model is facilitated. The physical configurator at the Porsche store, meanwhile takes it up by a notch.
At the physical Porsche configurator store, once you take your pick, the commissioning experience begins. Porsche India's executives will take you through all the features that the base trim of your car will come with, and that's where the experience begins. The offline configuration experience is paired with its online configurator, that can be accessed from Porsche's online store.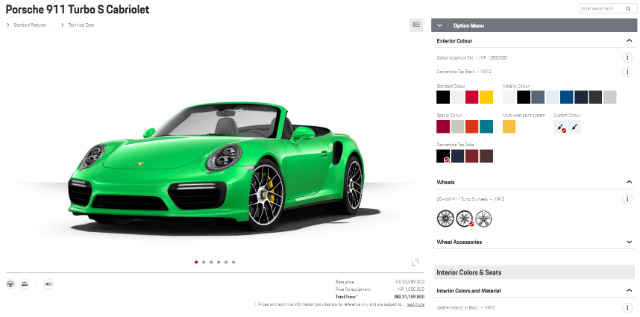 Once you pick your car, you are also assigned a unique identifier code, which you can use to save your configuration. This is particularly helpful if you have to leave your configuration halfway, and wish to resume it later. You can also pre-configure your car and bring it to the showroom, and continue/tweak your configuration there. While the online configurator by itself has all possible options that you can choose with Porsche's cars, the offline configurator zone at the Porsche Store further adds to the experience.
The offline configuration zone
It is here that you can actually get to see and feel all the specific components that you can include in your bespoke, customised Porsche. What you get here are actual samples of the very same component that will be fitted into the car that you commission. There are a range of samples here for every element - the outside chassis, the interior seat and dashboard leather/alcantara colour, gear knob trims, dashboard veneer/carbon fibre trims, stitches, air-conditioning vents, hood fabric, armrest leather finish, key fob and pouch, floor carpets, door handles, central column, seat belts and door sill and scuff plates.
This gives every buyer a good idea of the exact texture of the material before making a decision, as every add-on here is fairly expensive. Additionally, if the default range of material is not enough to match your taste, you can even approach them to commission your very own texture of material. This can include a specific shade that matches your favourite pair of shoes, although that does increase the overall duration required to deliver a car.
The only two things that you do not get are sample seats and wheel rims to see and choose from. For these two, you rely on the showroom cars and the online configurator.
The experience
While the online Porsche configurator gives a window for anyone to experience the level of equipment and customisation that you can add to your Porsche, the offline configurator is a more personalised experience for you to curate your very own vehicle. It adds a level of bespoke personalisation to a special purchase, and also gives buyers on a possible timeline on when they might expect deliveries of their very own, customised Porsche cars.
Typically, the average delivery takes up to six months as the customisations are done out of Porsche's plant in Stuttgart. For any special colour or leather requests that you may have, it takes an additional two months as the request is first sent to Porsche's global headquarters, who assess if the colour can be obtained. The colour experience, too, can be had online, which you can access by clicking here.
Other Popular Deals
Samsung A7 2016 Edition Golden

Rs. 18990 *

Buy Now

Mi Redmi Y2 (Gold, 3GB RAM,...

Rs. 8999

Buy Now

Redmi 6 Pro (Black, 3GB RAM,...

Rs. 8999

Buy Now
*Includes Cashback
​