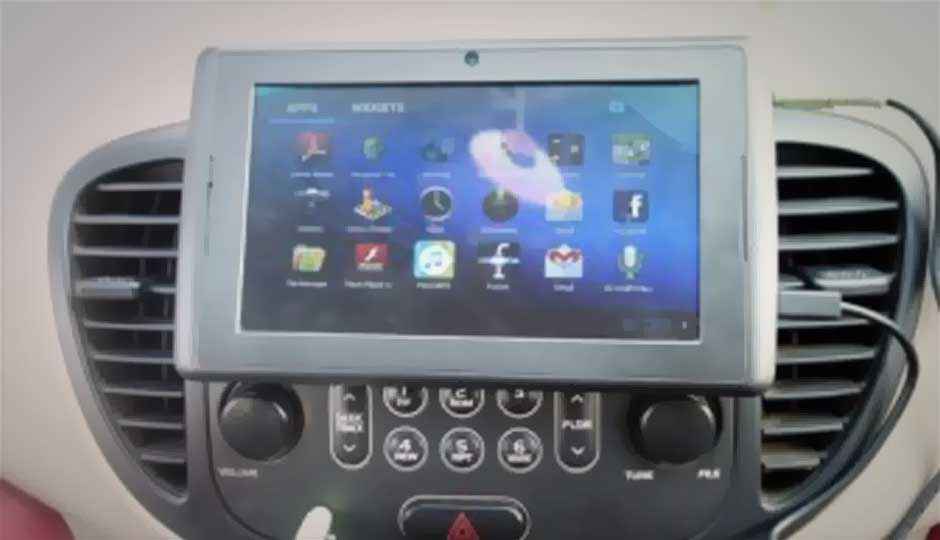 It's almost inevitable that at least once during the period you own a car, you will consider upgrading the in-car entertainment setup. This may include the head-unit (the central unit that sits in the dash) and even the speakers. While you may go ahead with the other upgrades as planned, we would like to draw your attention to an option that may save you some money. At least with respect to the purchase of a new head-unit.
If you are considering a touchscreen double-DIN unit, be ready to shell out at least Rs. 15,000 to Rs. 18,000 for a basic system with a 5-inch touchscreen. Anything with a bigger 7-inch screen would cost upwards of Rs. 20,000, and the more you look for features like Bluetooth, memory card expandability and video playback, the cost will just go up. But, if you have a tablet that was the apple of your eye at some point of time, or there is a smartphone that you moved on from sometime back, why not get these devices back in shape and use them instead?
Why the need to change? Primary Idea: Save Money on an upgrade!
There are multiple scenarios in play here. Either your car has a factory fitted audio system that you are now bored of. Or the existing head unit has developed faults and needs replacement. If you are considering a single-DIN head-unit replacement, you will have to spend anywhere between Rs. 6,000 to Rs. 15,000 for one, with better features as you go higher up the menu! If it is a double-DIN unit that you crave for, then the entry level versions from recognized brands will cost upwards of Rs. 15,000. However, if the idea of a slightly unconventional setup that saves on expenditure right now doesn't bother you, please continue reading this.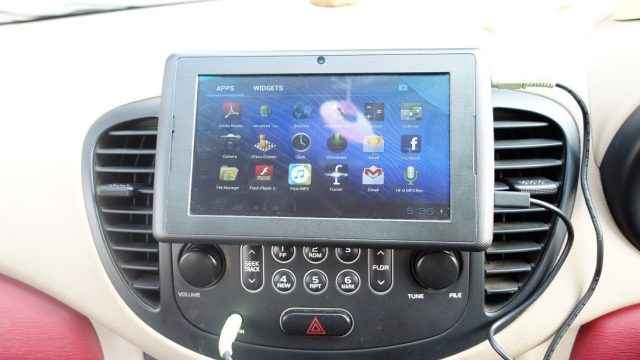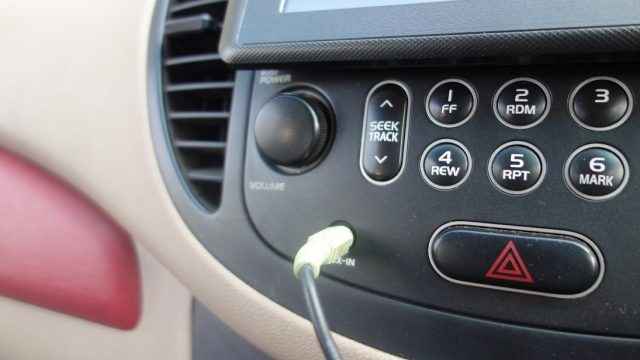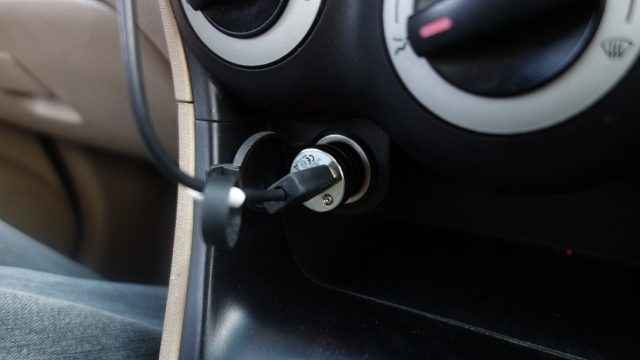 Any other benefit? Many, actually.
Even if you spend Rs. 30,000 on a proper double-DIN unit with a 7-inch touchscreen, from the likes of Pioneer, what you will get at max is Bluetooth connectivity, ability to play back very limited video formats, and "value-adds" like two memory card slots. However, you will still not get stuff like navigation, web connectivity and even social networking on that device. A good old smartphone or tablet can offer all that, without creating a fuss.
With your old smart device, you get music, video playback, the occasional movie for the passengers without many issues with the formats; you may even get GPS navigation via various apps like Google Maps, MapmyIndia, Tom Tom India app etc., and a whole host of connected features like social networking for when you are stuck in a traffic jam, email for when you need to respond immediately and web browser for when the signal remains red for almost an eternity. All in all, you do get to do a whole lot of stuff. Basically, the old smart device will still be a more connected device than what most two-DIN system will offer.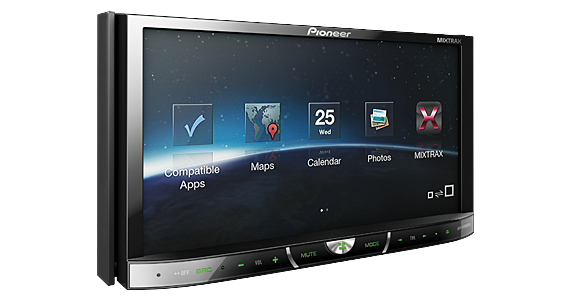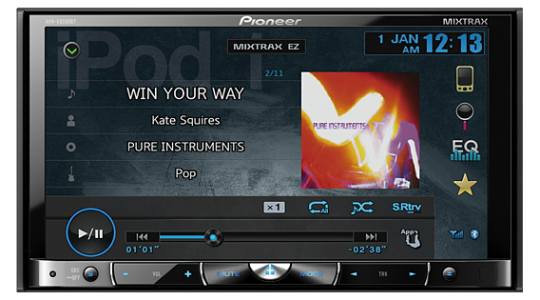 This is what we are on about - the Pioneer X4590 on the left costs around Rs. 20,000 (best price), and does not offer Bluetooth. The X8590BT costs around Rs. 30,000 (best price) and offers Bluetooth and dual USB inputs. However, even after spending so much, you don't get any "connectivity" features like integrated GPS and fairly limited video playback support.
SAFETY WARNING!
While we are all about having the most possible features in that ONE device you need in the car, we would urge you to be extremely careful while driving. Avoid using any gadgets, and do not get distracted by a new email or chat notification. Be it the phone/tablet you are using for music playback, or even your existing smartphone. Please keep your eyes on the road, and only play with these gadgets when you are safely parked somewhere.
What do I need pre-installed? Most existing setups would work.
Before we get into the details of how this would work, let us run you through all the elements of this setup - essentially, what you will need for this to work.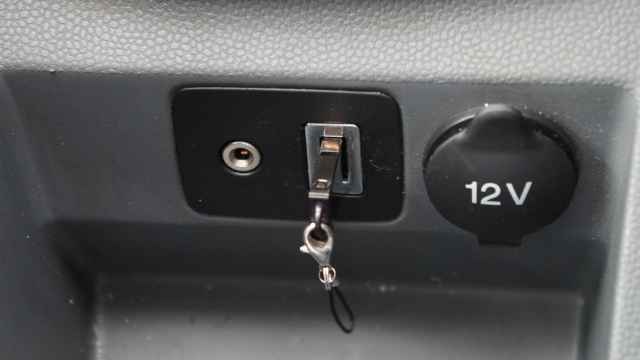 It doesn't matter if you are bored of the existing music system or not, all you need is the 3.5mm headphone jack for the phone or tablet to be integrated as the lead device for the in-car infotainment system.
First up, there will be the existing head unit in the car, that currently would handle tasks like cassette (yes, some people still use them) or CD playback, USB input, FM Radio etc. Basically, we need this head unit to work as the interface between the playback device and the speaker, via the aux method. All you need with this system is a 3.5mm aux cable, to plug into the audio system at one end, and the smartphone/tablet at the other. If the port is on the front itself, good for you. If not, you will need to get one installed off the rear of the system - any good audio install person will be able to do this for you in a jiffy. This cable could be the male-to-male cable, for direct connection to a device like an iPod, or a male-to-female cable, with the female end available to you for plugging in a device. This however necessitates the need for another aux cable in play, and we would suggest the typical male-to-male cable to be used here. A good quality one, nevertheless, because you may not want to keep getting this changed every few months.
Secondly, the speakers. You may or may not want to get these changed, but that is irrelevant at the moment. As long as you have the speakers installed, the audio will be good to go. These speakers cannot be directly connected to a playback device, hence the need to route the audio through the existing head unit.
What if I already have Bluetooth in-car?
Even simpler then. You won't need any cables. Every time you switch on the system, let the phone / tablet / MP3 player connect to the head unit, and you are good to go.
So, an old smartphone will work?
Yes, very much. Good you didn't just throw them away. In fact, even an old tablet or MP3 player will do the same job, equally smoothly. All you need is a working headphone jack on the device, and space to store your music. Expandable storage? Even better! If you happen to have an active SIM card in the phone or tablet (3G enabled versions), you may additionally even enjoy online radio while driving, using an app like TuneIn, for example. Or music from the cloud, something like an iTunes Match or Xbox Music, for example.
Any additional installations? Not strictly necessary.
Well, not really. Surely, the central console will have enough space for you to place the phone or iPod or tablet, once it is connected to the system. However, for those of you who may hate any sort of clutter in the car, there are the universal mounts that you can buy. Not very expensive either, and can hold most smartphones and 7-inch tablets. Good quality smartphone mounts are available for around Rs. 300 onwards, and the ones that can hold 7-inch tablets cost Rs. 600 and above. You can use the suction cup setup to place these securely on the windshield, and out of your way.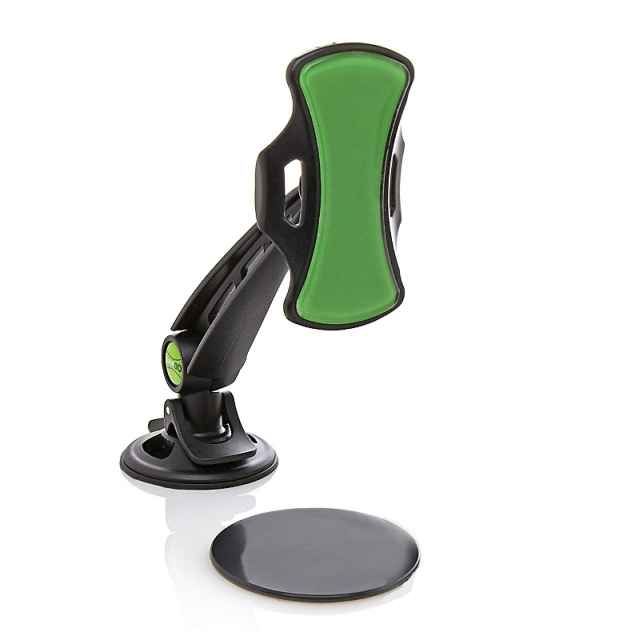 There are various universal mounts that let you dock your smartphone (various screen sizes) and even smaller sized tablets safely and out of the way. The one pictured here is the Grip GO Universal mount, that lets you "stick" the phones to it. There are also the "clamp" mechanism versions available.
There are also in-dash setups that let you slot in the tablet into the same are space as an existing two-DIN head unit, with a modified faceplate. However, that is never ideal, because you miss out on the flexibility of the using an external device anyway. Additionally, not every car's design elements will allow you to do that, for example in the case of a Ford EcoSport (pictures above), which sees the entire audio and Bluetooth system integrated very smoothly with the rest of the gadgetry. Plus, the setup costs considerable amount of money, and not everyone wants their car's dash to be ripped open. There is no standard for this, and you will have to check with the car accessory dealer for the specifics for your car.
If you actually use a setup like this in your car, we'd love to hear about it. Email the author your stories at vishal.mathur@9dot9.in or on Twitter @vishalmathur85