Buying a good motherboard is like getting a well-fitting glove, it not only feels great, but the productivity boost attained is well-worth the money. If you are looking for detailed help while choosing the best processor and motherboard under your PC Budget, check out our buying guide. We're taking a look at all the different price points that you'd be looking at for your next PC.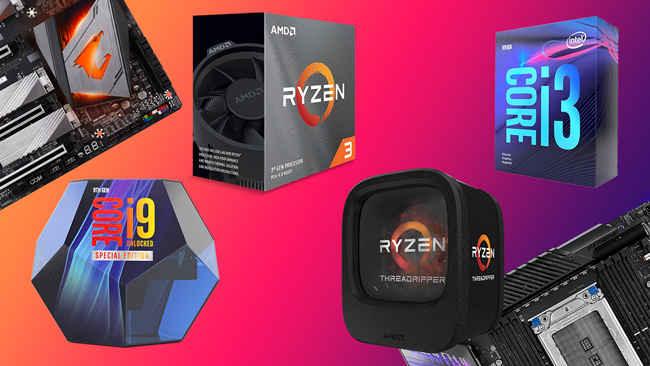 We start from the entry-level segment wherein you can get a CPU and motherboard for as low as Rs 8,500 and go all the way up to Rs 2,40,000 in the workstation segment. With 30 combinations in this list, you are bound to find one or more configurations that fit your needs perfectly. We've also mentioned which combinations have integrated graphics (iGPU) so that you don't need to spend on an additional graphics card.
Also, we've sorted the entire list based on combined performance in single-threaded as well as multithreaded applications. This performance index is mentioned at the bottom of the column, and a lower number indicates better performance. Which is why the AMD Ryzen Threadripper 3970X combo is the best performing of the entire lot whereas the AMD Athlon 200 GE combination is the least performing one. We hope this guide helps you build your next rig with ease.
Entry-Level
For folks wanting the bare minimum out of a PC, this is where you'd want to start. All combinations in this section have an iGPU except the Intel Core i3-9100F.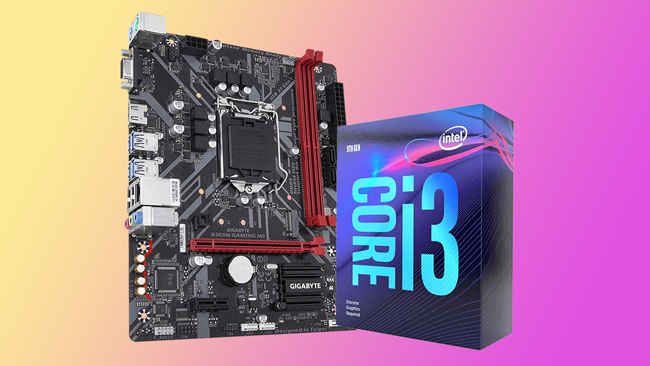 You can get a cheap graphics card for less than Rs 3000, but that would still drive the costs higher. So you're better off going with the Intel Core-i3 9100. Pick the 9100F only if you plan on getting a mid-range GPU. That way you can save some money on the CPU and spend the savings on a better GPU. Also, check out our top picks for entry-level/budget processors for desktop PCs.
Performance Index

CPU
Cores
Threads
iGPU
Price
Motherboard
Price
Total Price
ENTRY-LEVEL

30

AMD Athlon 200 GE
2
4
Y
3658
ASUS A320M-K
4878
8536
29
Intel Pentium Gold G5400
2
4
Y
4848
MSI H310M PRO-VDH PLUS
6350
11198
28
AMD Ryzen 3 3200G
4
4
Y
7959
ASRock B450M-HDV
5190
13149
27
Intel Core i3-9100F
4
4
N
8509
GIGABYTE B365M Gaming HD
6565
15074
26
Intel core i3-9100
4
4
Y
11093
GIGABYTE B365M Gaming HD
6565
17658
Mid-Range
Things get a little interesting in the mid-range, especially with the introduction of the new AMD Ryzen 3 3100 and 3300X. You'd assume that these processors would be entry-level material, but it turns out that they have enough horsepower to put the Intel Core i7-7700K to shame. So, we had to squeeze them in here.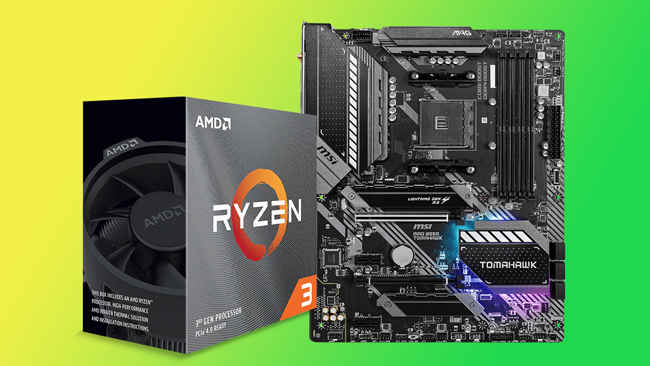 You'll find fewer combinations in this segment with integrated graphics as more people tend to opt for a discrete GPU. It's just the Intel CPUs and the lone Ryzen 5 3400G that have built-in graphics. It would also appear that most Intel combinations are very expensive. The current market rates for the processors are higher than their AMD counterparts and the motherboards are equally pricier. The two together drive up costs too much. You can certainly pair the Intel Core i5-9600K with a B365 motherboard but then what's the point of getting an unlocked CPU? That Z390 board is the cheapest one we could spot that was in stock and it's nearly twice as expensive as the other boards in its vicinity.
Performance Index
CPU
Cores
Threads
iGPU
Price
Motherboard
Price
Total Price
MID-RANGE
25
AMD Ryzen 5 3400G
4
8
Y
13225
ASRock B450M-HDV
5190
18415
24
ADM Ryzen 5 3500
6
6
N
11050
ASRock B450M-HDV
5190
16240
23
Intel Core i5-9400F
6
6
N
13896
ASUS TUF B365M-Plus Gaming
8304
22200
22
Intel Core i5-9400
6
6
Y
17879
MSI MAG B365M Mortar
9725
27604
21
AMD Ryzen 3 3100
4
8
N
8455
GIGABYTE B450M DS3H
7010
15465
20
AMD Ryzen 3 3300X
4
8
N
11030
GIGABYTE B450 Gaming X
8487
19517
19
Intel Core i5-9600K
6
6
Y
21973
ASUS PRIME Z390-P
15403
37376
18
AMD Ryzen 5 2600X
6
12
N
14473
GIGABYTE B450 AORUS M
8920
23393
17
AMD Ryzen 7 2700
8
16
N
19461
MSI B450-A PRO
8750
28211
16
AMD Ryzen 5 3600
6
12
N
17471
MSI X470 Gaming Plus
11360
28831
15
AMD Ryzen 5 3600X
6
12
N
21743
GIGABYTE X570 UD
14567
36310
14
Intel Core i5-10600K
6
12
Y
21973
ASUS PRIME Z490M-PLUS
22500
44473
High-End
When you really want to game with no holds barred and get a good all-rounder machine that's destined to last a couple of years easily, then these are the combinations that you should be looking at.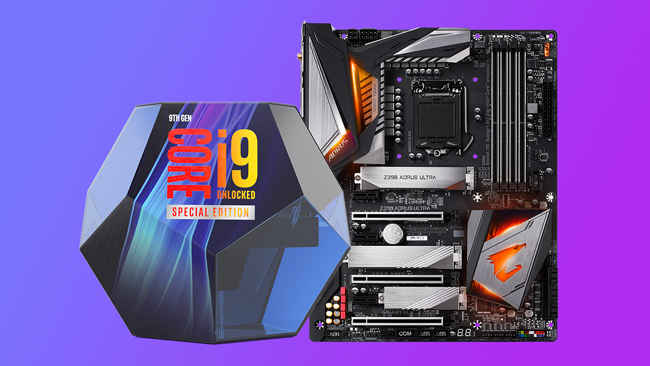 Most CPUs here have 8 core / 16 threads and are also really good overclockers. The AMD 2nd Gen Ryzen 7 2700X being an exception since it's from an older generation. AMD made decent improvements to clock speeds with the 3rd Gen Ryzens and it really shows. If it were a purely frequency-based competition, then Intel easily moves ahead, but since core counts are being utilised by a lot more applications, the overall performance of AMD processors leaves Intel behind. Lastly, we can see a similar trend with the prices as we saw in the mid-range segment. Intel combinations tend to be more expensive owing to high CPU and motherboard prices.
Performance Index
CPU
Cores
Threads
iGPU
Price
Motherboard
Price
Total Price
HIGH-END
13
Intel Core i7-9700K
8
8
Y
38775
ASUS PRIME Z390-P
15403
54178
12
Intel Core i7-10700K
8
16
Y
38775
ASUS PRIME Z490M-PLUS
22500
61275
11
AMD Ryzen 7 2700X
8
16
N
17800
GIGABYTE X470 AORUS ULTRA Gaming
12980
30780
10
AMD Ryzen 7 3700X
8
16
N
29492
MSI X570-A PRO
14326
43818
9
Intel Core i9-9900K
8
16
Y
51500
ASUS Z390-E GAMING
23478
74978
8
AMD Ryzen 7 3800X
8
16
N
32379
GIGABYTE X570 AORUS ELITE
20470
52849
7
Intel Core i9-9900KS
8
16
Y
64000
ASUS ROG MAXIMUS XI HERO
25500
89500
6
Intel Core i9-10900K
10
20
Y
51500
ASUS ROG STRIX Z490-F GAMING
34500
86000
5
AMD Ryzen 9 3900X
12
24
N
44800
ASUS X570-PRO
23626
68426
The newly announced 10th Gen Z490 boards aren't exactly helping their case either.
Workstation
Digital media professionals who'd like to have a personal workstation at home or at the office will take all the cores that you can throw at them. With the new AMD Ryzen Threadripper processors, they have no reasons to complain.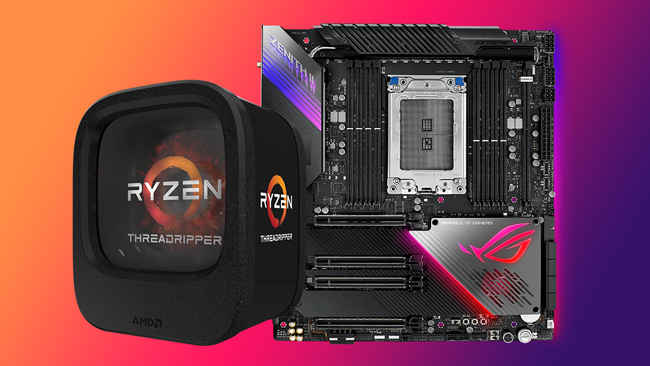 These massive core-count processors are just shy of being called servers. Heck, even server processors from two years ago will be embarrassed to see how quickly the consumer side has caught up. None of these processors have integrated graphics simply because no person buying a work-station processor is going to skip on getting a powerful graphics card to match.
Performance Index
CPU
Cores
Threads
iGPU
Price
Motherboard
Price
Total Price
WORKSTATION
4
Intel Core i9-10980XE
18
36
N
90000
GIGABYTE X299 AORUS Gaming 7
51499
141499
3
AMD Ryzen 9 3950X
16
32
N
68701
MSI X570 ACE
35759
104460
2
AMD Ryzen Threadripper 3960X
24
48
N
124796
GIGABYTE TRX40 AORUS MASTER
47790
172586
1
AMD Ryzen Threadripper 3970X
32
64
N
178333
ASUS ROG ZENITH II EXTREME
62100
240433
Price being no bar, all you need to know is that spending more in this segment saves you time since your workloads will be executed quicker. This way you can take up more projects and increase your revenue. The Intel price gap doesn't seem to be that wide in this segment which is a relief, but there really hasn't been an improvement in core counts for more than two years.