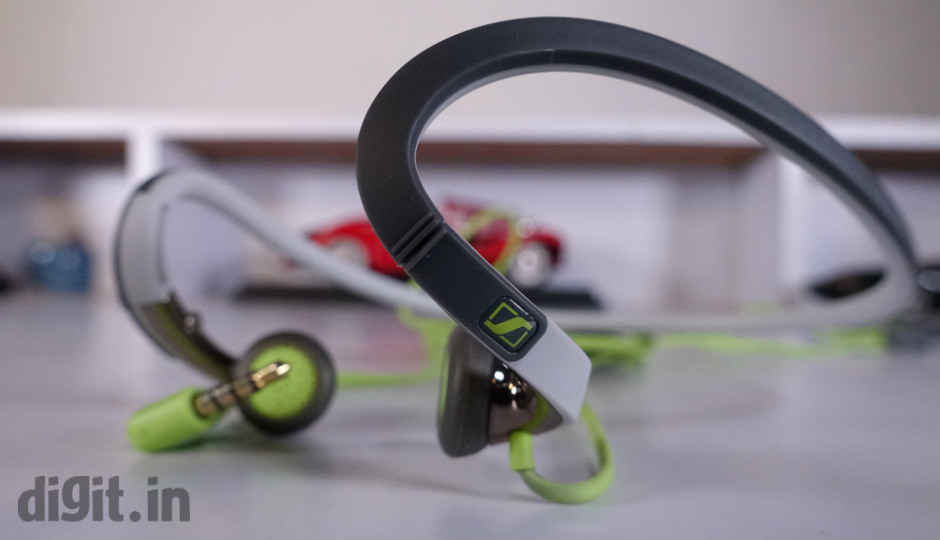 Sennheiser PMX-686G Sport review: The Sennheiser PMX-686G Sport is ideal for jogging and activities, although you will considerably compromise on audio quality.
Sennheiser PMX-686G Sport Rating

71

100
Our Verdict
The Sennheiser PMX-686G Sport succeeds in doing its primary job – being a well-designed pair of headphones fit for jogging and other activities, but as a hardcore audio performer, it fails in a lot of aspects. You might want to look at the likes of Audio Technica CKX9, Cowon EH2, Klipsch R6i and Shure SE215, for better audio prowess.
PROS
Perfect fit for jogging
Loud audio
Good noise cancellation
CONS
Flattened mids
Distortion at highest volume
Uncomfortable, takes time to get used to
Sennheiser PMX-686G Sport: Detailed Review
INTRODUCTION
The Sennheiser PMX-686G Sport headphones are aimed purely at the fitness enthusiasts, who like their music while working out. The Sport series earphones of Sennheiser have previously been all about looks, along with providing the signature Sennheiser quality of audio. With the new Sennheiser PMX-686G Sport, the aim remains the same. Here's hearing it out, in more detail.
BUILD QUALITY and DESIGN
Right out of the box, the neon green of the PMX-686G was a pleasant surprise for me, driving away from the mundane colours to add more life to it. While this worked for me, it might not sit well with many others, and style-conscious ladies and gentlemen will definitely find the colour limiting. Having said that, the colour is bright, and keeps the sporty feel alive with these. The main neckband and earpieces is a tri-colour band – dark and light grey, with neon green sandwiched in the middle. While the build seems strong, the build quality is not top-notch. Add to that the unconventional styling and structure of the headphone, the Sennheiser PMX-686G Sport takes a while to get used to.
The neckband is entirely plastic – smoothly finished plastic. The neckband curves backward on both ends to house the earpieces, which have screwed-in metal bridges in between. The earpieces themselves are not canalphones, although the structure of the headphones does not make this a big issue. The PMX-686G Sport is built in a way so that the neckband curves along the back of the ears, and the inward-curved earpieces fall lightly on your ears. While at first you might find the build rather uncomfortable and difficult to wear, you will get used to it soon. If you happen to wear spectacles, wearing the PMX-686G Sport might be an issue for you, at least initially. I do, and it took me almost an entire week to get adjusted to too many obstacles behind my ear. Not a very comfortable situation, at all.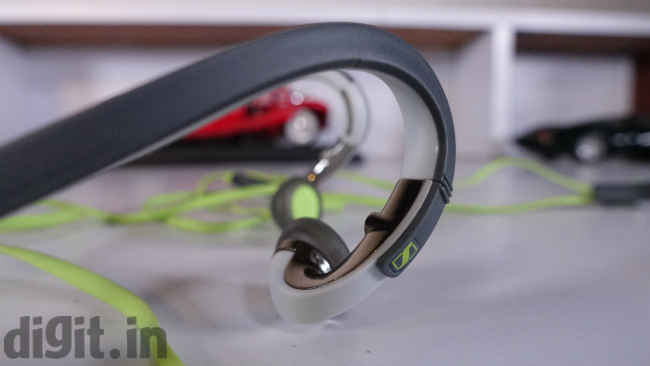 The curl around the ears keeps the headphones in perfect fit
After a week, though, I found that the Sennheiser PMX-686G Sport was the best pair of headphones that I had ever taken out during my morning jog. It fits snug on my ears, and I never had to worry about earpieces falling off my ear. Despite an open design, the PMX-686G Sport has excellent noise cancellation (more on this, below). At just about 37 grams, it is light, and once you get used to it, you will forget the inconvenience you had to go through for the entire first week of frequent usage.
An excellent addition to the earpieces of the PMX-686G Sport are the water- and sweat-resistant anti-microbial SteriTouch coating on them, which enhances its focus on fitness and hygiene. The single para-aramid-reinforced cable with in-line controls and microphone is durable, and withstood high stretches. It is also tangle-free, which is a huge reprieve from the regular tangle that many wires undergo. The boxed package also comes with a cable clip, which you can adjust and clip on to your tee, to be completely rid of dangling wires.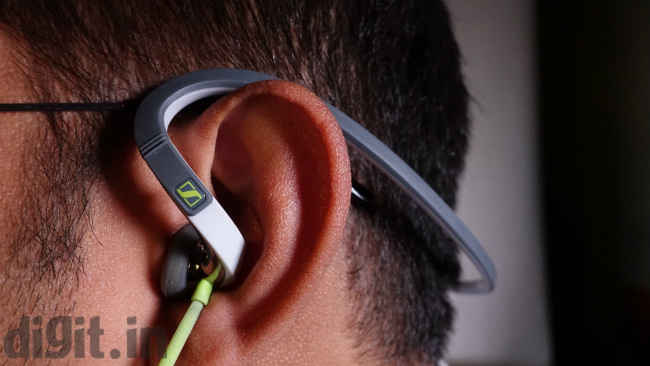 Although it is not the most comfortable, you get used to it over time
Although the in-line controls and microphone are placed too high for my choice, you do get used to it, eventually. One good thing about this, though, is that the microphone is placed perfectly, and picks up your audio without you having to cover it with your palms or placing it in front of your mouth. Overall, although you might have a number of aspects about the Sennheiser PMX-686G Sport that will take you time to get used to, it is worth it, eventually. In terms of design, while the material does not feel the most premium, durability is uncompromised, which is essential for an activity-oriented pair of headphones. The neon green might not be everyone's favourite pick, but for those without very specific fashion choices, it is the right amount of brightness to go with.
SPECIFICATIONS
| | |
| --- | --- |
| Impedance | 30Ω |
| Frequency Response | 18-20000Hz |
| Total Harmonic Distortion | <0.5% |
| Sound Pressure Level | 120dB (1KHz/1Vrms) |
| In-Line Volume Control | Yes |
| Microphone Sensitivity | -44dBV/Pa |
| Mic Type | Omni-directional |
| Connectivity Options | 3.5mm angled connector |
AUDIO PERFORMANCE
The performance section here is divided into two halves – Core Performance, and Regular Performance
Regular Performance
The Sennheiser PMX-686G Sport is not the finest headphone that you will hear in terms of audio texture, clarity of entire frequency range, soundstaging and every other parameter that we look at, in our tests. Having said that, it is not bad in any way. For regular usage situations, I took the PMX-686G Sport out for runs. The neckband is not intrusive, and being so light, does not make you conscious of wearing the headphone around your neck. The architecture holds the earpieces in place, and you will not need to keep readjusting the earpieces lest they fall.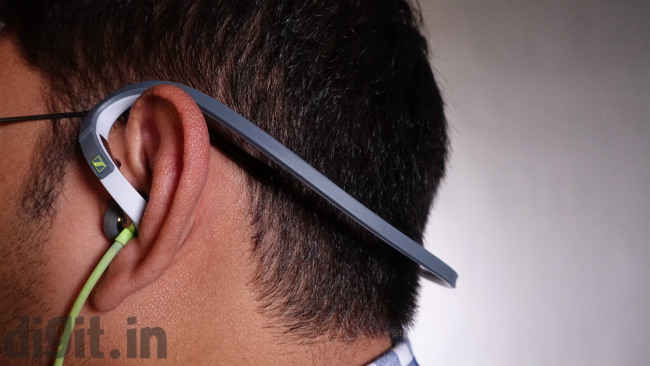 There are no loose ends in its durability, but has considerable audio leakage
In terms of audio, the Sennheiser PMX-686G Sport can be very loud at the highest level. The highs are not too piercing on the ear, but are balanced to be on the higher side. To ensure that you feel the bass beats while you are out jogging, bass is decently pronounced, and as a result, the mids are compromised. While you might not notice this during jogging and other outdoor activities, it does affect majorly in core performance (discussed below). The Sennheiser PMX-686G Sport is very good in terms of noise attenuation, albeit having an open design. There is a certain amount of audio leakage, although it is not too significant to majorly disturb others at optimum volume levels. At the highest volume, though, there is a considerable amount of audio leak. In outdoor jogs, there is no aberration resulting out of loosely bolted parts or internal mechanism defect, meaning that there are no external noise that affects the incident audio. Overall, there is a slight amount of distortion at high volume, despite the low THD rating, which happens to be the same as the Sennheiser Urbanite.
In terms of regular performance, the Sennheiser PMX-686G Sport will suffice your music needs when it comes to exercise or activity time. What you ideally need in such situations is loud, thumping music to keep the beat up, and that is exactly what it does. But, as a hardcore audio performer? I wouldn't really say so.
Core Performance
It is here that the Sennheiser PMX-686G Sport turns out very mediocre results. The 30Ω impedance is low enough to make it suitable for low-power mobile devices, but may be connected to the occasional high power amplifier source, although that will possibly not give you favourable audio. The highs are too pronounced, and are in fact slightly shrill for my liking. Additionally, they are overpowering, leading to considerable loss in the mid frequencies. Play Daft Punk's Contact, and you will be hard pushed to distinguish every crash and ride.
Theoretically, the Sennheiser PMX-686G Sport has a frequency range of the entire sonic range, and it does cover all frequencies, but flattens the mids in the process. What happens, as a result, are pronounced (and often slightly distorted) vocals along with powered bass that is slightly demure, and almost absent mid frequencies. Listening to Pink Floyd's Shine on you Crazy Diamond was a less euphoric affair, with a lot of intricacies of David Gilmour's guitar gone missing. If your music is centered around new-age electronic music, the likes of Skrillex and Flobots might sound enjoyable to you owing to the balance of the audio, but then again, you're probably one looking for a pair of unorthodox, good-looking headphones within a reasonable budget, and not a stickler for audio perfection.
The low frequencies pulsate in a layer beneath the highs, and that is too evident in every track, especially in ones like John Coltrane's Equinox. The imbalanced audio sounds particularly mediocre if you're listening to tracks by the likes of Opeth, Deep Purple and Children of Bodom – with the large amount of instrumentation that is audible in almost all of these bands' songs, the Sennheiser PMX-686G Sport flattens tracks to a point where you'll miss sections of snares, hi-hat rolls, and backing guitar arpeggios. Having said that, the audio drivers are powerful enough to deliver power to you, and the sound that you hear is not something that you would directly call bad, particularly considering Sennheiser's target audience with this pair of headphones.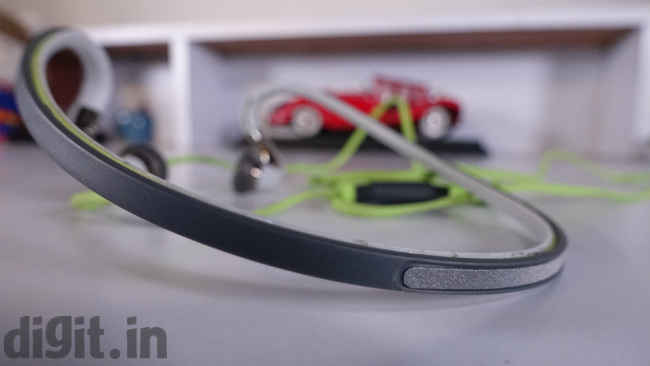 The Sennheiser PMX-686G Sport makes sense only if you focus on style over substance
At the highest volume level, the higher frequencies sound audibly distorted, and the audio is not as clean as it should be. Listening to tracks like Eric Johnson's Desert Rose, or Cake's detuned vocals and trumpet solos, will not give you the pristine detail and texture of the voice, despite high treble levels. The Sennheiser PMX-686G Sport can be ideal for games that involve a lot of voice commands, but will not provide you with the complete soundstage of missiles whizzing past and the murmur of grass as you stealthily proceed to ambush the enemy army. Talking about soundstage, orchestral tracks like Lux Aeterna by Clint Mansell and David Garrett's high tempo solos like Toccata are definite disappointments. In tracks like Toccata, while the violin sounds too shrill, the accompanying instruments are heavily compromised. There is a lack of warmth in the audio, and Hans Zimmer's Interstellar soundtrack sounds incomplete and feels almost like you are listening to it from a bad audio source.
If you are an audiophile looking for an in-ear alternative to your professional pair of headphones, the Sennheiser PMX-686G Sport is not one for you, unless you are allured by the way it looks. It does make distant sense as a secondary choice for situations like public transit or if your playlist includes a lot of vocal-centric tracks, but its lack of soundstage, coupled with the flattened mids, slightly distorted audio at peak volume, and considerable audio leakage at the same does not make it an outright audio performer that I have always come to expect from Sennheiser.
BOTTOMLINE
The Sennheiser PMX-686G Sport does what it means to do – deliver you decent audio during your activity routine, by pumping up the bass and the treble. While a lot of audio fidelity is lost in the process, chances are high that while your main focus lies in the one hour of working out, you will not be perfectly noticing them. It is not the best pair of headphones in terms of audio performance, and given its price of Rs. 7,990, you might want to check out the likes of the cheaper Audio Technica CKX9, the similarly-priced Klipsch R6i and Shure SE215, and the more expensive Cowon EH2, for the want of better audio.
Other Popular Deals
Sony WH-1000XM3

Rs. 26990

Buy Now

Honor 7X (Black, 4GB RAM, 32GB...

Rs. 11999

Buy Now

Honor 8 Lite 64 GB (Black)

Rs. 12253 *

Buy Now
*Includes Cashback