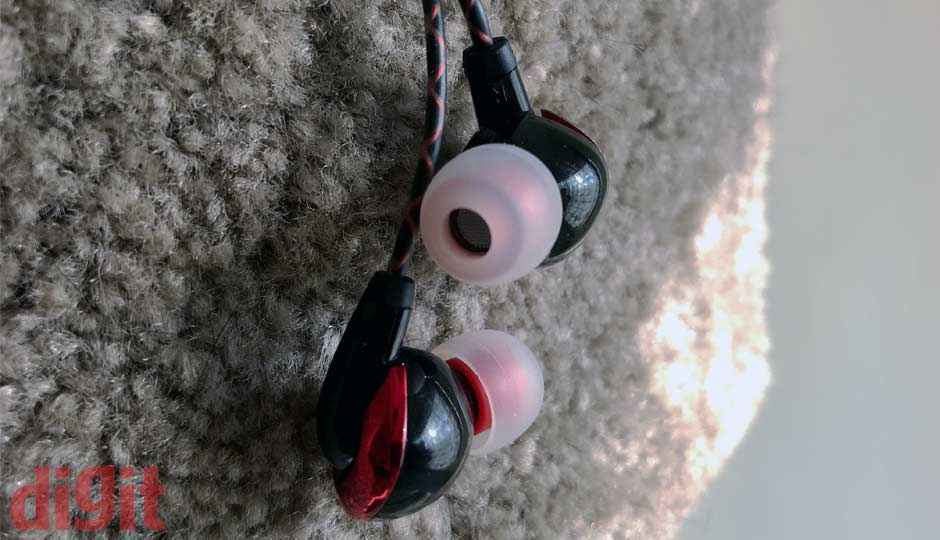 FiiO F3 Price in India

1569 /-

Buy Now
Set Price Drop Alert
The FiiO F3 punches considerably above its weight and offers great value in the budget IEM segment
Our Verdict
Getting a budget IEM right is no easy task today. There's a ton of ways in which several brands are making their presence felt in this overly crowded segment today. In this, FiiO, always known for offering quality at an affordable price point, doesn't disappoint with the FiiO F3. At its current price of Rs. 1590, you get good audio performance, a thoughtful design and overall, a great pair of budget IEMs.
PROS
Over-ear design
Good overall audio
FiiO F3: Detailed Review
Budget IEMs are quite literally flooding the market right now. While Flipkart lists more than 3000 brands under headphones, that includes suppliers and duplicates as well. On Amazon, there are 51 brands just under the top brands' section. Quite understandably, this leads to a high level of competition when it comes to pricing, with hundreds of units vying for the top spot in the sub-2000 category. In this crowd, it is admittedly difficult for a product to stand out on anything other than sheer performance. FiiO products have a reputation of being good performers across several price points. So when we got a chance to test the FiiO F3 IEMs, we didn't immediately put it in the same bargain bin as most of the lot at this price point. Did it fulfil our expectations?
Design and Features
The F3's build doesn't surprise anyone out of the box - on its own. It includes a few accessories in the box, and a carry case, that supports its cause when it comes to design and build quality. Plastic forms the main constituent of its structure, with a silicone casing on the coiled cable. It is difficult to judge whether the cable is actually coiled or is designed to give an appearance of the same. The cylindrical control unit features a mic and three prominent buttons that generate audible clicks during the listening experience. The carrying case is a nice faux carbon fibre piece for this price, that can fit everything included in the box.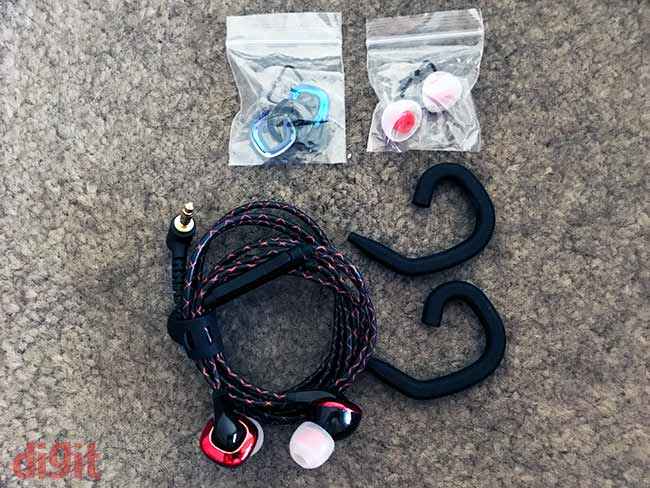 The y-split is also a smaller cylindrical piece of plastic that doesn't contribute much to the build. The included silicone ear tips are better than what you usually get at this price point. We carried out our testing with the default medium tips, however, the changing process is pretty simple as well. The driver housing is translucent, but you'll have to hold them directly under the light to be able to see beneath the darkened transparent plastic casing. The L-shaped connector is a good decision, however, it might come across as inconvenient to those looking to put their connected phones into trouser pockets. The belt strap to hold the wires in place when packed seems to be a bit too lax and needs to be locked into place to prevent it from sliding down to the connector all the time.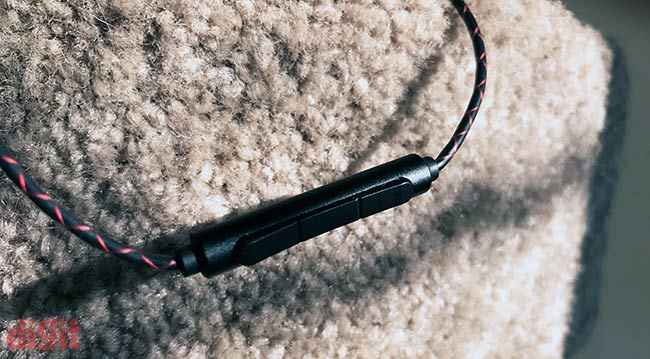 As we mentioned, things get interesting when you look at the accessories. The F3 comes with a carry case, inside which you will find a few plastic faceplate alternatives and a flexible ear guide. The interchangeable faceplates come in red (already mounted), blue and black. They allow you to customise the look of the individual driver housing. The flexible ear guides are also optional and help you get a better grip when you put the IEMs on your ear in the intended over-ear style. The over-ear style is a welcome change in this price segment. However, if you find it irksome, getting around it is as easy as swapping the earbuds between your ears.
Performance
As expected from a FiiO headphone, the F3 punches above its weight. The bass is fast and punchy, providing a level of detail and sharpness that is not seen often in its immediate competitors. However, don't let that misguide you into believing that these are IEMs for bassheads, because they are not. You could say that there's a lean towards the warmer spectrum of sound but not in a distasteful way. Pushing the volume levels distorts the bass on tracks like Uptown Funk by Bruno Mars. But listen to it on low volume, and there's something almost surprising about the F3's bass performance. It gets around the muddiness that plagues its counterparts and manages to offer you the low-rumble of the sub-bass and an overall linear boost without ruining the experience with sheer loudness and vibration.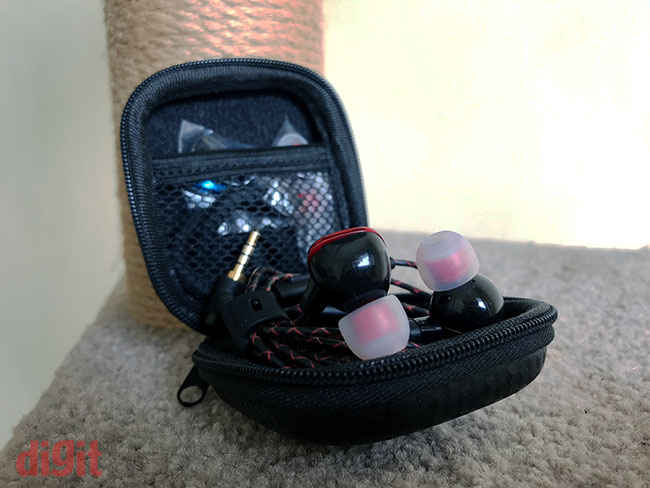 Compared to the bass, the mids come across as slightly recessed. Chris Rea in Call of Me and Adele in Hello sound a bit flat, with Rea struggling a bit more to be heard. However, the vocal performance is still better than many other units we've tried in this range.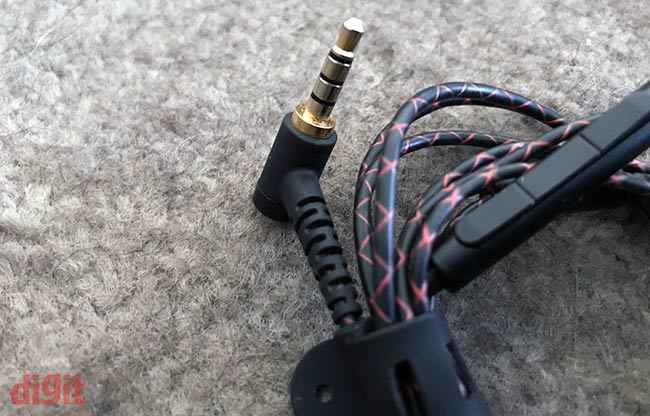 When it comes to the highs, the F3s make a good shot at shining once again. The v-shaped signature of the overall sound comes through with tracks like Pull Me Under by Dream Theater, Hotel California by Eagles and more. There's a decent amount of soundstaging and imagine going on for a budget earphone, something that only improves when driven by a dedicated AMP. Tracks like Hunter by Bjork sound reasonably well spaced and detailed. The microphone performance on the F3 is also quite adequate.
Verdict
The FiiO F3 has a lot going for it, despite facing stiff competition in the bargain bin lot of budget IEMs. FiiO has managed to put in a decent build even under Rs.2000 and for good measure, thrown in a faux carbon-fibre case as well. The customisable elements let you chose the way you want to listen to the IEMs, but the over-ear configuration is definitely a plus. While the Ant Audio W59 does come at Rs.300 less than the current running price of the FiiO F3, the jump in audio quality is notable. In fact, the FiiO F3 outshines most sub-2k IEMs that we've got our hands on. To nitpick, vocals take an unexpected backseat in quite a few tracks known for them. Overall, at the current price of Rs.1590, the FiiO F3 is what we would recommend anyone looking for quality at the lower end of the budget IEM segment.
Buy Now
Samsung A7 2016 Edition Golden

Rs. 18990 *

Buy Now

FiiO F3

Rs. 1569

Buy Now

Audio-Technica QuietPoint...

Rs. 14062

Buy Now
*Includes Cashback