An impressive build and above average audio performance combine to make the Twinpods a decent budget option for true wireless enthusiasts.
Boult Audio Twinpods Rating

61

100
Our Verdict
Packaged in a well-built case and boasting an IPX5 rating, the Boult Audio Twinpods offers impressive build quality at a budget price point. The audio itself isn't half as bad as most of the true wireless earphones we've experienced. Even though we wouldn't call this the best budget pair of true wireless earbuds, this does make its case for a good starting point for those looking to dabble in the world of true wireless audio before diving in deep.
PROS
Well built
Decent overall audio
CONS
Conspicuous branding
Mids, highs can sound edgy
Boult Audio Twinpods: Detailed Review
Even though it has been a while since the Apple Airpods kindled the true wireless fire, wearing one of these completely wire-free earpods and going out still gets you quite a few curious gazes. However, over the last couple of years, this product category has become highly competitive. While there are a number of mid-range and expensive options available upwards of Rs. 10000, it is the budget segment that is gaining traction by offering a true wireless experience that doesn't ask you ditch a significant chunk of your money along with the wires. Boult Audio has a couple of options in this segment and we've reviewed the Twinpods.
Design and Features
Don't let the budget tag fool you. The Twinpods are built to impress at first and subsequent glances. They come in a sleek metal alloy case that is built in a candy bar form factor with a matte finish.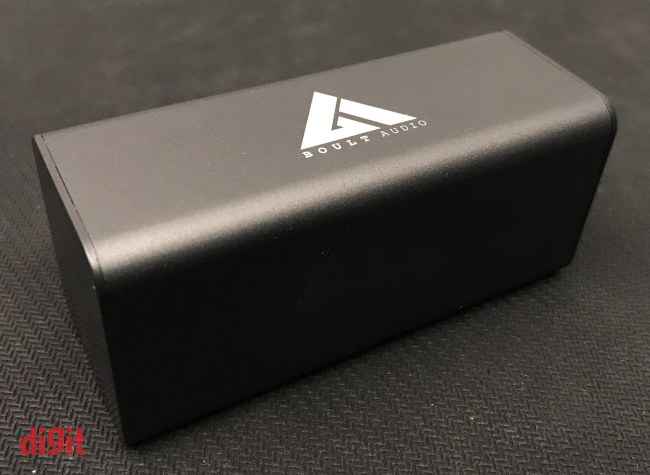 A small rubber tag on one end, when pulled, brings the internals sliding out smoothly. Now, there are two variants of the Twinpods - grey and green. We got the green version and when we say green, we mean neon as-bright-as-it-can-be green, which is what will confront you when you slide the case open.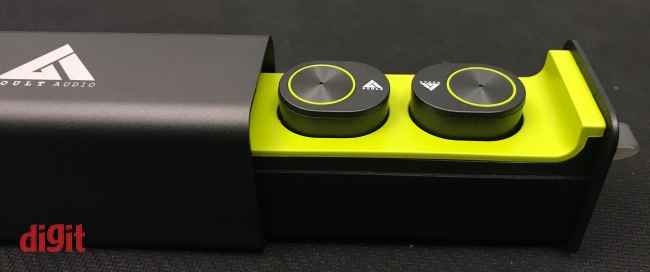 The two pods sit perfectly inside their designated slots, with the gold charging pins being the only thing on the entire setup that is neither green nor grey.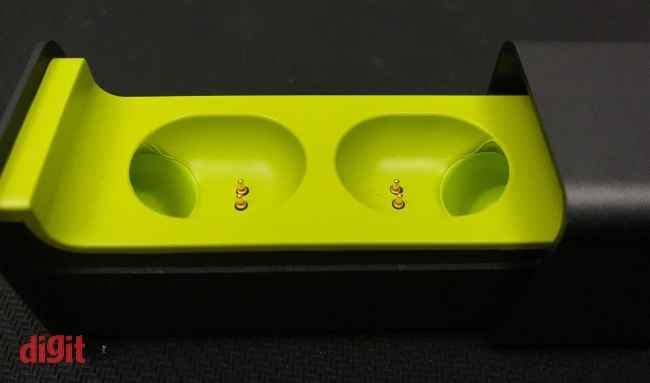 Plop these buds out and you're confronted with the same neon green on the ear tips as well. At this point, we should probably make it clear that we're not against the neon green, especially when the alternate grey is available - just make sure you're comfortable with the one you're getting. The earbuds themselves are tiny and even inconspicuous if you get the grey version. They come in a chamfered finish that is not too reflective, save for the buttons that have circular grooves on them with neon green highlights. These grooves come in handy when you're trying to find the controls when in use. It is the Boult Audio logo beside them that is a personal irritant, making you a walking advertisement for the brand when you use them.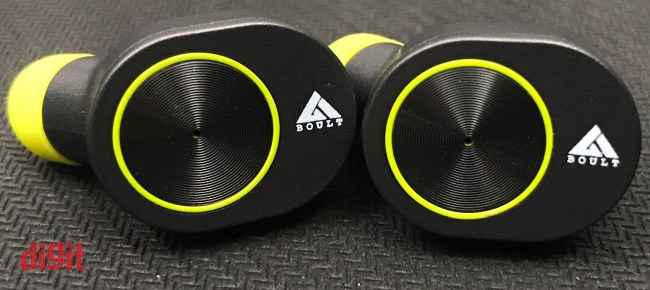 The buds are angled at about 45 degrees which ensures a good fit without being painful or loose. We tried these on a run and the buds didn't feel like they would fall out. Don't worry about your sweat damaging them as they come with an IPX5 rating. The connectivity on the Twinpods is also pretty good. The pairing process requires you to connect your smartphone to one of the two earpods which then connects to the other pod. Call audio is only channelled to the earpod directly connected to the smartphone.

Since the earpods work in mono-mode as well, you can use either of the pods separately, which can potentially lead to even better battery life at the sacrifice of stereo output. Battery life is pretty good with the 75mAh batteries in the Twinpods lasting close to six hours in our tests. Combined with the two additional charges that the case can offer, the total battery capacity is one of the highest in the segment.
Performance
The Boult Audio Twinpods are capable of pushing bass that is rich and deep. It doesn't overpower other frequencies as seen on many other budget audio devices. The neodymium drivers don't let the audio distort unless pushed to the maximum volume. Even then, it only distorts on tracks that have a high density of instruments. Songs like Uptown Funk sound fun and punchy, with the deep chorus loop not getting muddled behind the instruments.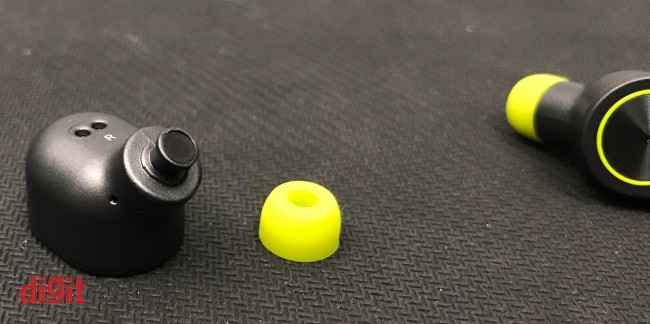 On tracks like Hunter by Bjork, the Twinpods provide impressive instrument separation at this price point. Don't let us mislead you, it is far from the best we've heard, but you have to keep in mind the asking price of these true wireless earbuds while judging them.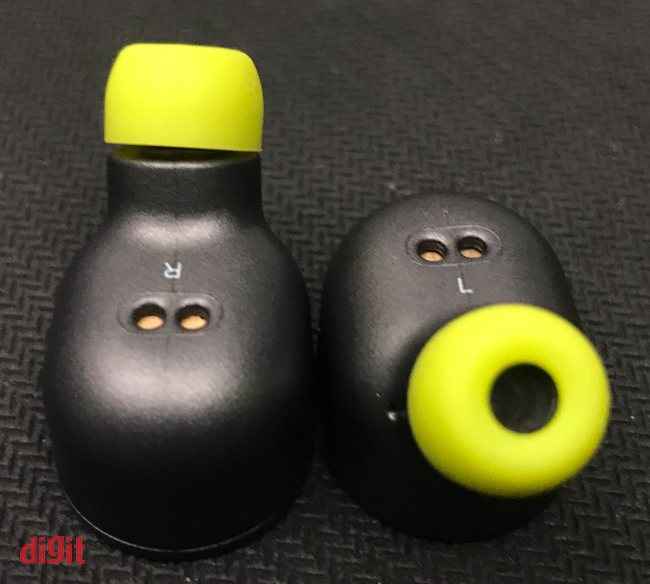 Adele's vocals on Hello are reproduced quite faithfully, albeit with a little shortfall in the fullness department. Hotel California sounds detailed and articulate, with a shade of graininess when you drag the volume above 60-70%. Overall, the audio performance on the Twinpods is passable.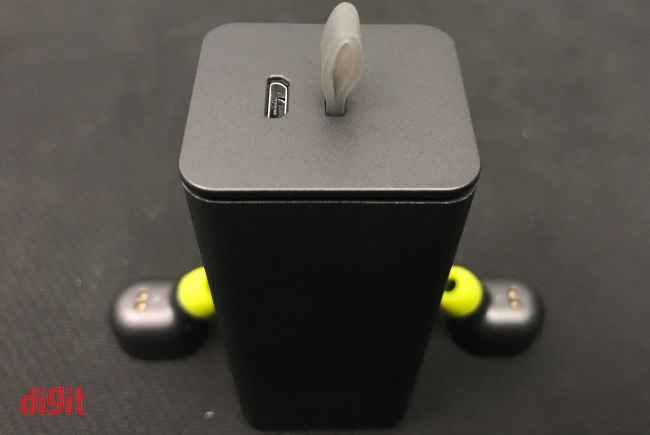 Call quality is quite decent on the Twinpods, with callers rarely complaining about the clarity or volume. However, a lot of disturbance creeps in during situations with high ambient noise, which can be an issue for people looking for true wireless earbuds for their daily commute. However, picking the right ear tips can solve this issue to a great extent.
Verdict
When it comes to true wireless earbuds, the Boult Audio Twinpods is almost as affordable as it can get. Despite that, it cuts only as many corners as it absolutely needs to, making the build quality look and feel impressive.

The actual audio performance is not too great, but we've definitely heard a lot worse. Don't expect a lot of power in the audio that the Twinpods push, instead, you'll be experiencing decent instrument separation and punchy bass. Impressive battery life completes the package, making it a decent budget pair of true wireless earphones.
Other Popular Deals
Samsung A7 2016 Edition Golden

Rs. 18990 *

Buy Now

Audio-Technica QuietPoint...

Rs. 14062

Buy Now

Sony WH-1000XM3 Wireless...

Rs. 29698

Buy Now
*Includes Cashback