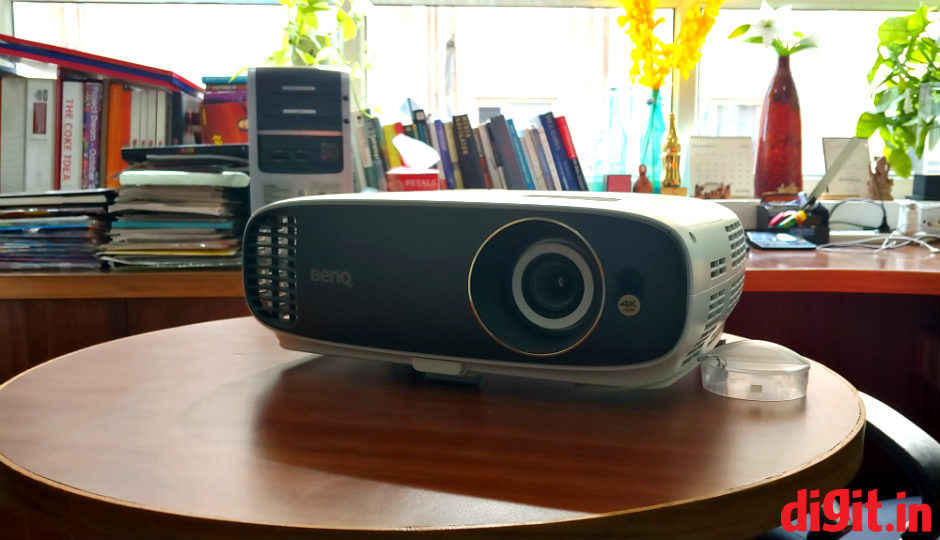 The BenQ W1700 is a 4K HDR projector. It is for those that are looking to build a home theatre and want a capable 4K projector. The projector has an MRP of Rs 2.25 lakhs.
BenQ W1700 Projector Rating

78

100
Our Verdict
The BenQ W1700 is a worthy contender for those looking to invest in a 4K HDR projector. It has great performance with 4K HDR content as well as 1080p content. It can work well for gaming as well. The only downside is that its black levels and contrast performance is lower than flagship OLED TVs. Just remember, to truly exploit the projector, you will need to ensure your room is really dark.
PROS
Good 4K HDR performance
Works well for movies, TV shows and gaming
Easy to use remote control
CONS
No Dolby Vision support
Only 1 HDCP 2.2 input
BenQ W1700 Projector: Detailed Review
Building a home theatre is a complicated affair. You need to set a budget and ensure you are getting the right audio video experience for the money you pay. It isn't as simple as deciding on a TV and speakers. You need to know if you want a TV or a projector, a 5.1 system or a 7.1.2 system. Do you want to build a dedicated home theatre in a room or is it a multipurpose setup? These are some questions that we will tackle in another story. Today we have with us the BenQ W1700 4K HDR projector. The device has an MRP of Rs 2.25 lakhs but as of writing this review is available on Amazon.in for Rs 1,78,000. If you are looking for a state-of-the-art TV, then for about 2.5 lacks you can get a 55-inch OLED from Sony or LG. For the same MRP, you get the BenQ W1700 4K HDR projector which can give you an image upwards of 100 inches. Is it worth it?
Build and design
Speaking of the build of the BenQ W1700 projector, it is all plastic with the connectivity options neatly laid out at the back. At the top you have all the physical controls such as power, source, eco black, menu mode, navigation and more. You also have the control wheel for Zoom and focus. The projector weighs a little more than 4kgs. It has rounded corners giving it a slightly oval shape. Knock on the projector and it will give you the feel that it is made from hard plastic which is good.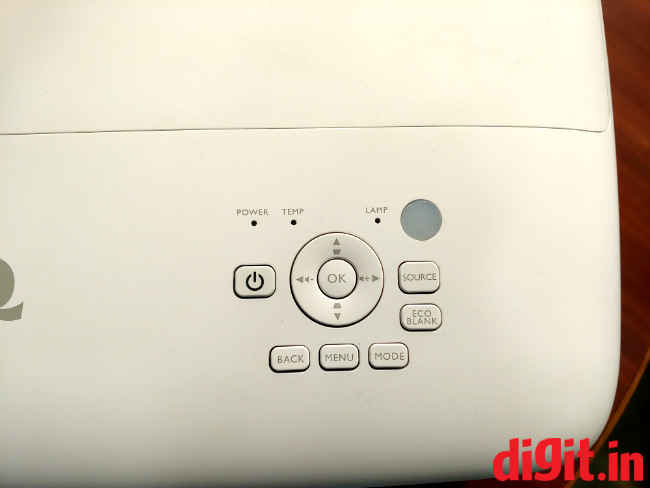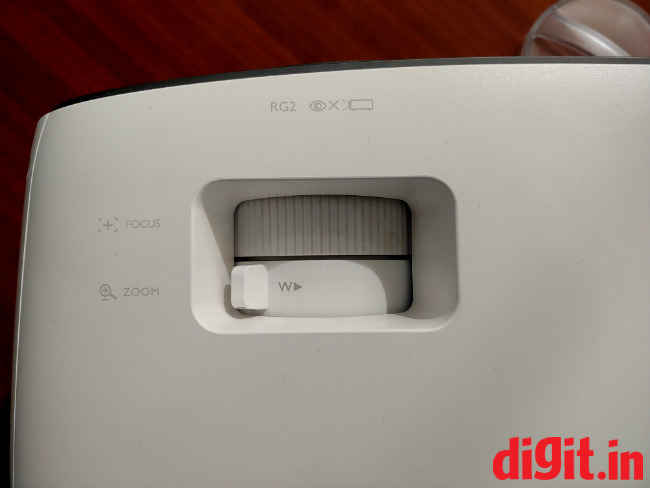 The projector has 3 height adjustable feet at the bottom. The feet can be used to give the projector an incline, decline or height based on how you are positioning it. If it is a permanent placement you are looking for I recommend mounting the projector to the sealing. That way, its position cannot be tampered with.
Overall, the build of the projector is what you'd expect – it is simple minimalistic and focuses on getting the job done.
Ports and connectivity
All the ports rest at the back of the projector. You have a 3.5mm audio in port, a 3.5mm audio out, VGA, 2 HDMI ports (one of which is HDCP 2.2 compatible), mini USB, RS232, USB port, and of course the power port. All the ports are conveniently located and I only wish that both the HDMI ports were HDCP 2.2. However, if you will use this in a home theatre where you have an amplifier, then make sure your amplifier has HDCP 2.2 out and all your inputs can go into the back of the amp.
The projector also has a 5W speaker, but considering its visual presence, the speakers are underwhelming. Its nice that they are present though.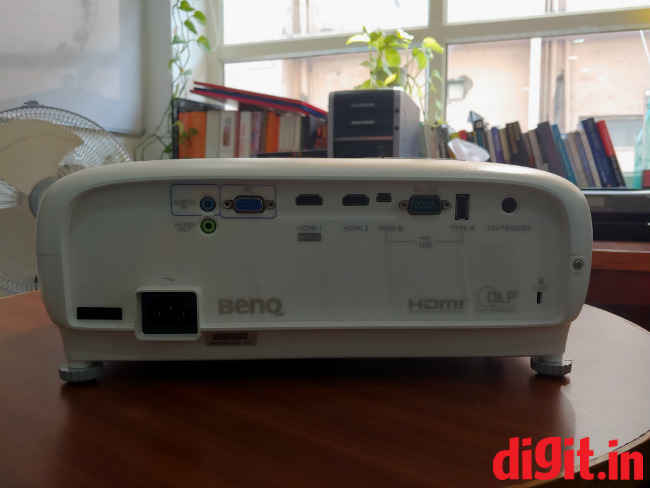 Overall, the connectivity options are plentiful and very handy if you are one that will use the ports like 3.5mm input/output and more. For those investing in a projector, it makes sense to invest in a good amplifier for your home theatre to route all the connectivity options through.
Remote Control
The projector also comes with a remote control. The On and off buttons are seperate which is unique. Some of the controls on the remote are the same as the physical controls on the projector. You also have controls for picture modes along with controls for contrast, sharpness, gamma, colour temperature and more. The buttons of the remote control are backlit which is really handy in the dark.
Overall, the buttons on the remote are clicky, the backlighting is a thoughtful touch and it responds well.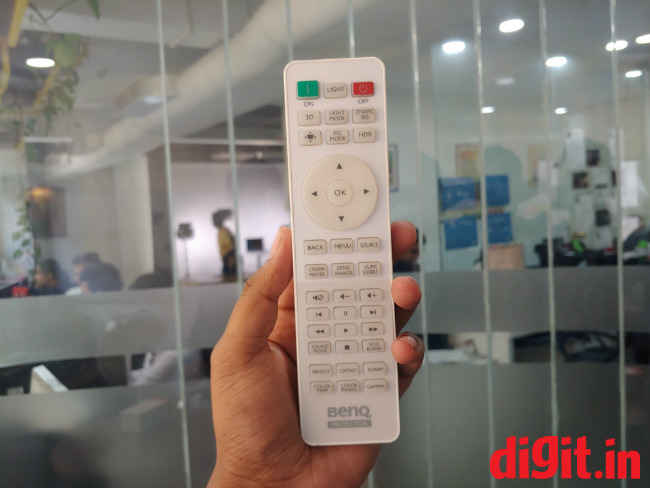 Performance
Before we get into the actual performance of the projector I'd like to touch upon the setup. If you are setting up this projector by yourself, then know that there is a grid that you can activate by going into the settings. This will help you scale the projector to the size of your screen by physically moving the projector back and forth rather than zooming in. Use zoom as a last resort when setting up.
When it comes to performance our primary source was an Xbox One X with Netflix and Prime Videos. The projector boasts of 4K resolution with HDR support. It doesn't however support Dolby vision. This projector truly shines when you have a completely dark room and a pair of speakers that can bring the house down. From the action-packed Red Circle club fight sequence in John Wick to the dark staircase fight sequences of Netflix's Daredevil and even the desert car sequence of Amazon's Grand Tour Season 1 episode 1, it all looks phenomenal on the projector. We even saw a couple of episodes of Young Sheldon which has a bright environment throughout and some Seinfeld which is an old TV show available on Prime Videos. A lot of content on streaming services is in Full HD and the projector's output was impressive for all of them. From the reds and blues in Spider-Man's outfit to the vibrant environments of the boat in Spiderman Homecoming, the projector shows that it is very capable when playing back 1080p content and making it look impressive.
Colourful game trailer like Cyberpunk 2077 and Ghost of Tsushima looked rich on the projector with vibrant colours and smooth playback. Considering the source for these videos was YouTube on the Xbox One X, we were surprised to see how rich the visuals looked.
Gaming on the projector is a different story. You will not use this to play online multiplayer shooters. When you play online, you will need as little input lag as possible. That isn't the case with this projector. The lag isn't something that will bother you if you are enjoying a single player experience. This projector is ideal for playing games like Tomb Raider, Ori and the blind forest, Uncharted and God of War if you have a PS4 Pro. Games like these not only look stunning but despite the input lag, you can still enjoy them without throwing your controller in frustration. For a cinematic gaming experience, the projector works well.
The only downside is ambient illumination. If you have a room where there is light, then the visual presentation of the W1700 is easily hampered. Think of it as the same frustration you face when someone walks into the theatre after the movie has begun and when they open the door, all the light falls on the screen. Another thing is that the black levels on the projector's image pail in comparison to an OLED TV or even a TV like the Sony Z9D. The content will of course look richer on an OLED TV and this is more pronounced when watching HDR content. Also, almost all flagship TVs support Dolby Vision so that is yet another advantage that the TVs have over this projector.
Bottom Line
Your purchase decision should ideally be based on two factors - screen size and the control you have over ambient illumination in the room. If you want a big screen, then yes, a projector is the right way to go. You get a hundred inches for the price of a flagship 55-inch TV, but you will need to ensure you can make the room pitch dark to enjoy the projector. Also, the projector has only one HDCP 2.2 port and no Dolby Vision support. If you are looking for a projector to compliment your home theatre setup then yes, the BenQ W1700 can be your weapon of choice. If not, and you are ok with a 55-inch TV, then for the price, you can get a great OLED TV which has better blacks and contrast.
Other Popular Deals
Samsung A7 2016 Edition Golden

Rs. 18990 *

Buy Now

Brainwavz Omega In Ear Earbuds...

Rs. 5646

Buy Now

Sony WH-1000XM3 Wireless...

Rs. 29698

Buy Now
*Includes Cashback