Yahoo, which has been having problems with hackers, has rolled out a second layer of protection to its secure its mobile apps. The Internet company has issued temporary passwords, which aimed to provide additional security even if your smartphone gets lost or stolen.
Similar to Google's two-factor veridication, Yahoo's second sign in verification gives the user added security. Yahoo describes the App Passwords as a temporary password that can be entered into the Android and iOS apps for added protection. The service creates a new temporary password for each and every app and device.
Once the user creates the password he can easily remove access to any individual app and device from the settings page. This means whoever finds the users device will be locked out of your Yahoo apps even though you left them logged-in.
Yahoo has mentioned the steps to enable the feature in a blog post: "Simply go into your account settings, turn on second sign-in verification, and then generate the one-time app password. Once you do, you can enter the password your mobile app, and it's as simple as that. Your device will be logged-in, so you won't have to go through this step again."
Yahoo added that the new feature is a bid to "focus on improving the security of your account" while dedicating to "keeping up with safety and security best practices."
Yahoo recently published its transparency report, for the first 6 months of 2013. The report shows that Yahoo received the maximum 12,444 requests from the U.S. government for accessing users' information and India also made the list with 1,490 requests.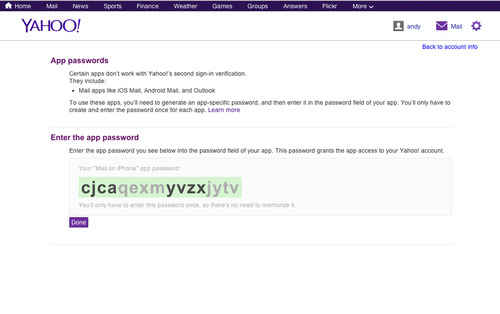 Source: TNW