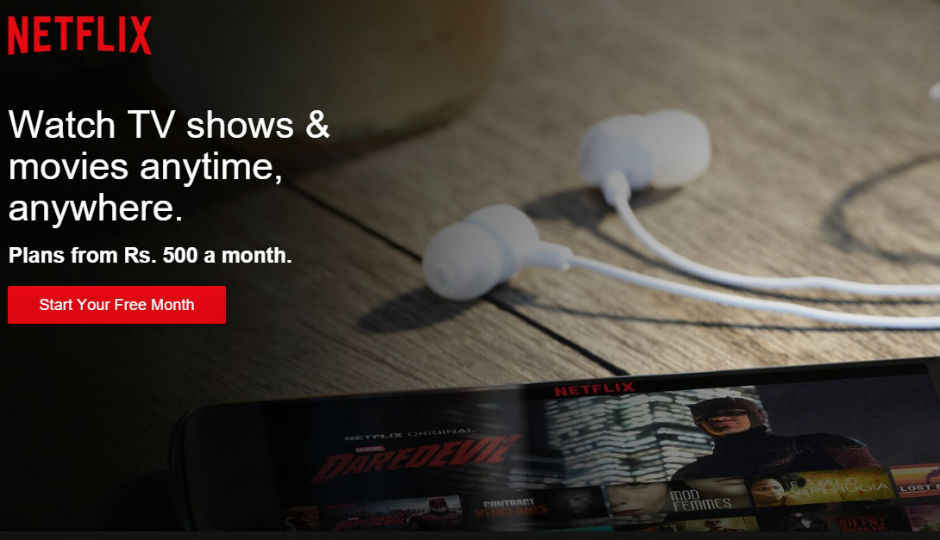 Let's forget the slow Internet speeds in India for a minute and focus on the other things. What does Netflix bring to India? Yes, Daredevil, Jessica Jones etc. can all be watched legally now, but what justifies the fact that Netflix is the most expensive streaming service in the country right now? Sure, Indians are flocking to the service, thanks to the one month trial period. A status message on Facebook, after last night's announcement from Netflix comes to mind. It goes, "People be excited for Netflix in India. People be pirating shit anyway once trial ends. ‪#‎YOLO‬ ‪#‎IndianPiratesUnite‬."
At Rs. 500 per month, Netflix gives you SD quality streaming, while 650 bucks would allow HD streaming and two devices. Paying Rs. 800 per month would give you more HD and UHD streaming and you can stream on four devices at the same time. All this, with a pretty vast library of english content and only about 80 Indian movies. Here's another Facebook comment from Facebook, "Very expensive for India. That's even more than it costs in Australia, and wages and salaries are significantly higher in Australia than India. Hope India at least gets good content. The content in Australia is rubbish, not like the USA, it's not even worth the $8.99 a month it costs here. Free to air TV is much better. Netflix is 95% old stuff you have seen years ago."
Enter, the competition
If it's Indian content we're talking about, Netflix is squarely behind all of its competitors in the country. Star India's Hotstar has ten times the amount of Indian content, as do Airtel's Wynk Movies, Eros International's Eros Now and the veteran Spuul. In addition, apps like Hotstar allow you to stream for free, while others allow you cheaper streaming options along with free ones.
If we had to pick one Indian service that Netflix would have to compete against though, it would have to be Hotstar. Star India's streaming platform widely advertised has largely behaved like the Netflix of India. It's tie-up with AIB for the original show, On Air With AIB, is similar to Netflix's original content like Daredevil, Jessica Jones and so on. Unlike Netflix though, Hotstar couldn't get an exclusive tie-up for the series, which points to the fact that while Hotstar may have 35 million downloads, not many are using it. Hotstar on the other hand, has done something that Netflix has failed to do. That being, live streaming of sporting events etc.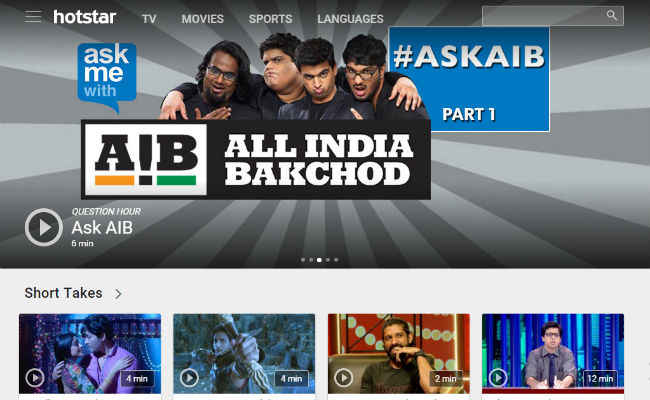 While competition from other OTT services is obvious, live television is very important in India. This means that Netflix and Hotstar both are also competing against Tata Sky HD, Airtel IDTV etc. Amidst that, while Hotstar allows free ad-supported streaming, Netflix wants you to pay Rs. 650. Interestingly, Tata Sky HD and Airtel IDTV also cost around the same, for live television and of course, much more content.
If you're still going to pay for Netflix though..
You may yet be disappointed. If you're paying for the HD streaming package in India, you'd be disappointed at how often Netflix will stream content in SD. This is because its smart algorithms will recognise that your connection is unstable and keep dropping to SD in order to avoid buffering. Here's yet another Facebook comment summing this part up, "Wifi is really expensive in India. Considering if you want to browse Hd Content Without Buffer Your will need at 2Mbps or 241 kb/s that alone will cost 1000+ and Apart from that you will need unlimited connection too unlike 50gb or 100gb connection."
At double the money, SD content will be a letdown indeed and it would take a little more to get Indians, accustomed to pirating content, to your platform.
Other Popular Deals
Samsung A7 2016 Edition Golden

Rs. 18990 *

Buy Now

Redmi 6A (Rose Gold, 2GB RAM,...

Rs. 5999

Buy Now

Nokia 1 (Dark Blue, 1GB RAM,...

Rs. 4000

Buy Now
*Includes Cashback
​