devworx, in partnership with BlackBerry announces the BlackBerry 10 Apps Challenge. This is your opportunity to learn, participate and win cool prizes in the most exciting BlackBerry 10 Apps Challenge ever.
This contest encourages programming brains across the nation to showcase their talent. All you need to do is develop your own app for BlackBerry 10, and get an opportunity to be acknowledged by BlackBerry.
If you're talented and seek challenges, then this is yet another chance from devworx for you to realise your imaginations. This time too, we expect you to come up with some delightfully unique apps.
Like you, BlackBerry also treats your apps to high standards. Having your app listed on the Blackberry App World confirms that your app meets the company's high standards. This is your very chance to present the creative spirit bubbling within you and win some big prizes.
The rewards structure will be based on number of applications submitted per vendor, as follows:
2 apps: gift voucher worth Rs. 1,200 3 month's Digit Subscription (from devworx)
3-4 apps: gift voucher worth Rs. 2,500 Cowon Earphone (from devworx)
5-9 apps: One (1) BlackBerry PlayBook tablet
10 or more apps: One (1) BlackBerry PlayBook one (1)BlackBerry Developer Alpha prototype device
That's not all. There are some additional categories as well.
If your submission is chosen to be the best in one of the mentioned categories, you stand to win: One (1) BlackBerry Developer Alpha prototype device , one (1) BlackBerry 7.1 Smartphone, one (1) BlackBerry PlayBook tablet 1000 Jam rewards Points BlackBerry World Marketing (limited to one win per vendor).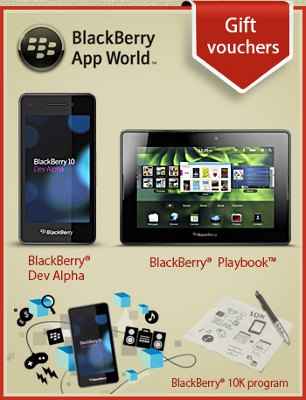 The categories are as follows:
Categories for Apps: Best HTML5 App, Best Native App, Best AIR/ Flash App, Best Android Java App
Categories for Games: Best HTML5 Game, Best Cascades Game, Best AIR/ Flash Game, Best Android Java Game.
So, what are you waiting for? The contest is open for you to unleash your expertise in app development on BlackBerry 10. Follow the steps mentioned below to participate and get the fame and fortune you deserve!
Do remember to register to get started and guess what, No Registration Fees required to participate.
The contest ends on January 21, 2013. Don't wait for the deadline, submit your app now.
For contest resources, prizes, terms and conditions and to save you some time, here is the
link
you need.