This Unity* resource page on the Intel® Developer Zone is your central location for support of x86 within the Unity game engine. Check back often as this page will be updated frequently!
Adding x86 Support to Android* Apps Using the Unity* Game Engine
Enabling existing Unity* ARM*-based Android* SDK games with native x86 support is straightforward and easy. This document walks through the steps to produce a fat APK that includes both x86 and ARM libraries from within Unity 4.6 or Unity 5 versions
https://software.intel.com/en-us/android/articles/adding-x86-support-to-android-apps-using-the-unity-game-engine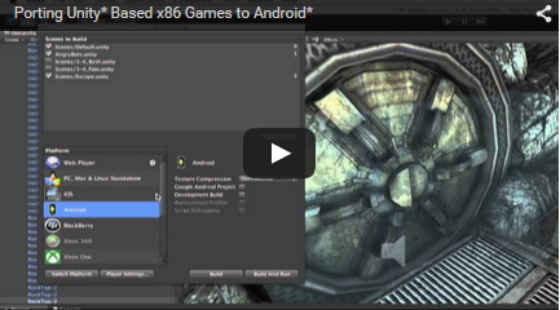 Unite 2014 - Big Android: Best Performance on the Most Devices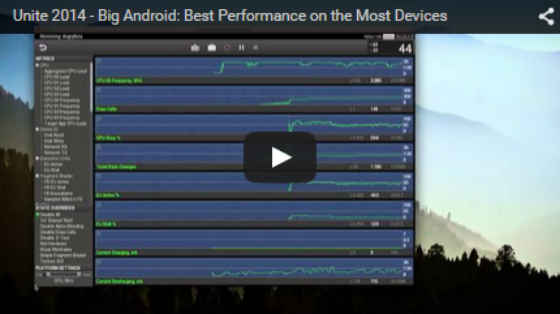 Unity* Optimization Guide for x86 Android*
Download the PDF of Unity* Optimization Guide for x86 Android*
To get the most out of the Android* x86 platform there are a number of performance optimizations you can apply to your project that help to maximize performance. In this guide, we will show a variety of tools to use as well as features in the Unity* software that can help you enhance the performance of the native x86 code. We will discuss how to handle items like texture quality, batching, culling, light baking, and HDR effects. Additionally, we also will show how to build an x86-specific binary for testing and other needs.
By the end of this guide you will be able to identify performance issues and what they are bound to, key optimizations, and methodologies for good game development in Unity. First we will go over some of the tools available that will make it easy to identify potential hot spots in your application.
NEWS
https://software.intel.com/en-us/blogs/2014/08/15/unity-android-support
We are pleased to announce delivery of a piece that has been missing from the most popular game engine on the planet – support for Intel® architecture, including Intel graphics. As part of this announcement, Intel and Unity will be working together to deliver the following for the Unity3D game engine:
Native Android* support for Intel architecture in all versions of Unity3D*
Access to unique features of Intel graphics through Unity3D
Access to IA's new CPU instructions and threading support
Unity has supported x86 on Windows* for a long time, but this collaboration brings native x86 support to Android* as well.
This functionality was previewed at Unite* and will be available soon with the latest version of Unity* 4 and Unity* 5. Once you have this new version of Unity, you will just need to open your existing project and create a new Android build. This will automatically include native support for x86 in addition to ARM. Your app will now have the best performance, optimized for both Intel and ARM-based devices.
For more such Android resources and tools from Intel, please visit the Intel® Developer Zone
Source: https://software.intel.com/en-us/articles/unity
Other Popular Deals
Samsung A7 2016 Edition Golden

Rs. 18990 *

Buy Now

OnePlus 6 (Mirror Black, 6GB...

Rs. 34999

Buy Now

Redmi Y2 (Gold, 3GB RAM, 32GB...

Rs. 7999

Buy Now
*Includes Cashback
​