As the 2014 season of the Indian Premier League (IPL) kicks off today, UCWeb has launched a special "cricket 2014 version" of UC Browser for Android. The cricket version features a new interface as well as detailed IPL content and services aimed at cricket and IPL fans.
With the new version, users can stay updated with the latest IPL information including live scores, previews, commentaries, interviews, stats, photos, videos and more. Also included in this update is the "Cricket" add-on, which can remind users of key upcoming matches.
As part of UC Browser's new user interface, a "Cricket - Sport" folder is now visible on the browser homepage. A quick click on "Cricket - Sport" reveals live scores of current matches. Clicking on the scoreboard quickly leads to more match information including news, commentaries, stats, photos, videos and more.
The newly released "Cricket" add-on, available on UC Browser's Add-on Center, is a smart widget that serves as a news feed and reminder. This lightweight add-on generates a shortcut on your phone's home screen for easy access to breaking news and scores. You can also keep track of upcoming matches important to you with automatic notifications to remind you when the match is about to start.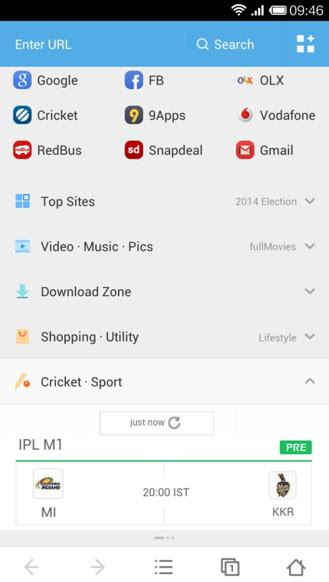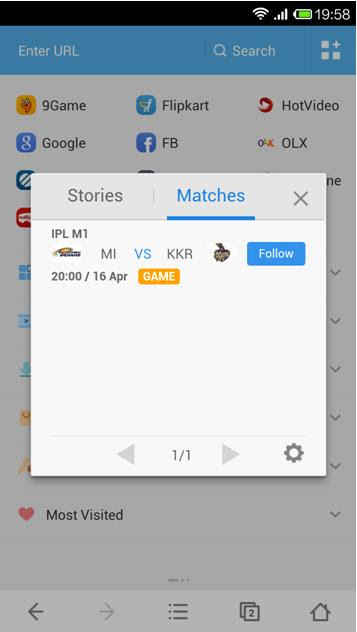 "The new UC Browser provides users with more interactive and intuitive cricket services," said Abhishek Sharma, Director of Marketing Communications at UCWeb India. "With a lot of IPL action happening on weekdays where cricketing enthusiasts might not have the resources or the time to catch live matches, UC Browser is a boon. It has a smart IPL zone that enables users to catch live scores, instant updates and even get timely reminders for the favourite team matches while on the move. We are empowering the users completely so that they never miss any IPL update in future. This is a very unique initiative from UC Browser which is definitely going to attract a lot of cricket fans in India."