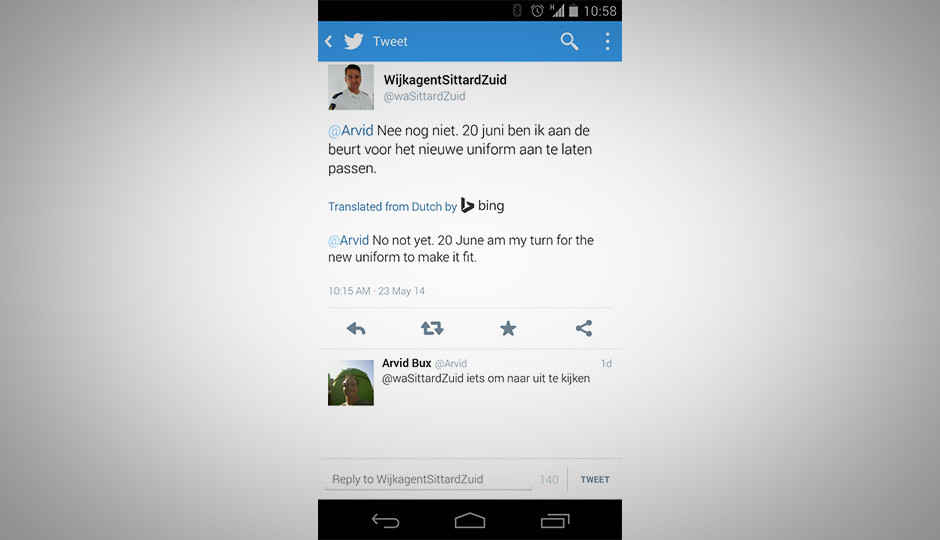 Twitter is reportedly testing Microsoft's Bing translation service for its official Twitter app for Android. The service is currently used to translate tweets on its web version and Windows Phone app.
The new feature was spotted by a blogger, Arvid Bux, who also posted a screenshot of the new features. The screenshot shows the tweet "translated from Dutch by Bing". According to Bux, the translated tweet was only visible when that single tweet was opened.
It's worth pointing out here Twitter does experiment with the new features with a very few getting shortlisted for wide release. There are high chances Twitter may roll out the translation service on its iOS app as well. As Twitter says about its experiments: "It's rare for a day to go by when we're not releasing at least one experiment...You may see some features that your friend doesn't see, or vice versa".
A built-in translation service could come very handy for users as well as for Twitter that aims to grow internationally in the near future. With Facebook rolling out several Twitter-like features, Twitter is under pressure to add up unique features and reach out to wider range of users.
In a related news, Twitter has announced rolling out its newly designed web profile for all users. Just to recall, newly designed web profile adds several new changes such as larger profile photo and customisable leader. It also highlights the photos and videos that you've posted, best tweets, pinned tweet and filtered tweets. Read: A look at Twitter's new web profile
Source: CNET