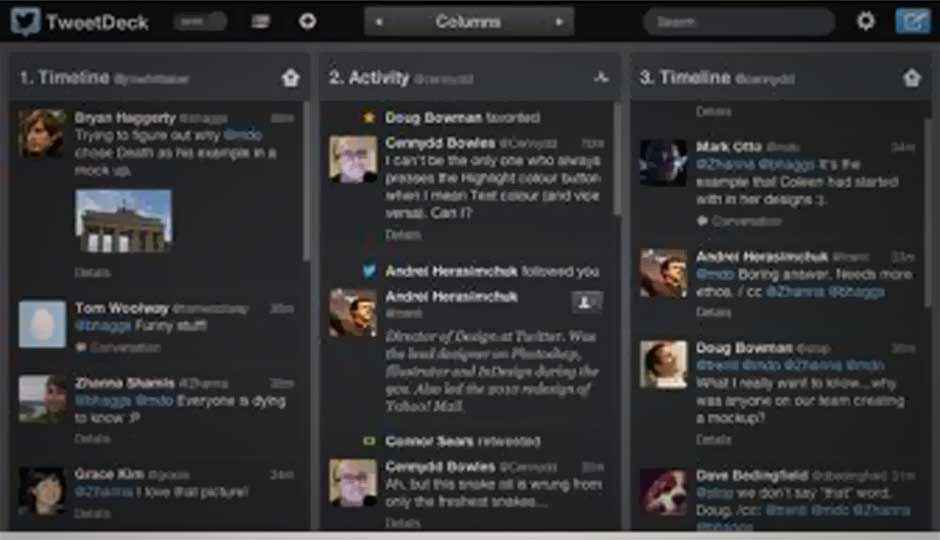 Last month Twitter had revealed its plans to shut down TweetDeck AIR, TweetDeck for Android and iOS apps. The micro-blogging company had then said the phase out would begin 'early May', but now it has revealed the exact date for the culling: May 7.
According to an update at TweetDeck blog, these apps will be taken off from their respective app stores and will stop functioning on May 7. Twitter also announced shutting down Facebook integration of all TweetDeck products from the same date. The company , however, said it will continue running TweetDeck for Mac and PC for some time now.
"Over the past 18 months, we've been focused on building a fast and feature-rich web application for modern browsers, and a Chrome app, which offers some unique features like notifications. We've recently introduced many enhancements to these apps –– a new look and feel, tools like search term autocomplete and search filters to help you find what you're looking for more quickly, and automatically-updating Tweet streams so you immediately see the most recent Tweets," said the company in a post.
The move to shut down the apps comes in the wake of retirement of Twitter API v1.0, which is used by most of the TweetDeck apps. Twitter has decided to phase out these apps instead of rebuilding them to work with updated APIs.
"Leading up to that retirement, Twitter's platform team will be performing occasional tests that will affect applications that rely on API v1.0. Over the next two months users of TweetDeck AIR, TweetDeck for Android and TweetDeck for iPhone may experience some outages with those apps before they are removed from their respective app stores in early May."
Twitter had taken over TweetDeck in May 2011 in a $40 million deal. TweetDeck was launched by Iain Dodsworth in 2008 and had grabbed about $3.8m in funding when it was acquired by Twitter.