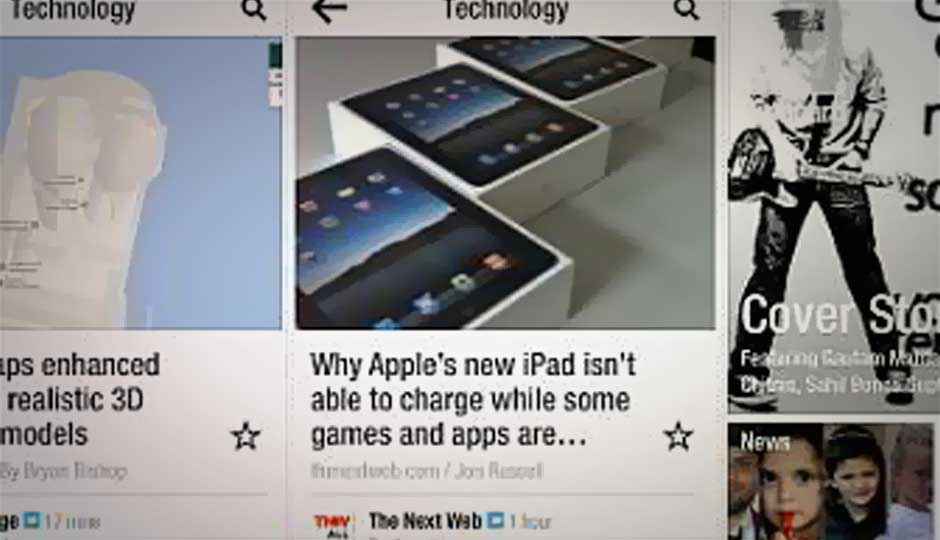 We've compiled a list of the five best news aggregating apps available on iOS and Android platforms. Check them out:
Flipboard:
Flipboard is a news-aggregating app that creates a personalized magazine out of everything being shared with you through a variety of sources. "Flip" through your Facebook newsfeed, tweets from your Twitter account and photos from Instagram. You can also add newsfeeds from Google Reader, LinkedIn, Tumblr, Flickr and 500px on Flipboard.
You can customize the app with the things you like to read, from niche blogs to publications. Users can also use Instapaper or Read It Later to save articles to read later.
Flipboard creates a single place to browse, comment and share all the news that interests you. The interface feels like flipping through stories hence the name Flipboaed.
Available on: iPhone 3GS, iPhone 4, iPhone 4S, iPod touch (3rd generation), iPod touch (4th generation) and iPad. RequiresiOS 4.0 or later. Not yet on Android

Zite:
Zite is a free personalized magazine for your iOS device that automatically learns what you like and gets smarter every time you use it. Zite delivers all the news, articles, blogs, and videos you want – and helps you discover new stuff that based on the categories of your interest.
Users can simply log in with their Twitter and Google accounts, select from a wide variety of news categories such as technology, gaming, film & TV, Health and exercise and many more.
You can save an article to read it later via the Read it Later app.
Available on: iPhone, iPod touch, and iPad.Requires iOS 4.0 or later. Not on Android.

Pulse:
Pulse brings all your news together under one roof. Pulse lets you choose and share stories of your interest, from thousands of top news sources, blogs of your choice and social networks.
You can chose from numerous categories ranging from tech, lifestyle, news, business, science, sports and more. Log into the app with your accounts such as Facebook and Twitter. You can also save the articles to be read later with the help of apps such as Read it Later, Instapaper, Evernote and Readability.
The interface of pulse lists the new sources one below the other. You can choose the order of listing the sources. Users can have 10 sources listed on each page.
Available on: iPhone, iPod touch, and iPad.Requires iOS 4.0 or later. Android 2.1 and up.
News 360:
News360 has a very unique view for displaying the stories. Once the user has selected a particular story to read, he gets a variety of sources that have covered that particular event. It's a nice and easy way of getting access to multiple perspectives and editorial viewpoints of one incident.
The app delivers headlines and back-stories from more than 10,000 newspapers and magazines in one stream. You can personalize the content by logging in with your Facebook, Google Reader and Twitter accounts. Apart from customizing the news feed with topics of your interest, you can choose from a wide variety of news categories such as sports, science, business, crime, politics, health and many more.
Available on: iPhone, iPod touch, and iPad.Requires iOS 4.0 or later. Android 2.2 and up.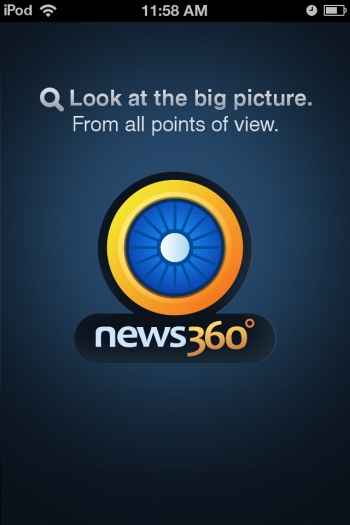 Feedly:
Last but not least on our list is the Feedly app. Users can log in with their Google Reader, Twitter, Tumblr, Facebook, Instapaper and Read it later accounts to customize the news feed.
The interface of Feedly may take a bit of getting used to. Touching the right side of the screen marks a story as read where as touching the left side of the story saves it. It's a nifty shortcut. You swipe through the stories horizontally.
Once you've reached the end of a particular category, the app automatically jumps to the next category that you have saved. It a quick way to swipe through stories and categories.
You also have the standard sharing options via Twitter and Facebook. You can also mail the article or open the link in Safari.
Available on: iPhone, iPod touch and iPad.Requires iOS 4.0 or later. Android 2.2 and up.