We are well and truly into the Olympic Games. Which has given us the time to try and test a bevy of apps that claim to deliver the best from London right on to your handset or tablet.
And when the dust settled, these five apps stood out from the Olympics app crowd (note: we are not including the NBC and BBC Olympic apps because they are not available to Indian users at the time of writing)
London 2012 Olympics Official Results (iOS, Android, BB and Windows Phone)
Yes, we know official apps tend to be a tad unwieldy and not too sleek in terms of presentation, but at the end of the day, nothing quite beats getting the news from the horse's mouth. We have found the Official app to be very brisk, if often a trifle bare-boned in its coverage of events - the updates seem relatively dull and the player profiles are very limited and sometimes incomplete (Saina Nehwal's height and weight were "not provided"). We would have liked more spice and more colour, but at the end of the day, the sheer speed and comprehensiveness of the app are more than enough to park in the must-have category for all Olympic followers. The perfect app to get the latest from London - and we love the fact that it is available on most smartphones and tablets.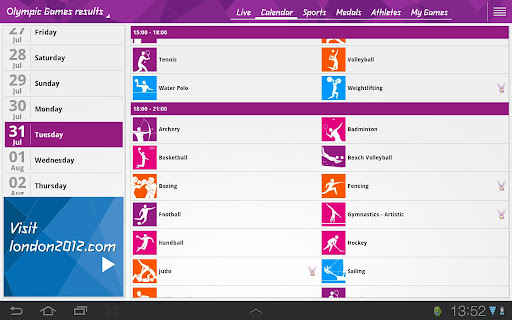 Available from: iTunes App Store, Google Play, BlackBerry App World, Windows MarketPlace
Reuters London Olympics 2012 (iOS)
We know Reuters best for blazingly fast news updates but the folks seem to have borrowed a page out of The Guardian's iPad App Book (remember the phenomenal Eyewitness app) and come out with an image rich app for the iPad. The app shows the events on the Olympics in a gorgeous image-studded timeline, which you can scroll across. Yes, there are news and results as well and you can check out the medal tally, but do not go about looking for live coverage here (you will be chucked to the Reuters Olympic Site for that). This app is all about the moments you might have missed on TV, presented beautifully, complete with captions and even details and profiles of the photographers.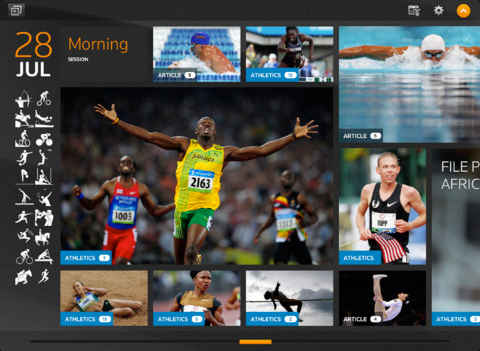 Available from: iTunes App Store
Olympic Medal Alerts (iOS, Android)
In the midst of all the technological and high-graphics razzmatazz being exhibited by just about every media house, the International Olympic Committee get full marks for sticking to simplicity. Their Olympic Medal Alerts app focuses just on delivering medal alerts and that's it - no fancy imagery or text (it is less than a megabyte download). You choose the teams and events you are interested in (yes, you can choose all if you are feeling liberal) and also whether you wish to get notifications pushed on to your device or e-mailed to you. And that, literally, is that. Yes, we know we are going to find people bleating about the absence of analysis and news and whatnot, but we found the app to be invaluable for getting neat, unobtrusive alerts, especially when we were busy.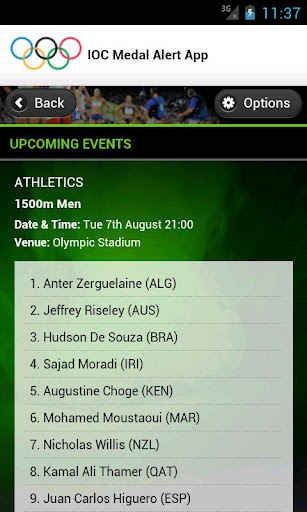 Available from: iTunes App Store, Google Play
Sports Illustrated Live from London (iPad)
A superbly illustrated magazine for every day of the Olympics? Free of cost? Yep, that is what the folks at Sports Illustrated (SI) have come out with. Each issue is a great mix of images and superb sports writing. We recommend downloading every one and keeping them for posterity on your iPad. For this is truly magnificent stuff. Just make sure you have plenty of storage space and a decent Internet connection - each issue could be anything from a 10MB to a 50 MB download, and downloads tend to go back to the beginning whenever you pause them. No "live" element here, though - you will be directed to the SI site for that.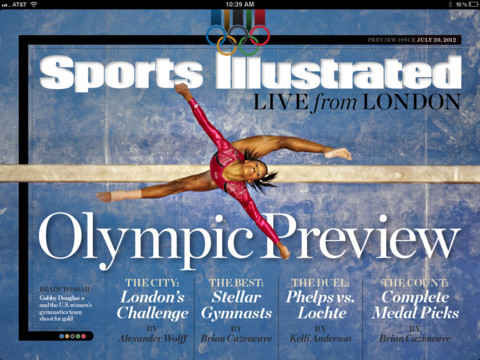 Available from: iTunes App Store
Medals 2012 (iOS, Android)
The father of the modern Olympics, Baron Pierre de Coubertin, might have gone on and on about how taking part was more important than winning, but the stark fact remains that the medals tally remains one of the most ogled-at statistics in any Olympic Games. And if medals are what get your pulse racing, then this is pretty much the app for you. It presents the medals won by three countries of your choice in the form of a graph and that apart also shows the complete medal table and list of winners as well as the medals on stake on each particular day. Very much the app for those interested only in those on the podium. Mind you, we wish the iOS version would not stutter so much while loading.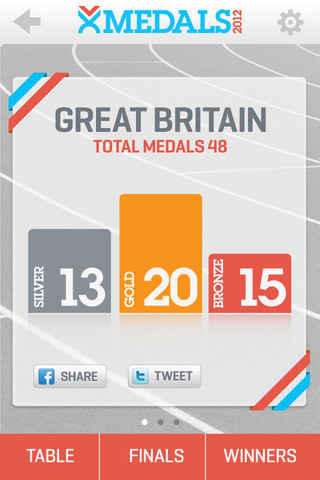 Available from: iTunes App Store, Google Play