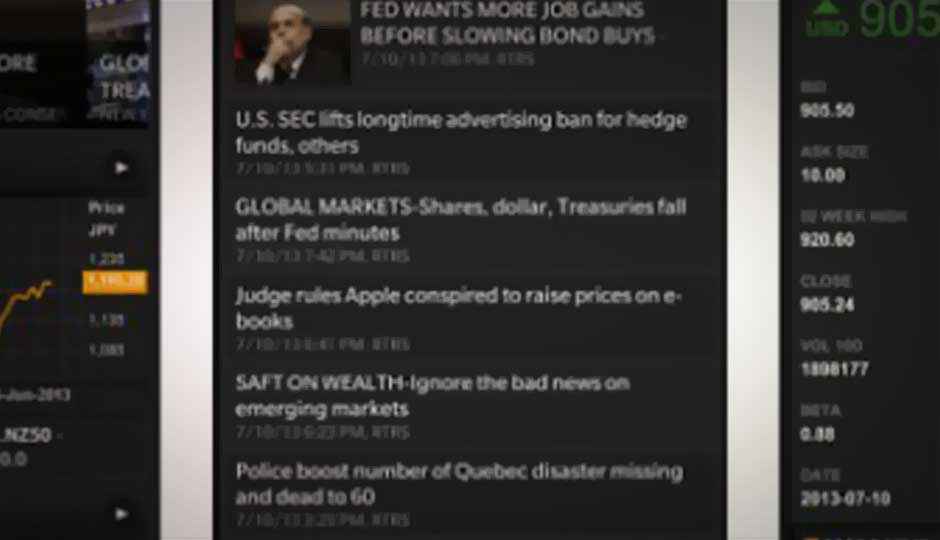 Thomson Reuters has released Eikon for BlackBerry 10, its first financial markets data application to be developed using the native development tools for the BlackBerry 10 platform. The latest Eikon app aims to ensure customers benefit from improved privacy, enterprise security and user experience on the latest BB platform.
Eikon for BlackBerry 10 features a customized dashboard for quick access to a customer's most important data, market-moving news, seamless list monitoring and saved news searches with synchronization to the Eikon desktop and a briefcase feature for reading content offline. The app is the latest addition to Thomson Reuters Eikon's mobile application suite.
"In an industry where seconds and milliseconds matter, Thomson Reuters Eikon ensures our customers can have instant access to the breaking news and financial content they need to seize opportunities first - no matter where they are when they occur," said John Manwaring, head of mobile for Thomson Reuters Eikon.
"The Eikon mobile interface follows the same simple, intelligent design principles that Eikon is now well-known for, ensuring that everything our customers need is right there at the surface. By working closely with BlackBerry and using the native development tools, we have created an enterprise-grade Eikon mobile app with the security our clients have come to expect from both Thomson Reuters and the BlackBerry platform."