SwiftKey, Android keyboard app has been launched on the Google Play Store for Rs. 99 for new users, and needs Android v2.2 or higher. The company announced that the Google Play store version is available as a free upgrade for SwiftKey users.
The new version 4.3 is claimed by the company as 'Layouts for Living'. The keyboard app can be moved and even resized for different devices so you can use it on your smartphone as well as tablet. The all new SwiftKey app brings three new keyboard modes which can be moved, resized and undocked, keeping in mind the devices of all sizes.
The SwiftKey Keyboard v4.3 comes in three preset modes: a Compact mode that reduces the width of the keyboard and allows one hand or gesture typing through SwiftKey Flow. The Full mode offers a full-width keyboard with left-right cursor control keys and the mode, gives the experience of two-handed typing on a physical keyboard; and lastly the Thumb mode, which offers splits keyboard into two sections for fast typing using both thumbs.
"SwiftKey is currently 50% off in the UK, France, Spain, Italy, Germany, Australia, Russia and New Zealand as part of Google's Autumn promotion," company notes in a press release.
Commenting on the launch, Ben Medlock SwiftKey co-founder and CTO said, "Layouts for Living makes it easier and more comfortable to type, whatever you are using and whatever you are doing. The choice is yours - your SwiftKey, your way. We received an overwhelmingly positive response from our beta testers and we are excited to bring SwiftKey 4.3 to all our users."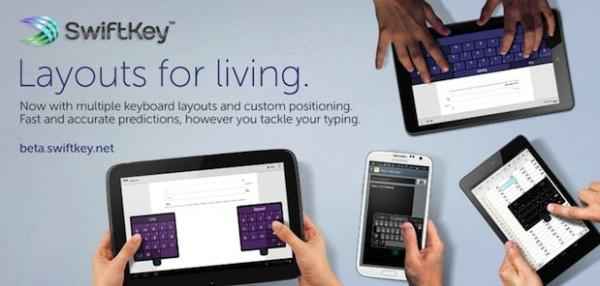 Source: NDTV