Launched for the iOS platform in 2008, music discovery app Shazam, recently announced that it has crossed 250 million users over Android and iOS devices. Just after three days of Shazam's announcement, Vice President of SoundHound Katie McMahon announced that the app recently passed its 100 millionth download with an average of 200K downloads a day and 5 million searches a day.
Considered as one of the top competitors of Shazam, SoundHound has quietly reached this scale in a short while, with only 32 people on board at the start of the year.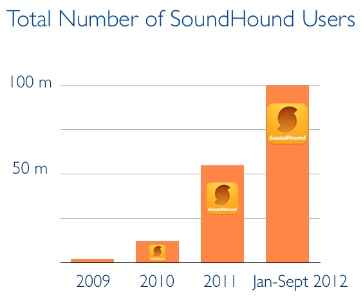 "What's that song?" app had 2 million users when it was rebranded to SoundHound in 2010 and then growing up to 50 million users in October 2011. SoundHound and Hound, are powered by the company's Sound2Sound technology. After having announced as most downloaded paid app of all time in 2010 CEO Keyvan Mohajer said "we know that we have a lot of work left to do to make SoundHound better."
Clearly, the company's announcement just after Shazam's is a reminder that there is lot more to come. Currently SoundHound app comes preloaded with all HTC Android devices and is available for download on Windows Phone, Android and iOS platform.