Qualcomm Incorporated, through Qualcomm Wireless Reach, Nexleaf Analytics, in collaboration with the Energy and Resources Institute New Delhi (TERI), Project Surya and the UK Department for International Development (DFID) has announced the launch of SootSwap, a mobile application to track the usages and adoption of clean cooking technologies.
The SootSwap mobile app works with special 'clean cookstoves', which aims to help rural and poor families to reduce usage of traditional fuels such as wood and coal as well as cut down smoke emission. These 'clean cookstoves' are available for Rs. 2,700 - Rs. 5,500. There's also option for EMIs (not more than Rs. 150) through local banks.
"Estimates suggest that a family could earn enough money selling carbon credits on the carbon market to directly finance the purchase price of a clean cookstove within two to five years through a loan. However, it is difficult and expensive to verify the reduction in carbon emissions produced by clean cookstoves, making it a challenge to apply carbon credits to the use of improved cooking technologies," says a press release.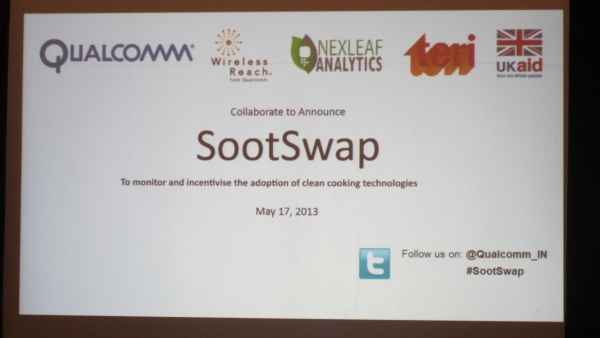 How SootSwap works
SootSwap mainly focusses on monitoring the reduction carbon emissions after the usage of the clean stoves. The SootSwap system includes a mobile phone-based temperature-sensing application and a thermal sensor that connects to a Brew CDMA or Android phone.
Each time the cookstove is fired up, the temperature increase activates the sensor. This temperature data is then wirelessly uploaded from the cellphone to a server where it is analyzed to indicate the number of times a stove is used and the duration of each use, enabling remote verification of stove usage.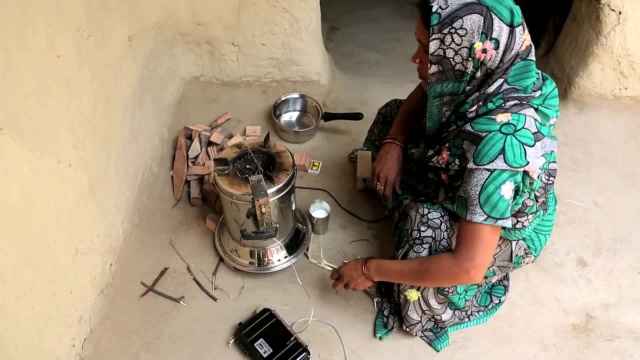 To reach 2000 households
A successful pilot project involving more than 100 rural families in villages Jagdishpur, Uttar Pradesh, was conducted. In the next phase, SootSwap will be used with Project Surya's2 Climate Credit Pilot Project, known as C2P2. The pilot phase of the initiative will include provision of clean cookstoves in 2,000 households.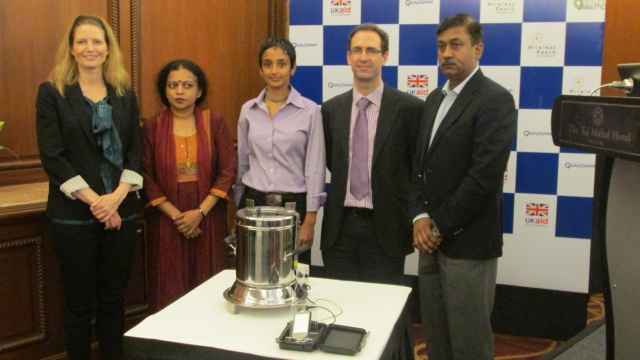 Shawn Covell (Qualcomm, VP, Government Affairs), Dr Leena Srivastava (Executive Director Operations, TERI), Dr Nithya Ramanathan (President and Co-Founder Nexleaf Analytics), Greg Briffa (Team Leader, Energy and Growth Unit DFID Greg), and Dr Ibrahim Rehman (Director, Social Transformation Division, TERI)
Key questions unanswered
Despite a lot of effort behind the project, the stakeholders involved in the initiative seem to have not considered many key points before the implementation:
Cost of the phone/smartphone and stove has to borne by the end user – which isn't very encouraging, considering most of the target users are economically backward.
The cost difference between the clean stove and normal gas connection (with stove) is very less, (around Rs. 1,000-2,000). The government already subsidises kerosene for the economically weaker classes.
The clean cookstoves come with electronic devices, which require charging as well as maintenance. However, there's provision of solar batteries, but is likely to cost extra.
Data usage is variable and the cost has to borne by the end user. The stakeholders plan to partner with telecom operators to work on that part in the near future.
There's no partnership with the state governments – that could have helped the project reach out to a larger of people.
What do you think of the SootSwap mobile app? Will it help increase adoption of clean cooking technologies in the country? Let us know in the comments section below: