Researchers at Cornell University have developed a Smartphone Cholesterol Application for Rapid Diagnostics, or "smartCARD," with sophisticated camera technology. According to researchers the app could save lives by reading out cholesterol levels in just a minute.
The smartphone accessory checks the cholesterol levels by detecting bio markers in the users sweat, blood or a drop of blood and comes with a compatible smartphone app. The application then checks the results based on colour analysis, according to the researchers.
The user needs to put a drop of blood on the cholesterol test strip and then the app processes the blood through chemical reactions and separation steps. The strip is then ready for colorimetric examination. The SmartCARD accessory clams over your mobiles phones camera and illuminates the test strip with the built in flash. The application in the phone then checks the color values on the cholesterol test strip and the results are displayed on your smartphone's screen.
Researchers claim that the device is an alternative to home testing methods and is ready to be brought into the market immediately. The team is working on adding even more capabilities to the app. Currently the app checks the users total cholesterol but researchers are working on breaking the numbers in LDL, HDL and triglyceride measurements as well as determine vitamin D levels.
"Smartphones have the potential to address health issues by eliminating the need for specialised equipment," said David Erickson, associate professor of mechanical engineering and senior author of the study.
"By 2016, there will be an estimated 260 million smartphones in use in the United States. Smartphones are ubiquitous," Erickson said. "Mobil health is increasing at an incredible rate ... It's the next big thing."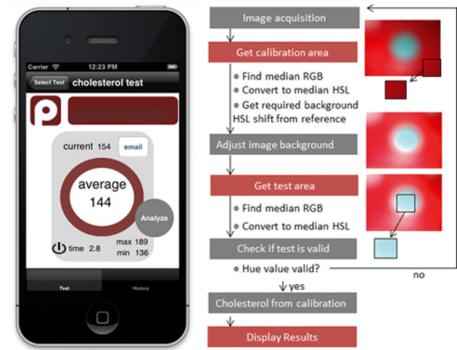 Source: Cornell University