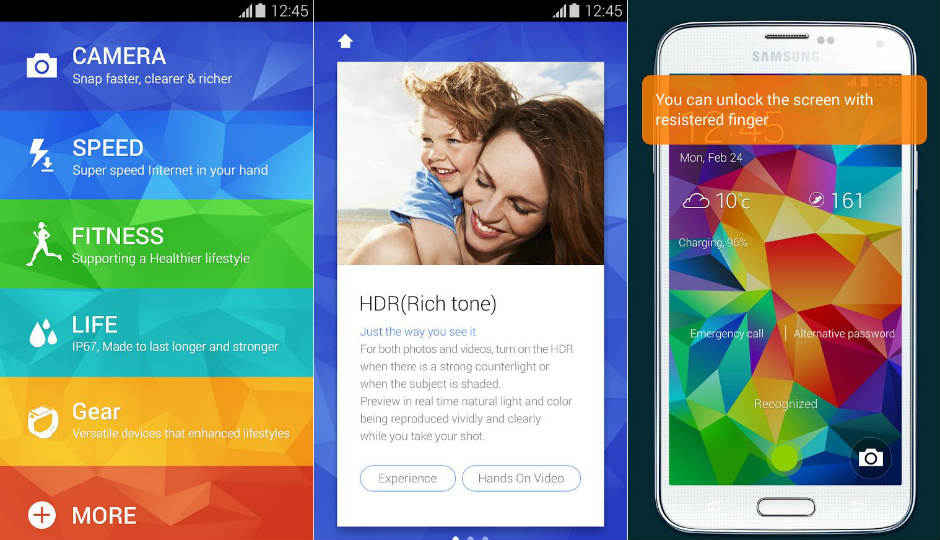 Samsung launched a Galaxy S5 Experience app that "provides interactive introduction on Galaxy S5 and Wearable Devices." Users can download the Samsung Galaxy S5 Experience app from Google Play.
The app walks you through the main features on the new Samsung Galaxy S5 smartphone, including Camera, Ultra Power battery saving mode, Speed and the S Health app, among others. The app runs on Android 4.0 or higher device, with a screen resolution of at least 480 x 800 pixels. It needs a 1GHz processor coupled with 1GB of RAM. The experience app does not work on tablets.
By clicking on the Camera tab you can experience the Galaxy S5's camera application and its exclusive features, including Fast Auto Focus, and HDR. The next app is "Speed", in which Samsung shows off its new networking feature called "Download Booster", that uses both the 4G LTE network and its dual-band Wi-Fi simultaneously to give you an even faster connection.
The "Fitness" tab, takes to S5's Pedometer, where you can track your exercise progress and review your workout history. The Galaxy S5 comes with a built-in heart rate sensor that allows you to measure your heart rate directly from the Galaxy S5.
The "Gear" section shows off Samsung's Gear 2 smartwatch and Gear Fit fitness band, while "More" section takes you to the fingerprint scanner and "Ultra Power Saving Mode." All of the demos come with videos so you can get a better idea of how the features work.
The Samsung Galaxy S5 smartphone will be announced in India on March 27th, Samsung has already started sending press invites for the event.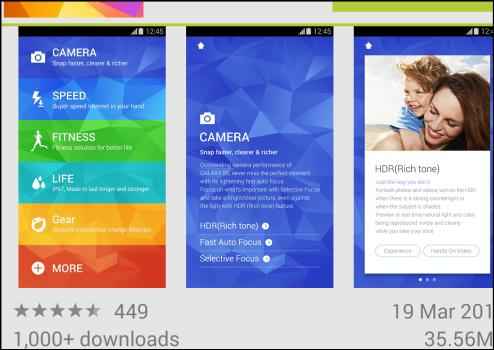 Source: PhoneArena