Quadio Devices, a Pune based startup, has introduced an app which combines the components already present on with your smartphone such as the microphone, the processor and headset to emulate what they claim is a fully functional hearing mechanism. The app is designed to use the results from a simple, interactive hearing test to calibrate and customise the listening experience of a hearing impaired user.
With the Q+ app, one can easily follow conversations using the phone headset in both quiet and noisy environments. There are different modes offered by the app, which optimise hearing in different situations, like in a restaurant, or while driving. It also has a mode which makes it easier to watch TV, or watch videos. According to the company, the hearing test in the app is calibrated for accuracy, as per ANSI standards of audiometry.
The company estimates that about 120 million people in India have hearing problems and less than 1 percent actually use any kind of hearing solution. That's a pretty large potential market.
The company plans to foray into the rural arena by utilising what they call Virtual Clinics to assess the hearing aid requirements of potential patients. Telemedicine is in a relatively nascent stage, in India however Quadio uses the internet to connect a patient, who might be in any corner of the world, to a pool of highly trained audiologists. Their aim is to dispense medical advice remotely without the need for a trained audiologists to be physically present at the point of contact. The company plans to expand the number of those points of contacts greatly over the coming year. They currently have 30 such centers while their new Virtual Clinics are to have iPads and custom bone conducting headphones to help test patients hearing levels.

As of now the app is as good as a mid level physical hearing aid but the developers plan on making the app as good as a high end hearing device, which costs about a lakh or more in the market. The startup aims to increase the penetration of hearing solutions by increasing affordability and reach of the technology.
"The flexibility of controls offered by a smartphone app is much more than that offered by conventional hearing aids and, along with the affordability of smartphones, the reach of app store, and the inbuilt test, this gets us closer to achieving our objective," said Anurag Sharma, Co-Founder and CTO.
The app is available for free on Google Play, and iTunes and according to Neeraj Dotel, CEO, Quadio Devices, the app comes in two versions a Pro and Lite. As an introductory offer both are free for the first two months initially while after this period, the full (or Pro) version of the app can be unlocked by paying a one time fee of Rs. 500. The Lite version is to be ad supported.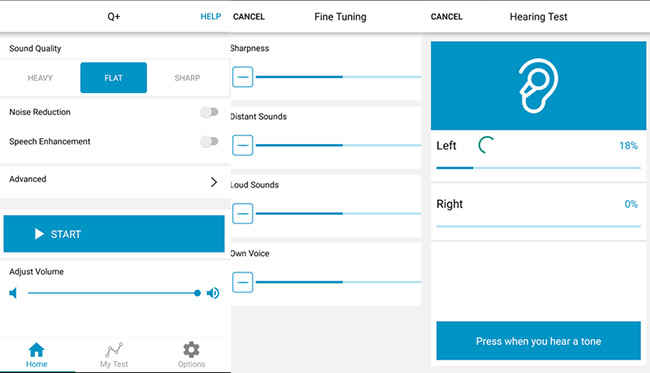 We wanted to give our first impressions of the app, but out of the five phones we have in the office, this app worked on none due to compatibility issues. These phones were Nexus 5, iPhone 4, Samsung Galaxy S6 Edge+, Zenfone 5 and Moto X 2014. On further investigation we found the description of the app gives an explanation for this, as follows:
"The app works most effectively with any Android operating system with a latency of less than 50 milliseconds (ms). For some phones the delay can be much more than 50 ms, which results in lip-sync issues and a feeling of slurring of speech for the user. The app currently works optimally for LG Nexus 5x when using the stock headset for this smartphone. Enhanced versions coming soon for Huawei Nexus 6P, Samsung Galaxy S6, Samsung Galaxy S6 Edge, Samsung Galaxy S6 Active, Samsung Galaxy S6 Edge+, Samsung Galaxy S7, Samsung Galaxy S7 Edge."
This list of eligible phones makes us wonder how well this performance requirement is going to fare with their plans of rural outreach and proliferation.
Stay tuned for our full review when we find us a compatible phone.

Update: The app can now be downloaded on a much broader range of phones. Here is the official response from Anurag Sharma, CTO Quadio Devices "We tested the APK on a couple of high-end phones and the performance was pretty good according to us. Therefore, we have decided to release the app for all phones running Android 5 and later. For phones which we have not calibrated completely, we show a message accordingly, but the app can be used."
Other Popular Deals
Samsung A7 2016 Edition Golden

Rs. 18990 *

Buy Now

Redmi 6A (Rose Gold, 2GB RAM,...

Rs. 5999

Buy Now

Mi A2 (Black, 4GB RAM, 64GB...

Rs. 13999

Buy Now
*Includes Cashback
​