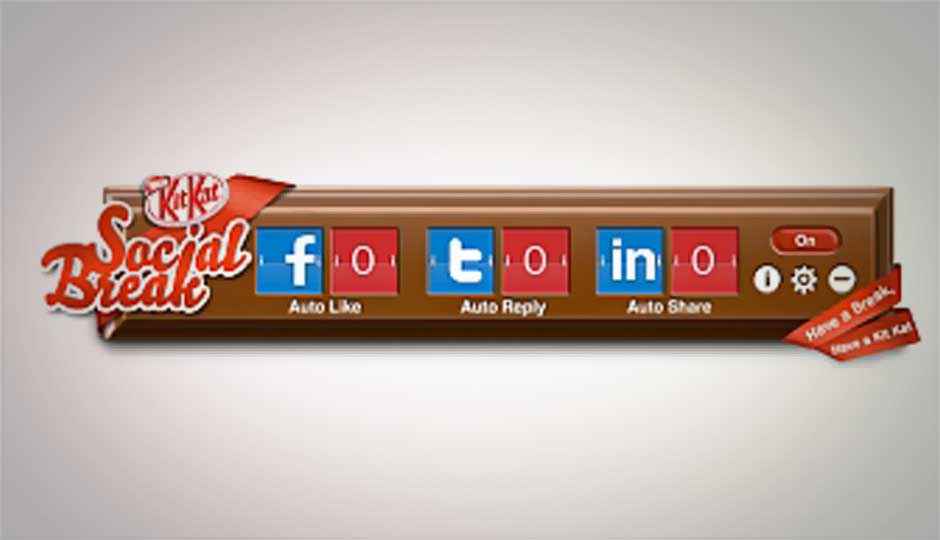 Are you tired of criticism from your friends for not liking posts you were tagged in? Would you like to be socially active without actually logging in? Well to rescue you from the stress of social media and Social Networking comes an app.
The software, Social Break, automatically sends random updates to users' Facebook, Twitter and LinkedIn accounts. The app is compatible with Mac OSX and Windows. The app, Social Break, is released by Nestle, the company that brought us the delicious KitKat chocolate snack. You can download the app from here
So, how does it work?
Well, users can download and install the Kit Kat Social Break desktop widget for free here. To begin, go to Settings and log into the respective social media accounts. You may also set the frequency according to your preference. Once you're done, turn on the widget and sit back to enjoy the following:
Facebook Auto Like
Automatically 'Like' photos and check-ins that you are tagged in by your friends. Here's a thumbs up to keeping the chore out of Facebook.
Twitter Auto Reply
Automatically 'Reply' to tweets with relevant responses that are chosen randomly.

LinkedIn Auto Share
Automatically 'Share' posts that your contacts on LinkedIn have shared. Now it is possible to seem intelligent without even lifting a finger.
If you are wondering whether this app is for you or do you really need an app to do your social networking for you, then what you need to know is that there was a survey of 19 to 26-year-olds, conducted in China, Singapore and the U.S. by JWT Singapore. The survey found that over 50% of young adults find it too time consuming and stressful to keep up with all their social media commitments.