Nokia India has announced that it has shut down its Nokia India Music Store, and made it exclusively available for its mobile phones.
This comes within a week after its acquisition by Microsoft, which likely seems to be a ploy to cut down costs. The Nokia India Music store website no longer exists, apart from a message on the landing page that says, the site is no longer available, however users can still enjoy Nokia Music on their Nokia handsets, provided they have a subscription.
It also states that users will not be able to download music from Nokia music, via a web browser or through Nokia Music Player, a desktop client that gives access to the store and allows users to download music.
The site clearly states that service is no longer available. "You can still enjoy Nokia Music on most Nokia phones. Listen to mixes, enjoy your own music and connect to local music in the usual way," said the portal.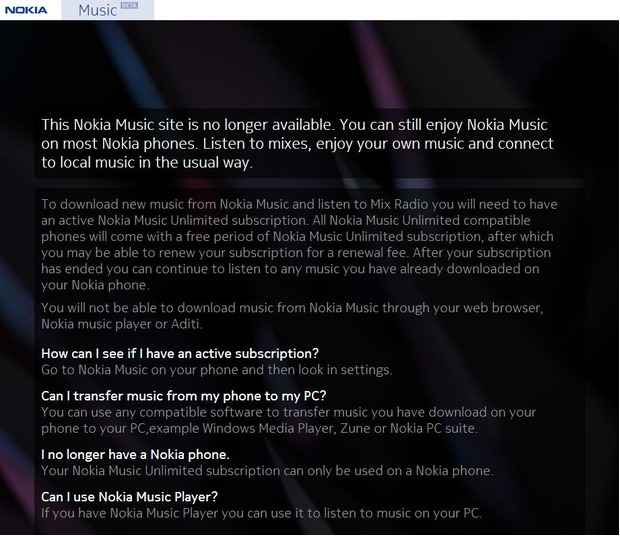 Launched in the year 2009, Nokia Music Store was a digital music store that was accessible through desktop or mobile. The Music unlimited service, started as Nokia Ovi Music Unlimited, comes bundled only with selected Nokia handsets as of now. It is a subscription based service. With this move, Nokia plans to cut down on the PC-based services, so as to focus more on their mobile platform.
A Nokia spokesperson confirmed to BGR, that the company had shut down desktop downloads in December 2011."We were running the website and desktop client in maintenance mode as per global Nokia Care policy. We had shut down desktop downloads in December 2011 and moved to mobile only subscription plans since then. However, users who had subscriptions before that were still being supported. But with those subscriptions coming to an end, we removed the placeholder site yesterday," he said.
This means that Nokia Music will no longer be offering high-quality music downloads. They also mentioned that existing users will still be able to renew their subscriptions, but we are not sure as to how renewals will work now.
Nokia Music with Mixed Radio comes bundled with Lumia devices, and on Nokia Asha 305, Nokia Asha 308, Nokia Asha 310 and Nokia Asha 311, including some other Series 40 devices.
Nokia loyals would now miss high quality downloads that could be accessed without any hassles.