If you thought it would take time for Apple's app library to house a plethora of apps that would take advantage of the New iPad's Retina Display, then you were wrong.
The New iPad hits store shelves today in the U.S. and there are already quite a few apps that have received updates to support the new 9.7-inch display's 2048 x 1536 resolution.
Infinity Blade 2 is a game that showed off the graphical capabilities of the iPad 2, now supports the New iPad's super-sharp resolution making the game look even more gorgeous. Epic Games, the creators of the Infinity Blade franchise showed off Infinity Blade Dungeons at the launch event of the New iPad. The game is designed to take advantage of Apple's new A5X chip that boasts of a dual-core processor and quad core graphics.
Apple has made a new section on the app store called "Great apps for the new iPad". This section houses all the apps that have been optimized to take advantage of the new hardware under the hood and the Retina Display.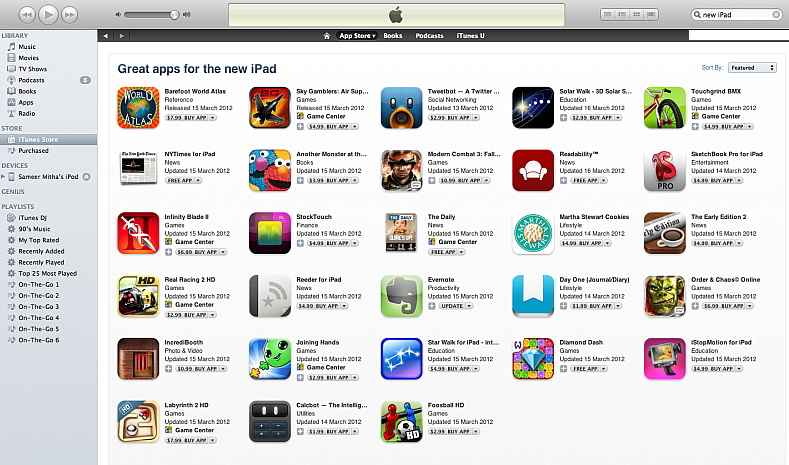 Some apps that users can check out once they have their hands on the new iPad are:
Barefoot World Atlas
Sky Gamblers: Air Supremacy
Tweetbot
Flight Control Rocket
Solar Walk – Solar System 3D Model
Touchgrind BMX
New York Times for iPad
Another Monster at the End of This Book
Modern Combat 3: Fallen Nations
Readability
Sketchbook Pro for iPad
Infinity Blade 2
Stock Touch
The Daily
Mass Effect Infiltrator
Martha Stewart Cookies
The Early Edition 2
Real Racing 2 HD
Reeder for iPad
Evernote
Day One (Journal Diary)
Order & Chaos Online
MLS MatchDay 2012
Incredibooth
Joining Hands
ABC Player
Star Walk for iPad
Diamond Dash
iStopMotion for iPad
Labyrinth 2 HD
Calcbot
Foosball HD