Netflix is all set to bid farewell to its Star Rating system for content on the platform. The company is now moving to a thumbs up and thumbs down approach, similar to Facebook's like and dislike, to let users rate its shows, documentaries and movies on the platform.
Netflix's VP of Product, Todd Yellin, told media in a press briefing that the change will be reflected on the platform starting April, so Netflix users will still be able to view the soon to be extinct star ratings for a few more weeks.
Addressing the media at their Los Gatos headquarters, Yellin said that the company had tested the thumbs up and thumbs down rating system with thousands of subscribers in 2016. The tests concluded that the thumbs up and down approach received 200% more ratings from users than the star-rating system. "We are addicted to the methodology of A/B testing," he said.
Further, Yellin explained that the star-rating system became irrelevant because the company realised that users would rate documentaries with 5 stars and slapstick movies with 3 stars, but would still end up watching more of those movies than the documentaries.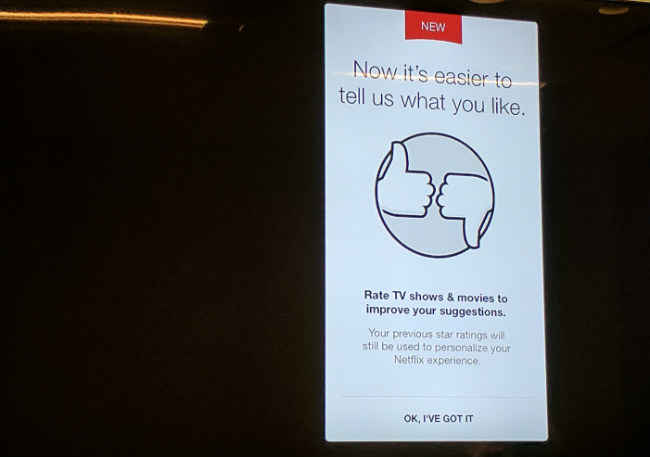 He said, "What's more powerful: you telling me you would give five stars to the documentary about unrest in the Ukraine; that you'd give three stars to the latest Adam Sandler movie; or that you'd watch the Adam Sandler movie ten times more frequently?"...What you do versus what you say you like are different things."
In addition to changing the star-ratings system, Netflix will also be introducing a new percent match feature, which will match an individual user's preference to a particular title. For instance, a show that would completely match a person's taste, may get a match upwards of 90%. Shows that have a percentage match of lower than 50%, would not display the match ratings.
Also Read: Marvel's Iron Fist: He's no Daredevil, but there's nothing wrong with him being 'white'
Other Popular Deals
Samsung A7 2016 Edition Golden

Rs. 18990 *

Buy Now

Mi A2 (Black, 4GB RAM, 64GB...

Rs. 11999

Buy Now

Nokia 1 (Dark Blue, 1GB RAM,...

Rs. 4000

Buy Now
*Includes Cashback
​