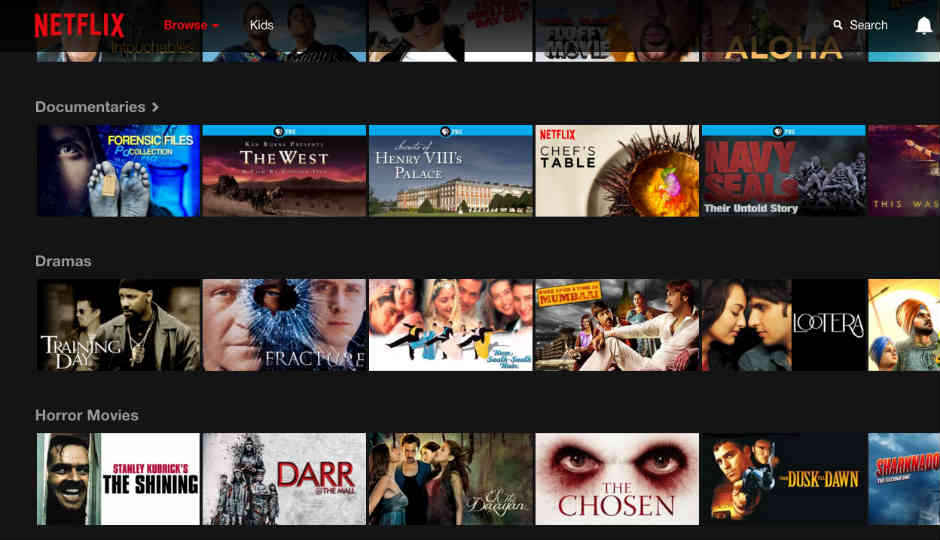 A little service called Netflix has finally come to India after a lot of praying to the gods of entertainment. We have already reviewed the service with a few cool how to's thrown into the mix so you should check it out if you want to know what the service offers. This story is for those of you looking to delve into the Netflix library for the first time ever.
Breaking down genres and content you like
The first time you log into Netflix, you will be asked to "chose 3 you like" from a list of popular content including movies and TV shows from a variety of genres. This will help Netflix recommend content for you. If you are unsure, you don't need to worry. For example if you haven't seen Daredevil or Jessica Jones don't fret. After logging in, you can watch an episode or two to decide if you like it and add it to your list. You can also get recommendations based on what you watch. If you want a complete breakdown of Netflix's pricing, features and setup read our review.
Full season at a time
This is one of the most important things to keep in mind. If you thought you could sign up for Netflix and start watching season 3 of Blacklist or season 3 of Arrow, you may want to stick to your current source. Netflix only publishes a show once the complete season is out. This of course helps with bing-watching but is also a disadvantage if you want to stay up to date with shows that aren't produced on Netflix but are there. Then there's the obvious problem of spoilers.
Data consumption
If you want to leave the streaming on auto, its fine, but if you want to manually control the amount of data consumed you can do so from the settings menu. Here is Netflix's data consumption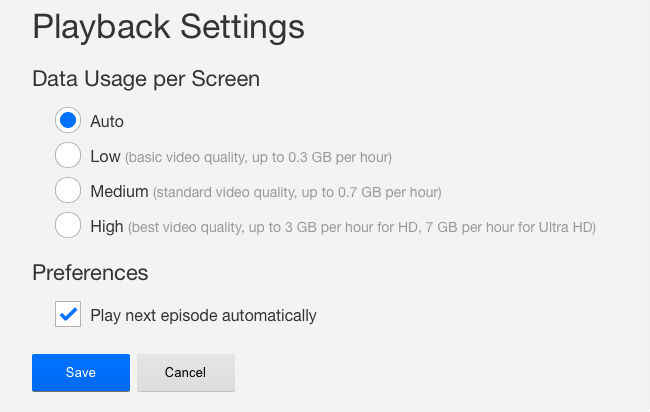 Time to change that broadband data cap plan?
Another tip. On the desktop app you can manually control the streaming by pressing CTRL+SHFT+ALT+S. Now, on some computers this worked for us and on others it didn't. The control is the same for Windows and Mac.
No offline playback
Recently we reviewed an app called Spuul. One of the best features of the app was offline playback. You could simply save a video and it would download locally on your smartphone for playback later. It makes sense in a country like India where Internet connectivity is very unreliable. Netflix unfortunately doesn't support offline playback.
Shows to watch
If you are new to Netflix and aren't sure what to watch we will break down some must watch shows for you based on your preferences. For this list we will try to stick to Netflix Original content for the most part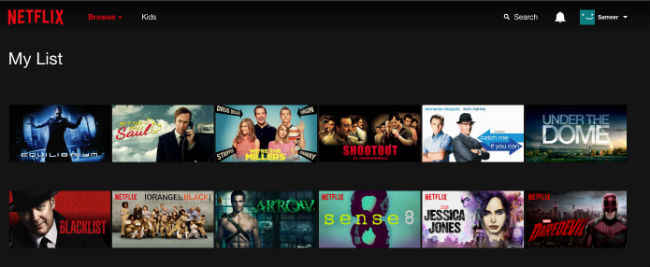 Action adventure
Daredevil: Yes, it's the comic book character brought to life on the small screen in quite the epic adventure. You may want to get to this one soon, as season 2 is just around the corner.
Jessica Jones: It better if you don't look at this show as a superhero show but rather a detective show with some super natural elements thrown into the mix. Its quite interesting.
The Ridiculous 6: Adam Sandler may not be doing stellar work now but if you want to see an action adventure movie with some good comedy thrown into the mix, then you can definitely check this out.
Sense 8: A mind-bending series where 8 individuals are connected through some supernatural force. This is one TV series that's a little show but will definitely keep you hooked.

Comedy
Master of None: Dating, working, growing up even though you love wearing super hero shows, if you want to see real life problems and laugh at them, then this is the show for you.
Drama
Narcos: The true story of Colombia's infamous violent and powerful drug cartels fuels this gritty gangster drama series. Need we say more?
Orange is the new black: This one may sound like a prison based chick flick and you can be forgiven for thinking this sometimes but we say give it a watch. The prison politics, drama and plot twists along with dark humour keep you coming back for more.
House of Cards: In its thirds season House of Cards has left people begging for more. Pure politics and a whole lot of drama is what this epic TV series brings to the table. Did we mention it has Kevin Spacey who breaks the fourth wall during the show?
Peaky Blinders: If British crime drama is more your thing then you may want to take a look at Peaky Blinders. The series is set in the 1020's era so there is vintage visual appeal to this show.
We could go on and on about the shows and movies on offer, but we think you have enough to start with. You can always let us know which Netflix Orignal TV show or film caught your attention and why.
Documentaries
There are a bunch of documentaries available on Netflix and if you are one that enjoys documentaries then this is definitely the service for you. We won't list documentaries for you here. Rather, we recommend, you go through the list as the descriptor is good enough to give you an idea of what the documentary is about.
Once you've gort the basics, here is how you can use Netflix like a pro.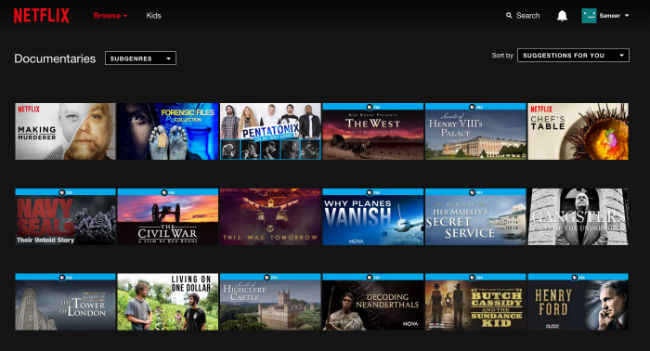 Other Popular Deals
Samsung A7 2016 Edition Golden

Rs. 18990 *

Buy Now

Redmi Y2 (Dark Grey, 4GB RAM,...

Rs. 10999

Buy Now

Redmi Y2 (Gold, 3GB RAM, 32GB...

Rs. 7999

Buy Now
*Includes Cashback
​