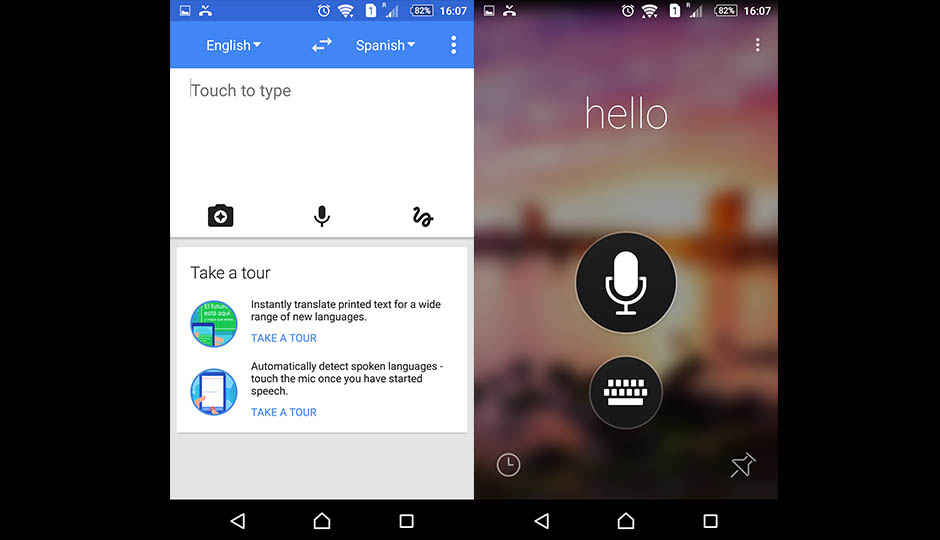 Microsoft rolled out its translation app for Android and Android Wear devices - Microsoft Translator. Released last night, Translator is the latest addition to Microsoft's offering for non-Windows platforms, falling in line with Microsoft's latest cross-platform philosophy of services. The application is available for free download via Play Store, and can operate in 49 languages.
Microsoft Translator has similar working processes to Google Translate. It provides both speech and text input, and output options, along with a list of recent searches. The most notable difference between the two, apart from Google's larger language database, is the interface. In contrast to Google Translate's simplified blue-and-white functional interface, Microsoft Translator features a warmer, visually pleasing graphic interface without compromising on resource consumption, speed, and size of the app. It is as fast as Google Translate, recognizes Indian accents quite well, and is sized at just 5.33MB, as against Google Translate's 19.02MB size (on a Sony Xperia C4 Dual).
Comparing the two directly, Google Translate still has a clear upper hand on Microsoft Translator. It has a language database of 92 international languages against Microsoft's 49, along with eight Indian languages against Microsoft's one (Hindi). Google Translate also features text output for Hindi, which isn't available in Microsoft Translator. While there is no hint of lag in Microsoft Translator's time taken in translating, it does not translate real-time. Google Translate keeps translating from your text to your chosen output language as you type or speak. Microsoft Translator waits for you to finish your speech or text, following which, you see your translated result. This, however, is not really a major setback, because you are most likely to use the translated text only after you finish typing or speaking. Additionally, Google also provides a scribble-to-text and translation option, if you want to use it.
Essentially, the major difference is the number of supported languages. With eight regional languages including Bengali, Marathi, Gujarati, Punjabi, and the nationally-spoken Hindi, Google Translate has been a long-standing favourite among users. But the biggest factor is the accuracy of Google's translation. In a couple of phrases that we popped up on both the translators, Google's translation appeared spot-on, while Microsoft's was either incomplete or inaccurate. We tried 'you suck' and 'weekend is here', and here is what turned up: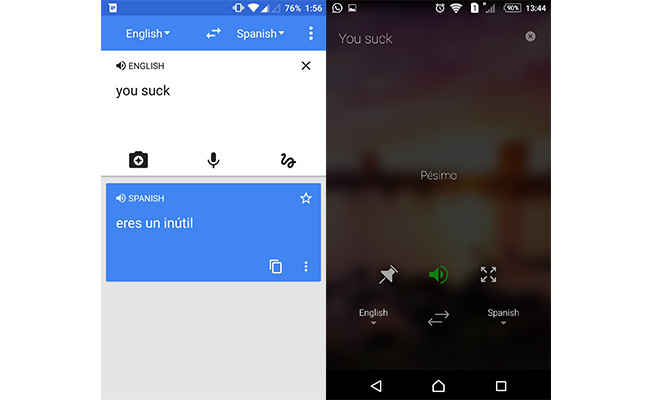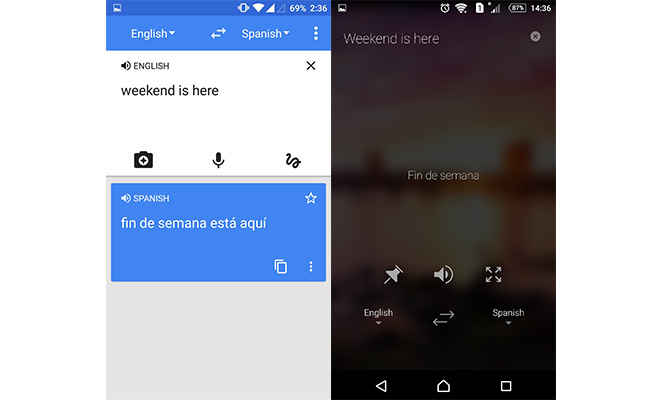 Pésimo, in Spanish, means 'terrible', while fin de semana translates to 'weekend'. We would love to infer that Microsoft Translator has a lovely, crooked sense of humour (after translating you suck to terrible), and we finally have a digital presence that gives Siri's sass a run for her money. That, however, might not be what you would be looking for in a translator, particularly if you are stuck in a foreign land with the cabbie monetarily ripping you off, and you intend to use that phrase on him.
Jokes aside, however, Google Translate seems to remain the most competent translator out there till date, even if Microsoft Translator looks nicer, is available on Android Wear, and is quite light and zippy. With future updates and addition of more languages, along with a more accurate translation engine, it might be a serious rival to Google's present throne.
Other Popular Deals
Samsung A7 2016 Edition Golden

Rs. 18990 *

Buy Now

OnePlus 6 (Mirror Black, 6GB...

Rs. 34999

Buy Now

Mi A2 (Black, 4GB RAM, 64GB...

Rs. 13999

Buy Now
*Includes Cashback
​