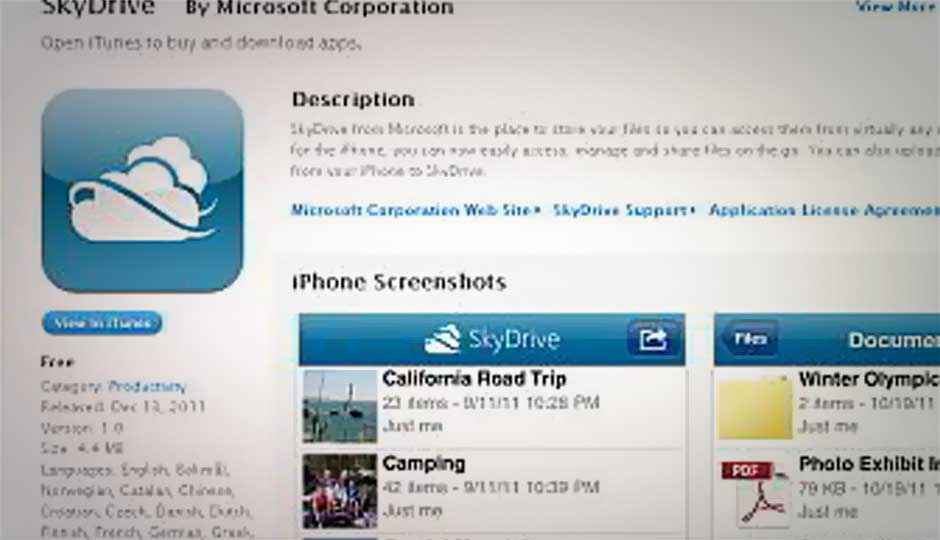 Microsoft has launched a free SkyDrive app for Windows Phone, and interestingly, for iOS as well. The service takes on DropBox, Box.net, and iCloud, offering 25GB of cloud storage space for free. The apps are available in the Windows Phone Marketplace for devices running WP7.5 or higher, and in the iTunes App Store for devices running iOS 4.0 and higher. A free Windows Live ID will be required to use them.
The SkyDrive apps look slightly different on the two platforms, however, the functionality remains the same, allowing users to upload, download, manage and share files via the app, without visiting the web portal. DropBox, Box.net and iCloud don't fare too well on paper in comparison with SkyDrive, offering 2GB, 5GB and 5GB of free storage respectively.
Users will also be able to preview Word, Excel, OneNote, and PowerPoint documents directly, as well as stream or view multimedia content. The competition's apps bear some of their own advantages of course, like DropBox's ability to open files in an external app. We can expect Microsoft to come up with such new features for SkyDrive soon, however.
The Redmond giant is certainly entering the field of mobile apps in a big way, unafraid to challenge some of the most popular services, across platforms. Recently, Microsoft had also unveiled OneNote for iOS, another step in the direction of getting the much-valued Microsoft productivity ecosystem on competing platforms. The light in the end of that tunnel would be a Microsoft Office suite of apps for iOS, Android, and Symbian, though of course, Microsoft may decide against such a move.
Interestingly, Microsoft also just announced a Lync 2010 app for Windows Phone and Android, with iOS and Symbian versions also submitted for approval and expected soon, bringing another enterprise-level productivity tool to non-Microsoft platforms. Microsoft Lync is a corporate communication app that gives users conferencing, instant messaging, and VOIP features, in one app, integrated with Microsoft Enterprise Voice.
Source: The Verge

Vote and Win!

Digit Icons of Trust 2011 Survey

Visit https://thinkdigit.com/trust to vote for your favorite tech brands in India.
Survey participation gives you a chance to win exciting gifts like wireless input devices, earphones and special edition Digit branded T-shirts.
As an appreciation of your valuable time and input, every participant will receive an assured gift in the form of Digit discount vouchers.
We encourage you to participate in multiple surveys to increase your chances of winning more goodies.