Microsoft has launched a variety of its Bing apps for Windows Phone 8. Microsoft's mobile store now gives you access to Bing News, Sports, Finance and Weather apps.
Bing News looks similar to the desktop version and users can add, edit, and reorder sources. The app allows users to see the latest headlines and videos from leading local and regional news sources like Associated Press, Reuters, and many more. Users can also track specific story categories, and pin their favorite news source or topic to the Start screen with Live Tiles.
Bing Finance has a customizable watch list and as well as a Live Tile app that gives the latest financial market information on the Start Screen. Users can track financial news from Bloomberg, CNBC, and Fox Business, get the latest market info, currency conversions, with interactive charts.
Bing Sports is meant for sports fans, giving users updates about the latest games and their favourite teams can also be pinned to the Start Screen. The app lets the user track the latest scores, schedules, and statistics of their favorite sports like soccer, baseball, football, cricket and many more.
The Bing Weather app gives hourly and daily forecasts as well as gives support for multiple places that can be pinned to the Start Screen with Live Tiles that is updated throughout the day. It has also added animated weather maps for the Windows Phone 8 version.
The Bing apps look similar to the desktop versions but they don't cross sync your favorite teams, places, news sources, and other settings from the Windows 8 apps. Microsoft has also added a Bing Translator app as well as Bing Search and Bing Maps in Windows Phone. The company will also be adding two new apps- Bing Food & Drink and Bing Health & Fitness to the Windows 8.1 soon. However, Microsoft has not stated whether it will add these apps to its Windows Phone.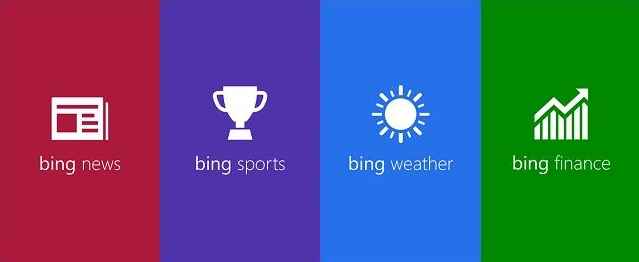 Source: TechCrunch