Microsoft Corp. and DocuSign have announced a long-term strategic partnership to make the eSignature apps available from within Microsoft Office 365. The app will be launched in early March this year.
The eSignature will provide customers with the ability to submit and sign documents without leaving Microsoft applications for easy transactions. The new app, built on the Office 365 platform, will include quick integration within Outlook, SharePoint Online, Word and SharePoint Server 2013. This means that Office 365 and SharePoint admins will be able to add the service remotely and the tool will also be integrated with the Azure Active Directory. Therefore no separate sign-in will be required to use DocuSign. All the documents will be stored on Microsoft's OneDrive for Business.
DocuSign will demonstrate the new DocuSign Apps at Microsoft's SharePoint 2014 Conference , March 3–6, in Las Vegas, and at DocuSign MOMENTUM , March 4–6, in San Francisco.
""Leading partners like DocuSign are building apps on the Office platform to help our customers get more value directly from their most highly used applications," said John Case, vice president of Marketing, Microsoft Office. "This partnership with DocuSign helps our customers keep transactions digital and manage eSignatures seamlessly from within Office 365, where they already communicate, collaborate and create."
"We're excited about the momentum behind Office 365 and customers making the transition from their traditional Office applications to all-new scenarios enabled by cloud services," said Keith Krach, chairman and CEO, DocuSign. "We believe Office 365 customers of all sizes will appreciate the seamless availability of DocuSign integrated into the applications they use every day. The combination of Microsoft and DocuSign further helps organizations keep business digital, and leverages the power of the cloud to help them focus on business results."
According to reports Microsoft is thinking of bringing Android apps to its Windows and Windows Phone platforms. The move expected to help Microsoft resolve app-availability problems and help Windows Phone catch up to rival Android and iOS platforms. According to The Verge, Microsoft's team is split on the decision.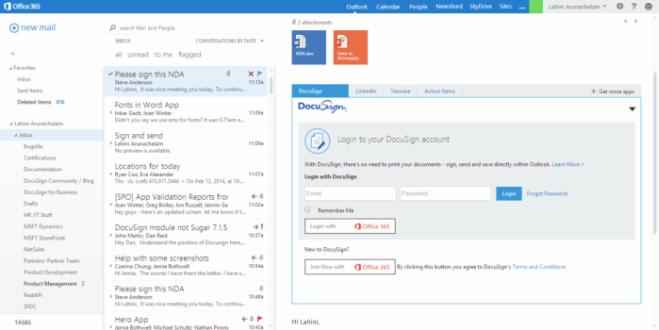 Source: Techcrunch