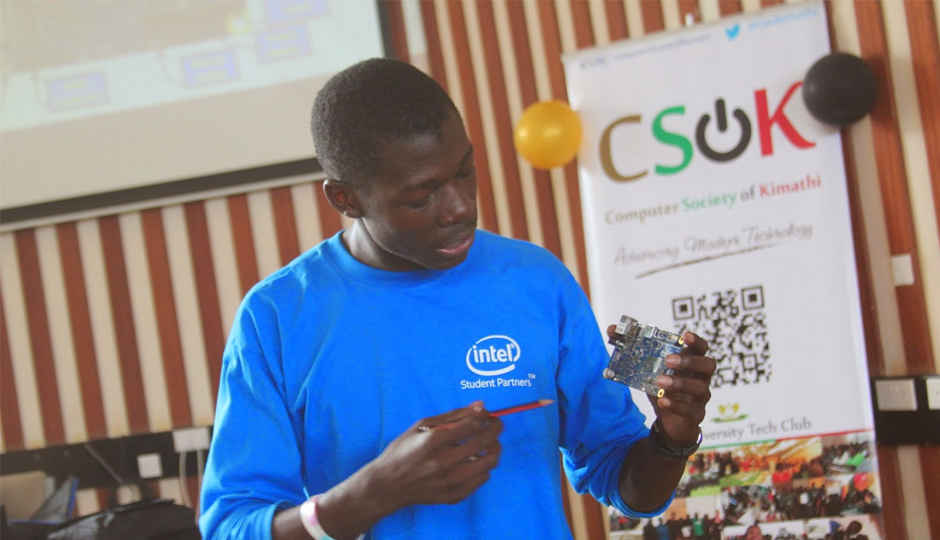 Ngesa Marvin knew from a young age that he wanted to work in the science and engineering fields. Growing up in a small village in Muhoroni, Kenya, he learnt his first hard lesson when he electrocuted himself while trying to pull electric wires from a meter box to make a car. A few years later, he came across a book at his uncle's house that outlined how to write HTML codes. After some experimentation and exciting outcomes, he was hooked and knew that he wanted to develop solutions that address unique African problems, change lives and make the world a better place.
His latest project, Unicomm, is a motion algorithm that interprets hand gestures to read sign language and convey messages in text and audio, allowing the hearing-impaired to communicate more effectively.
"Coding can solve several problems in Africa, from unemployment and disease control, to corruption and farm automation. The boundaries are limitless; with the right education and motivation, innovations that solve today's problems will sprout from every corner of the continent," he says.
Ngesa is a Telecommunications and information engineering student and while he is largely self-taught in coding, he admits that it hasn't been smooth sailing. He encountered many bugs while teaching himself how to code in HTML, PHP and MySQL, but he pushed through the frustration, kept trying and learnt from his mistakes until he got it right. "When your code works, it becomes fun, and when you enjoy it, you understand it."
Impossible is nothing
Ngesa is a strong believer that if you want something badly enough, you will do everything you can to achieve it. While he acknowledges the challenges developers face in Africa, such as slow Internet connections and limited access to hardware, he saw the value in joining local tech communities and working with other developers on his projects. Being surrounded by passionate and curious people encouraged him to develop his skills and learn from others whenever he could. "Having them explain makes a much bigger difference than reading."
He encourages aspiring developers to look beyond their immediate surroundings, join online communities and to devote more time to practicing. His advice is to be patient, make mistakes, keep trying and keep learning. One of the biggest mistakes new developers make is being too hard on themselves and giving up too quickly, he says. "Self-doubt prevents most people from advancing in their careers. We need to start from humble projects and build on them day by day. Most importantly, find what excites you most and commit to it – there is nothing more satisfying in life than pursuing your dreams and achieving your goals through hard work."
Best tools for the job
Ngesa loves Intel architecture and encourages new developers to start coding with Intel XDK, which enables them to design and deploy applications across multiple operating systems and also lets them scale their apps to reach more users. He describes the Intel Galileo board as "one of the best developer boards for all electronics enthusiasts" as it enables them to do cool things with wearables by improving their software and electronics skills.
Ngesa is excited for the Internet of Things revolution and wants to play a part in laying the foundations for automation and connectivity, and to promote open source electronics. "This is the age of makers. We need to explore our full potential and find practical solutions to Africa's problems. We understand our challenges best and can therefore build solutions that go to the root of the problems and impact a large number of people. I believe that solutions to our daily challenges should be tailored for Africans, by Africans."
To follow Ngesa's projects, click here.
Download Intel XDK for free today and start working on your life-changing innovations!
For more such intel IoT resources and tools from Intel, please visit the Intel® Developer Zone
Source: https://software.intel.com/en-us/blogs/2015/06/22/meet-the-developer-who-wants-to-change-the-world-through-coding/
Other Popular Deals
Samsung A7 2016 Edition Golden

Rs. 18990 *

Buy Now

OnePlus 6 (Mirror Black, 6GB...

Rs. 34999

Buy Now

Redmi Y2 (Dark Grey, 4GB RAM,...

Rs. 10999

Buy Now
*Includes Cashback
​