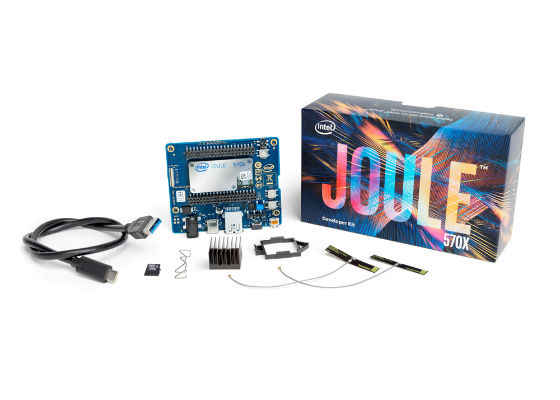 Yesterday our CEO, Brian Krzanich, announced the newest hardware in our lineup of products for developers and entrepreneurs, the Intel® Joule™ platform. As the General Manager of the team that spent the past year conceptualizing, designing, and delivering the product, I'd like to tell you a little about why I feel this platform is so significant, and what impact I think it could have. At a time when small players–-start-ups and IoT entrepreneurs-– are making huge impacts in all sorts of industries, there are still significant barriers for hardware innovation.
Our goal with the Intel Joule platform is to enable these tech developers with the tools they need to quickly and easily prototype and productize concepts. With that in mind, we are bringing to market a platform that opens the doors of possibilities for applications using computer vision, machine learning, and robotics.
Years ago, Andy Grove forecast an era of ubiquitous computing. The Intel Joule platform, with its tiny form factor, miniscule mass, and powerful performance, is the next big leap in putting performance in places that it didn't easily fit before. In developing the Intel Joule platform, we had a lot to consider. We listened to our user community and designed this module with all the feedback from Intel® Edison module in mind.
We wanted to create a hardware platform that is so powerful and feature-rich that you can create applications that weren't previously possible. For that reason, we decided to integrate the latest in Intel® processor technology and design into an SoC, which means developers get a platform that idles at very low power consumption, but also can handle a very intense workload when needed.
We decided to continue with the modular architecture, since we feel that is the best way to allow developers to quickly get their ideas to market. Developers can start by building a prototype with one of our Intel Joule development platforms, then take the same module and outsource a custom carrier board. Using this approach, developers avoid most of the expense and the effort with traditional product design. We want developers to concentrate on identifying their opportunity, writing their code, and getting their product to market.
The pre-certification that comes with the module means that instead of spending their time and precious resources designing a custom board and going through the full certification process for Wi-Fi* or Bluetooth* products, developers can focus on improving their product. We are also working to develop an ecosystem of expansion boards and partners to enable rapid development in a variety of industries. We invite you to participate and contribute to the fleshing out of this ecosystem with modems, FPGA extensions, and whatever new ideas you'll come up with.
The Intel Joule module offers a robust software stack, including a pre-installed Linux-based OS tailored for IoT based on the Yocto* Project, with support for the Intel® IoT Developer Kit sensor libraries available now. Windows* 10 IoT Core and Snappy Ubuntu Core*, along with Intel® RealSense™ software support will be coming later this year. Developers have access to the Intel® System Studio IoT Edition for C++ and the Intel® XDK for JavaScript development. For those who are familiar with the Intel Edison platform, porting code over should be straightforward.
Now more than ever, we are at the cusp of a great period of innovation in a myriad of fields. The Intel Joule module opens up new possibilities. What will you create?
Sales are live from our reseller partners NewEgg and Mouser, with others coming online as production ramps over the next few weeks.

For more such intel IoT resources and tools from Intel, please visit the Intel® Developer Zone
Source:https://software.intel.com/en-us/articles/introducing-joule-module
Other Popular Deals
Samsung A7 2016 Edition Golden

Rs. 18990 *

Buy Now

Nokia 1 (Dark Blue, 1GB RAM,...

Rs. 4000

Buy Now

Redmi Note 5 Pro (Gold, 4GB...

Rs. 11999

Buy Now
*Includes Cashback
​