PicsDream, India's first photography portal to share, store, create, contest and monetise photographs, announced its launch in New Delhi, yesterday. Founded by Mahesh Nair, PicsDream is a portal for anyone who wishes to share their work online, participate in contests, and even intend to monetise their work by selling the images. While the aim is centered around photography and photographers ranging from enthusiasts to professionals, there is no bar on who can share content on the portal. For instance, people shooting images on smartphones can also edit, upload and submit images in multiple online photography contests that PicsDream will be hosting.
Alongside the web version, PicsDream has also introduced its apps for Android and iOS, and has responsive layouts for different resolutions to fit devices of varying form factors. With much of daily computing taking place through smartphones and tablets, the PicsDream app will let you share photos directly from your handheld device, on the go. Additionally, if you have WiFi or NFC-enabled cameras, you can transfer photos from the camera on to your smartphone, and simultaneously upload the content on to the PicsDream portal. Additionally, PicsDream offers you a community of photographers with whom you can share, discuss and collaborate for various purposes.
The aim of PicsDream is firmly to keep photography within the purview of its art on a non-commercial scale. PicsDream Founder and CEO, Mahesh Nair, stated at the launch, "My vision for Picsdream is to create a platform which would be the biggest platform for the Indian visual art community. Starting with photographs, then videos and then to other forms of visual art, Picsdream would be the largest community and marketplace for visual arts in India." Taking the initiative forward, PicsDream can form a platform for videographers and independent filmmakers to share their initiatives and trailers, to attract viewership, discuss with fellow filmmakers, or even find producers to take projects further.
Presently at its nascent, the future of PicsDream is primarily self-funded, and aims to thrive primarily out of user interest. Raghav Sethi, Associate VP (Marketing & Strategy), stated the ease that PicsDream will provide prospective buyers of photography and artwork. He said, "We believe that Picsdream would be an ideal platform to empower photographers and keep them motivated towards sharing and learning more, as well as perfecting this form of art. Moreover, the growth of the internet is testament to the fact that convenience and appeal are two key attributes that drive user behavior today. Both for contributors to Picsdream and users who wish to purchase, will enjoy and appreciate the ease of experience that we bring to them. We are making the experience of buying and printing on any kind of canvas such as acrylic, wood, aluminum, cloth, as easy as ordering something from the Flipkarts' and the Amazons'."
This will help PicsDream to not restrict itself only to photographers, but also spread out to people interested in purchasing artwork, thereby providing support to independent artists, too.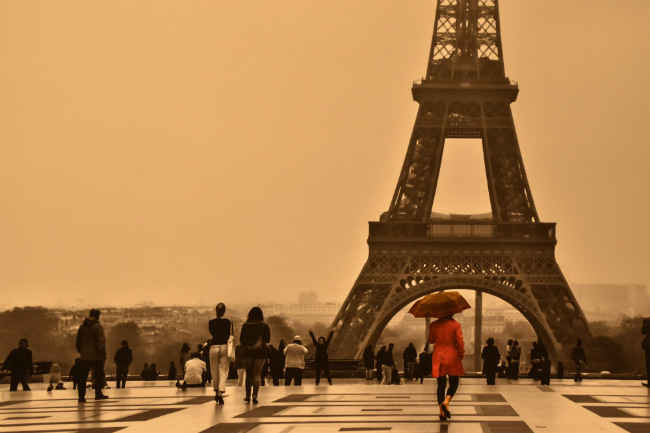 One of the photos at PicsDream launch:
"Drizzle in Paris", by Uthamakumar V.
Other Popular Deals
Samsung A7 2016 Edition Golden

Rs. 18990 *

Buy Now

OnePlus 6 (Mirror Black, 6GB...

Rs. 34999

Buy Now

Redmi Y2 (Gold, 3GB RAM, 32GB...

Rs. 7999

Buy Now
*Includes Cashback
​