We celebrated International Women's Day for the entire month of March. Intel® Software Developer Black Belts and Intel® Software Innovators held 14 events around the world with over 2,300 participants for our 2017 celebration. These women-oriented events, mainly hosted and attended by women, are very popular and show the high interest that women have in technology. Read below for a quick recap on the events.
Women Celebration at Wayne State University, Detroit, Michigan
Diana Diaz and the Association for Computing Machinery Women hosted this luncheon for women at the university celebrating the achievements of women in Tech. The attendees discussed IoT and Intel's support of their program. The attendees were eager to learn more about IoT.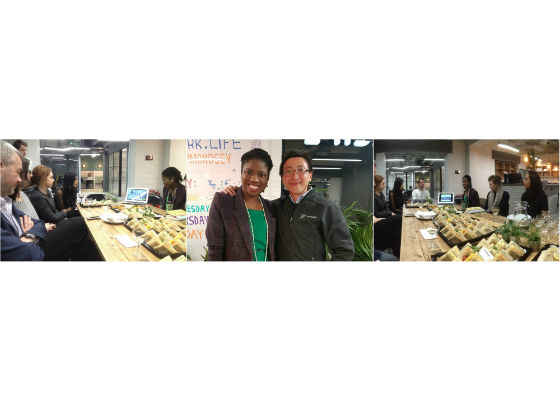 Collaboration for Innovation (International Women's Day 2017), London, UK
Intel Software Innovators Christie Osarenren and Johnny Chan hosted leaders in tech from diverse platforms who shared their experience of collaboration and innovation within their fields. An insightful panel discussion leveraging on current technologies took place the opportunity to network with professionals making an impact.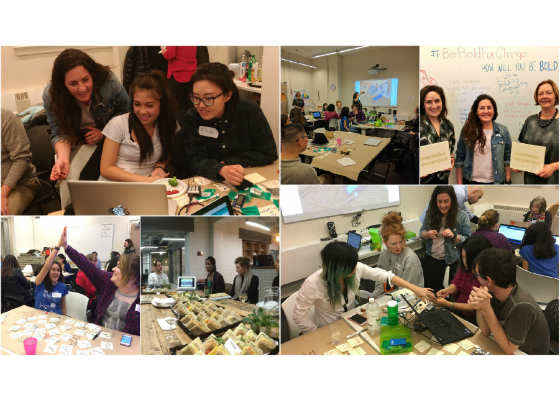 Fearless Design and Technology Prototyping, Toronto, Ontario
This workshop for women, hosted by Intel Software Innovator Erica Tiberia, provided the basics of programming with physical components using the Arduino 101 while also learning how to create products especially for women. The event went very well and many attendees requested the workshop turn into a regular series so that they continue their work – an option that is being considered.
Women's Day Celebration,Kerla, India
This workshop hosted by Intel Software Innovators Sanju Mattew & Benjamin Mathews Abraham, on Internet of Things (IoT) included a speaking session on Artificial Intelligence (AI) for 100 women developers in Kerla. Sessions were on how women can leverage their technical skills and included a panel discussion on the topic of women in technology.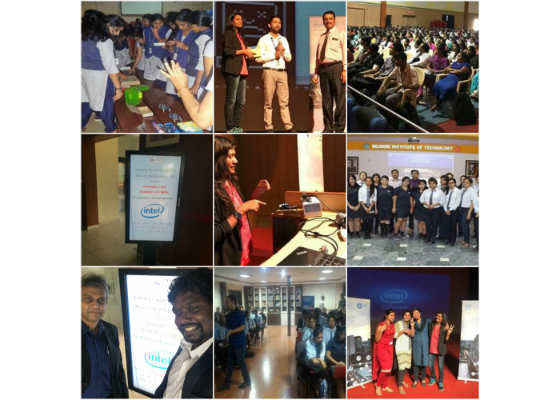 Artificial Intelligence for Intelligent Women, Bangalore, India
A one day event for the girl students of the computer science department. Intel Software Innovators Pooja Baraskar, Rupam Das, and Moumita Das planned sessions on Artificial Intelligence (AI) along with some demos on Internet of Things (IoT) and closed the event by conducting a panel discussion on women in technology.
WomenHacks, West Bengal, India
Intel Software Developer Black Belt Abhishek Nandy and Intel Software Developer Avirup Basu hosted a hackathon for women developers with a theme of Women Safety, focusing on disability and rural development.
Empowering Women Engineers, Chennai, India
Intel Software Developer Black Belts Suresh Kumar and George Christopher, hosted this event for female students at VIT College in Chennai. Sessions were on Internet of Things (IoT) and Artificial Intelligence (AI) and they also showcased a few demos on IOT.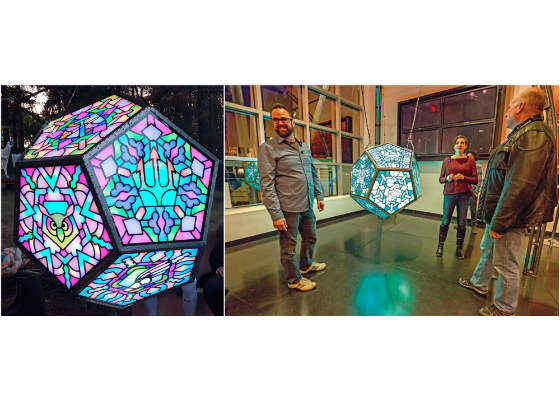 Maker Open House and Opening Reception for Stoicheia [ELEMENTS], Beaverton, Oregon
In celebration of Teen Tech Week, and in honor of International Women's Day, Arts and Communication Magnet Academy presented a Maker Open House and Opening Reception for Intel Software Innovator Lilli Szafranski's project: Stoicheia [ELEMENTS] in the Performing Arts Center. This is all-ages event, open to the public, had a focus on inspiring and encouraging children, teens, and women to explore their interests in STEM and the arts!
Women in Tech, Kolkata, India
Women developers were invited to attend an event celebrating International Women's Day hosted by Sourav Lahoti. The talk reached out to the female developers and promoted women in technology with sessions on Internet of Things (IoT) and Artificial Intelligence (AI).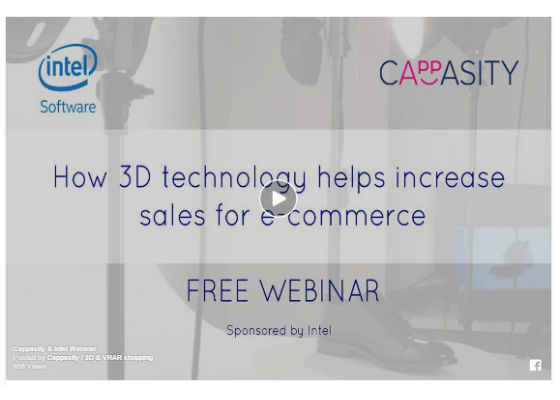 How 3D Technology Helps Increase Sales – A Webinar for Women
This recorded webinar explains how to use the Cappasity platform to easily start creating 3D scans and integrating it into any website to increase sales by 30%. Intel Software Innovators Konstantin Popov and Marianna Alshina invited guest, Hilo Sagrado, to share her expereince of growing a business with Cappasity 3D imaging technology.
BEKRAF Developers Day Bogor - Women in Technology, Bogor, Indonesia
As part of the BEKRAF Developers Day, Intel Software Innovator Monalisa Arcelia hosted a large event with a female audience of about 600 developers to celebrate International Women's Day and to discuss women in technology. Sessions included Lovely Customer Service using IBM Watson, Simple & Beautiful App Prototyping with Buildup.io, and Build Wonderful & fast Apps with Bluemix CodeStarter.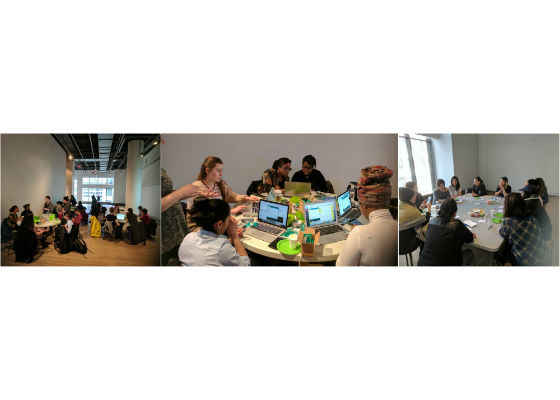 A Lab Of One's Own: International Women's Day 2017, Toronto, Ontario
The 2nd annual Lab of One's Own technology workshop, hosted by Intel Software Innovator's Hillary Predko and Lindy Wilkins, collaborated on building speculative feminist futures using the ideas and technologies that will populate your feminist future, and prototype them using Intel's Arduino 101. With no previous experience necessary, they led the attendees through conceptualization and technical execution. They also had presentations by designers, city builders and technologists who approach their work from an intersectional feminist lens. They celebrated the social, economic, cultural, and political achievement of women.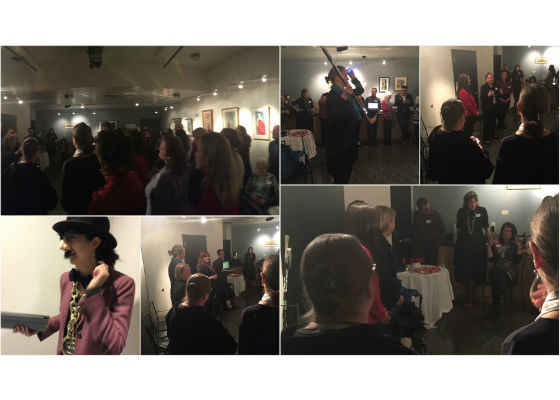 The XXcelerate Fund's Women Entrepreneur Event, Portland, OR
The XXcelerate Fund, with the help of Susan Towers, brought together over 40 members of the Portland investment community committed to growing our economy and paving the way for future generations of women entrepreneurs. XXcelerate started off the evening with a fun vignette in order to give a light-hearted treatment to some very troubling statistics facing women entrepreneurs seeking funding. The attendants' presence, conversation, questions, and encouragement were inspirational. XXcelerate enjoyed the opportunity to share the world of financing women-owned start-ups and look forward to partnering with our guests in changing the world.
For more such intel Modern Code and tools from Intel, please visit the Intel® Modern Code
Source:https://software.intel.com/en-us/blogs/2017/04/17/international-womens-day-2017-a-recap-of-events
Other Popular Deals
Samsung A7 2016 Edition Golden

Rs. 18990 *

Buy Now

Redmi Y2 (Dark Grey, 4GB RAM,...

Rs. 10999

Buy Now

Mi Redmi Y2 (Gold, 3GB RAM,...

Rs. 8999

Buy Now
*Includes Cashback
​