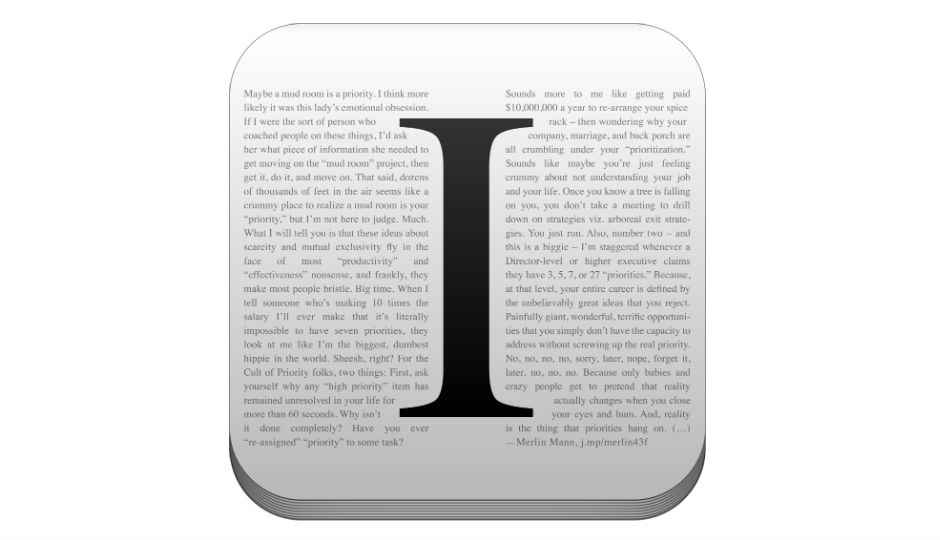 Compared to Pocket which has special features for saving multimedia content based pages, Instapaper has a direct and simple approach in which it displays saved web pages and articles in a stripped down format. Also Instapaper has more features such as Tilt Scrolling, Pagination etc., in iOS than Android.
Searching on Instapaper
So you have a lot of archived articles on Instapaper but due to the sheer number of pages saved, you are unable to find your desired archived article(s). It's just that Instapaper currently does not offer a free way to search archived articles unless you are a paid Instapaper subscriber. Nevertheless, there is a workaround for this.Head over to your Instapaper account here " https://bit.ly/HjHy ">Locate the Export option on the page and expand it>"Download CSV file">Save the generated file. Locate the downloaded file and open it using any text editor. Now you can easily find your desired archived content by using simple text finding options such as by going to Edit>Find or by using the keyboard combination Ctrl F.
Enabling automatic updates at specific locations (for iOS Only)
You can make Instapaper on your iOS device update in the background at your preferred locations whenever you enter those locations in particular. This can be easily achieved by launching the Instapaper app>app settings>Tap on Update Locations.A pop-up asking for your permission to allow downloading articles when you enter or leave the area will appear. Just tap "Ok".Now if you want to add your current location, tap the "Add current location" button. You can also clear your added locations by tapping the "clear locations button".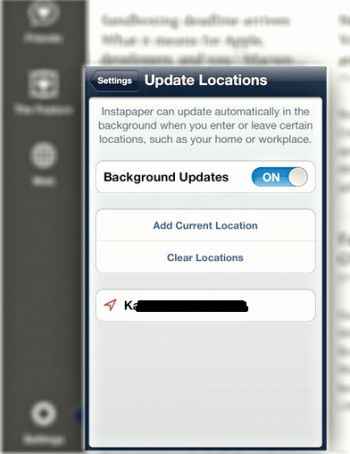 You can change the update locations option here
The best part about this is that you don't necessarily require a Wi-Fi connection at the locations you've added, allowing you to even add places like a bus stop or a particular place anywhere on the map. Thus you no longer have to manually refresh instapaper for syncing your reads.
Increasing productivity using folders in Instapaper
Instapaper by default has only two folders i.e., Unread and Archive, but you can add more folders to it. For instance, if you have a knack for reading things say about Technology, then you can create a folder called Technology and move your reads to it. Content based folders make your work easy anyday. You can even add folders for some other Instapaper user's starred item lists provided you know their username.Instapaper also supports creation of RSS Feeds for starred items or for a folder of your choice and then you can subscribe to that feed on Google Reader or publish it wherever you want for anyone else to see.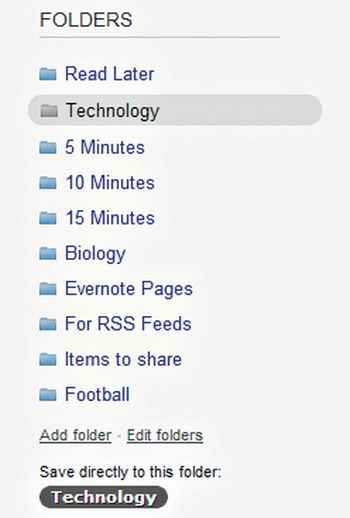 Folders such as the ones above really help save time and increase productivity
Folders can also be created which denote maximum time you may want to spend on the articles within them for example., folders named as 5 minutes, 10 minutes,15 minutes can be used to keep the articles inside them and read them only for the mentioned time altogether this saves your time on unnecessary articles which are on topics which you don't like much.