If you need to make a presentation or video in a hurry, just want to use a web-based service and not install any software, and don't really have any prior experience with making either presentations or videos, PowToon is the service for you.
What is PowToon?
Powtoon is an online web-based service which enables you to create amazing animated presentations and videos even when you might not know anything about animation or designing at all.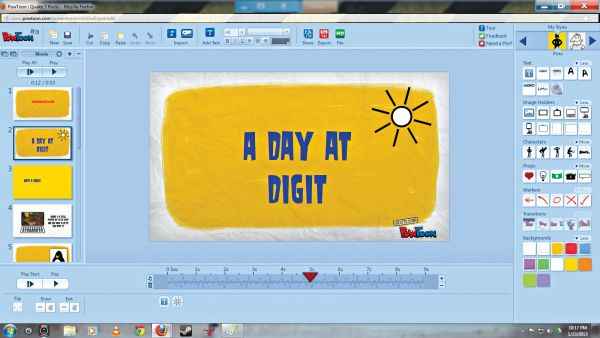 This is how the main PowToon window looks
Familiarising yourself with PowToon's user interface
After you've chosen a template and a type of PowToon (presentation or movie) by giving a name with a description to it, you should click on the edit button and a new window will open up giving you an option to select a type of template. Once there, you'll notice a host of easy to use controls everywhere. Let's start understanding what these controls are, shall we?
The top part of the window is the PowToon toolbar which has the usual buttons such as New, Save, Cut, Copy, Import, Export, share, etc. Whereas on the left we have the slide pane which contains option to select between movie or presentation modes, clone objects, etc. At the right side you will find a slide style selector.
We now move on to the most useful control in PowToon, which is the Powtoon Timeline. It has a radical time based functionality to it which enables you to appropriately assign the amount of time per slide or per object. You can even use the Timeline in Powtoon to switch the objects entry and exit timings. At the right side of the Timeline you will find plus ( ) and minus (-) buttons which when clicked add or remove a second respectively from the current slide per click.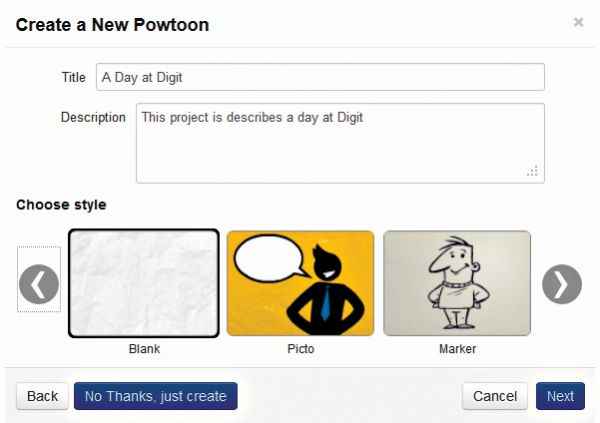 Choose a name and style from here
Making a PowToon movie
Creating a movie using PowToon is very easy. Follow these simple steps.
• Start by clicking on the Start button on My PowToons page in your account and selecting the mode of Powtoon. Select a name and describe your PowToon and choose the style you want for your PowToon movie followed by the template of your choice. After which you Create > Edit PowToon.

• A PowToon window will pop out. Add text to the slide by clicking on the Text option at the right and selecting the text type of your choice (animated or static).

• Move onto another slide, and import an Image on the slide using the Import Image option on the Toolbar > Import. Browse through your files and select an image to open it. You can resize it as per your convenience.

• Adding a character is also very easy, just drag and drop your desired character (animated or static) on the slide and you're done.

• Add a prop to your character by dragging and dropping a prop on the slide.

• In order to add a new slide click on the "plus ( )" button at the left on the slide pane.

Selecting an effect for your content
• Follow the same procedure and add content to your project.

• Use the Timeline and drag an object's start or end bits to move it along the timeline to assign it an entry and exit time on the slide. You can even drag the whole timeline for a particular object and move it before or after another object (this will make that object appear or disappear accordingly).

• When you want to add entry or exit effects to your content, click on the respective arrow for the object on the timeline and select an effect such as "Fade", "Pop" etc. If you don't require any effect then select "No Effect" from the list.

• Use the "Play Start" or "Play" buttons to preview your work and get an idea about what kind of changes can be done in the slide.

• Once you get the hang of using the Timeline (it's very simple), it will be very easy for you to create a good video.

• When you have entirely completed your video, just click Save to save your project.

• You can export your work to YouTube or share it on Facebook and Twitter using the share option.

• And if you want to download your project, just click on the File > Export Type > Download File and you're done.

• If and when you require more features or want to remove PowToon's branding from your projects, then you'll have to purchase a premium PowToon account

Now, get creative and make awesome, professional looking presentations or videos. PowToon's your canvas.