SwiftKey has released an interesting report on how Hinglish users use emojis. According to SwiftKey, Hinglish speakers like to celebrate, read, pray and often communicate about farm animals. Most notably, they use PARTY emojis more than any other language- anything from the cake emoji to balloons to party streamers.
Hinglish users also enjoy some of the colorful facial expression emoji more than all other languages. Hinglish speakers have a fondness for body parts emoji (eyes, nose, ears, etc), and interestingly for the tongue in particular! Hinglish is the TOP language for what can only be described as the 'winky sticky out tongue' face and the simpler 'sticky out tongue' face. Hinglish users also use the prayer hands emoji four times more than the other languages, on average. However, the prayer hands emoji only makes up 0.8% of their emoji, compared to an even lower 0.2% average across all languages. "But while Hinglish users are the undisputed party animals of emoji, it's a different story when it comes to affairs of the heart. In fact they come bottom across all languages for heart-shaped emoji. So what does this tell us? Live fast, love 'em and leave 'em? Party hard but don't fall hard in love?," adds SwiftKey.
SwiftKey's Catalina Hallett comments: "Emoji are spread by word of mouth, or in this case word of keyboard. They tend to spread within groups of users that come into verbal contact first - so group of friends and their social network then the wider network or country. Since they are language-independent, I suspect the use of certain emoji will spread much more quickly than language slang and will cross country boundaries much more easily."
The findings in this report came from an analysis of aggregate SwiftKey Cloud data over a four month period between October 2014 and January 2015, and includes both Android and iOS devices. The report looks at 15 new languages and analyzes emoji use among Hinglish speakers for the first time, based on the language installed on their device.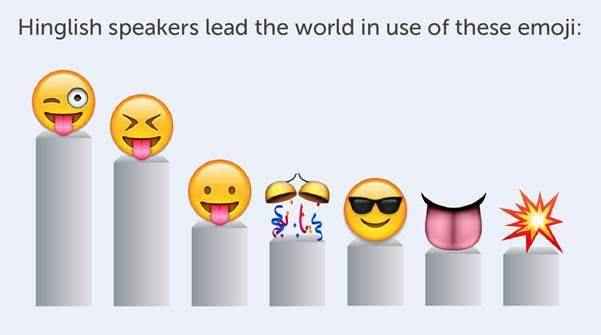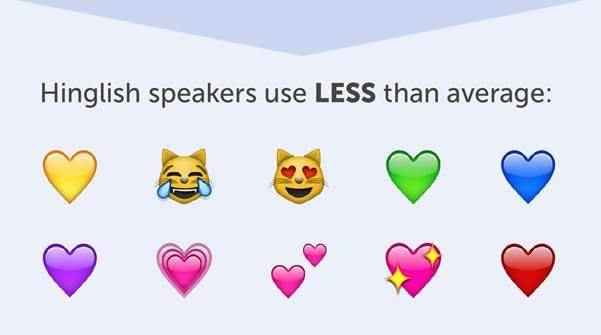 Other Popular Deals
Samsung A7 2016 Edition Golden

Rs. 18990 *

Buy Now

Mi A2 (Black, 4GB RAM, 64GB...

Rs. 13999

Buy Now

Nokia 1 (Dark Blue, 1GB RAM,...

Rs. 4000

Buy Now
*Includes Cashback
​