Ministry of External Affairs will soon be launching an upgraded version of its mPassport Seva app to allow users to apply for passports as well as pay the pay the passport application fee via their smartphones.
The government had launched the mPassport Seva app earlier this year. The app will let users log in, file the application and track their application status through their smartphones.
The mPassport Seva can be downloaded free from www.passportindia.gov.in. The app allows users to track their application status, view the complete tracking process, get complete information about the nearest Passport Seva Kendra (PSK) as well as get general information regarding the procedure for passport application.
Golok Kumar Simli, principal consultant and head (technology), ministry of external affairs stated, "The facility to help applicants fill passports and make payment through the app should be available in one to one-and-a-half months". He added that users will still have to carry hard copies of the documents required to the passport seva kendra after an ARN number is generated and an appointment is fixed. Simli said that the app was being developed by Tata Consultancy Services and will be handed over to MEA later.
The app will let users apply for passports via their Android mobile phones. Users will also be able to make passport application fees online via their credit or debit cards. The applicant can then visit the nearest PSK and collect their allotted 'application reference number'. The number of passports issued this year has increased to 85 lakh this year as compared to 74 lakh passports issued last year, an official added.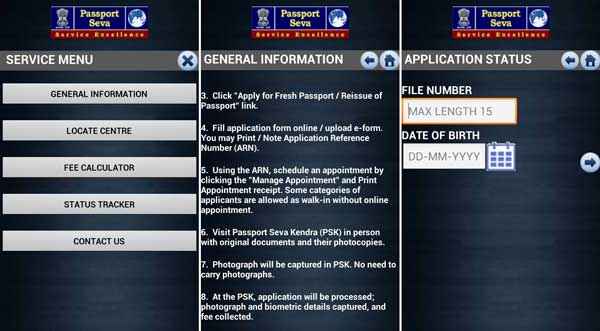 Source: ET