A string file in the latest Google Play store update's Android application package hints that the store may come with a built-in malware scanner in the near future.
According to Android Police, the string file has mentions of an "App Check", along with various menu popups such as "Allow Google to check all apps installed to this device for harmful behavior?" and "Installing this app may harm your device." As a result, it is rumoured that Android devices will be soon have the ability to check out apps before installing, or users get a warning if there's anything suspicious. Android Police speculates the new feature is related to Google's recent takeover of Virus Total.
Back in February, Google had introduced Bouncer, a feature that automatically scanned new and existing applications on the app store. The feature however alerted the developers about possible problems with their apps. The new "App Check" option is likely to focus on notifying the average Android users about such suspicious content.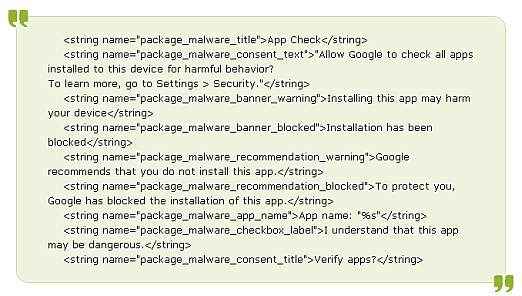 String file spotted by Android Police
Security firm Sophos has said that it welcomes the news if it is true. Talking to the Inquirer, Sophos security researcher Graham Cluley said Google is finally considering malware as a genuine threat to the Android OS.
"Anything Google can do to help better protect Android users against the growing tide of malware on the platform has to be encouraged," Sophos security researcher Graham Cluley said. "It's a real turnaround from what senior Google people were saying late last year, when they called anti-virus vendors 'scammers and charlatans'."
Also read,
Developers can now offer in-app subscription trials on Play Store
Google releases checklist for better quality tablet apps
Jelly Bean now on 1.8 percent Android devices; ICS crawls up to 23.7 percent