Google has updated its Gmail app For IPhone and iPad with a number of new features including multiple account support and a neater interface, which is said to be inspired by Sparrow's Gmail app. Google had recently acquired the company and had assigned its employees to work on Gmail.
Apart from the cleaner look, Google has brought in a number of new features to the app that make it easier to use. Now messages now display a contact's profile image on Google . The details of each contact participating in a group chat is shown immediately.
The updated app allows users to RSVP to Google Calendar invites and 1 and comment on Google posts directly from the app. The inbox scrolls infinitely as you swipe through your inbox, which is considered to be a major improvement on loading it screen by screen.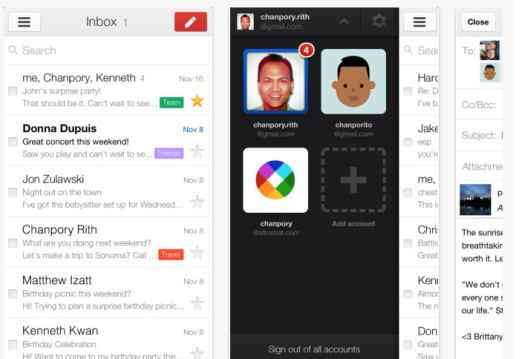 Other two features are autocomplete suggestions that help in completing e-mails faster and the other, the most notable one, is support for multiple accounts.
The two final features are general, but welcome, improvements. The first is the addition of autocomplete predictions to help complete emails faster. It will also catch all those nasty typos that frequently make their way into emails sent from mobile devices.
Users can download the updated Gmail app for iOS here.