Google this week rolled out an important update to its Translate app for Android platform. The update focusses on making it easier to access the commonly used translations on the go.
Google Translate allows users to save their translations into a section called Phrasebook, but before this update it couldn't be accessed from the phone or tablet. The update enables automatic syncing of the saved translations into Phrasebook on Android devices.
"When you're traveling in another country, you want quick access to your favorite translated phrases — whether it's 'Where can I find a museum?' or 'Do you know where the bathroom is?' the Google Translate team says in a blog post. "With your favorite phrases synced across devices, we hope you'll never be at a loss for words again."
Users can sync their phrases by choosing "Phrasebook" in the app menu, then tap the "Sign in" button to log in to Google account. Users will see the updated Phrasebook replaces the old format, having all the saved translations.
Apart from Phrasebook syncing, Google Translate for Android now supports camera input for 16 new languages Bulgarian, Catalan, Danish, Estonian, Finnish, Croatian, Hungarian, Indonesian, Icelandic, Lithuanian, Latvian, Norwegian, Romanian, Slovak, Slovenian, and Swedish. Download the updated Google Translate for Android from here.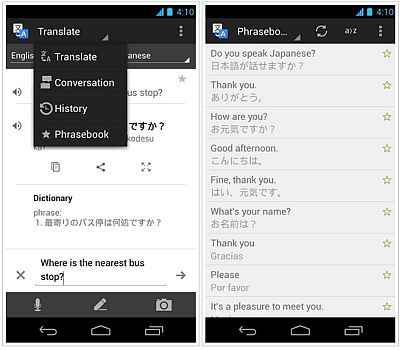 Google has also added new languages to its desktop version of the service. The five new languages that have been added are: Bosnian, Cebuano, Hmong, Javanese, Marathi. Now Google Translate supports more than 70 languages.
With the inclusion of Marathi, Google now supports eight Indian languages - Bengali, Gujarati, Hindi, Kannada, Tamil, Telugu and Urdu.