Google has announced the Google Play Games app at Google's 'breakfast' event with Sundar Pichai. The app connects you with your friends by noting achievements, games played, apart from managing leader boards, and also suggesting new friends.
The Google Play Games app presents all of your installed games in one organized view and allows you to compare scores with friends connected through Google . The app serves as a companion hub and portal for the Google Play Games Services, announced at I/O earlier this year. The service allows developers to include cloud saving, multiplayer features and achievements in to their apps.
The app is Android's answer to Apple's Game Center. Just like Apple's Game Center, the Google Play Games app lets you enjoy gaming on your mobile device. You can compete with friends, discover what your friends are playing and much more through the Google Play Games app.
The Google Play Games app is available on the Google Play store. Users can download the app on their smartphone and tablets with Android 2.3 or higher. The app comes pre-installed for Google's new Nexus 7 tablet launched earlier today.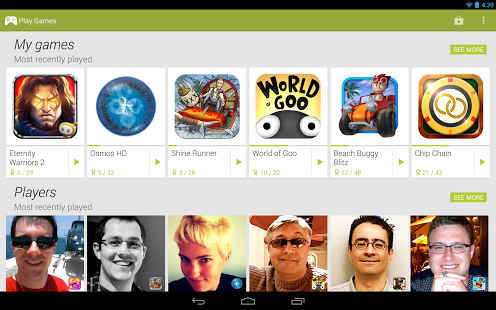 Source: Google Play