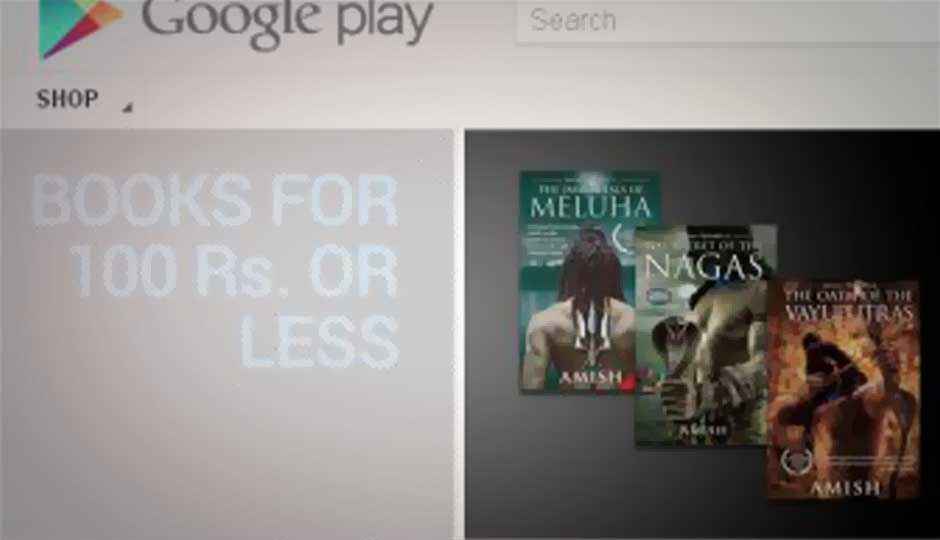 Google has finally launched its Play Books store in India, allowing users to buy and download books from Google Play Store's website or its mobile apps. Google claims that its book catalogue is about 5 million titles strong and includes books that are priced as low as Rs. 50 (along with some free titles). We took some time to try out Play Books on the PC, on Android smartphones and on an iPhone. Here are some of the things we noticed:
The Play Store has an impressive collection of books by Indian authors including new best-sellers like "The Shiva Trilogy" by Amish Tripathi and "Sachin: The Story of the World's Greatest Batsman" by Gulu Ezekiel and older popular books by Indian authors like "English, August" by Upamanyu Chatterjee and "Big Book of Malice" by Khushwant Singh.
However, we noticed that it also lacked some well-known books from authors like Chetan Bhagat and Shashi Tharoor. Hopefully, this will be addressed soon by Google.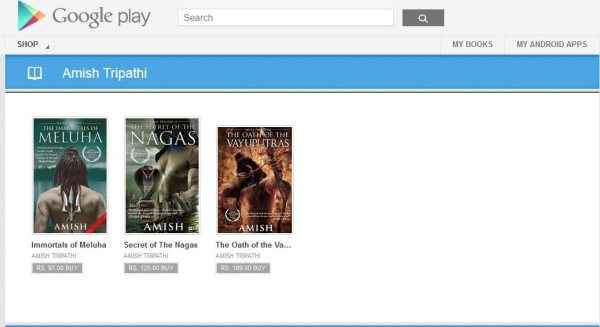 The Play Store also has plenty of books by foreign authors but even that catalogue seems to be missing some really popular names such as Stephen King and Robert Jordan.
We noticed there was something strange about the book prices as well. While books by Indian authors are priced reasonably, a large portion of the international catalogue is priced quite high. For instance, the eBook version of Dan Brown's "Angels & Demons" is available on the Play Store for Rs. 671 whereas Flipkart is selling the same eBook (over its Flyte service) for Rs. 239. It does appear like in many cases the books on the Play Store are being assigned prices that have been directly converted from their dollar/pound value.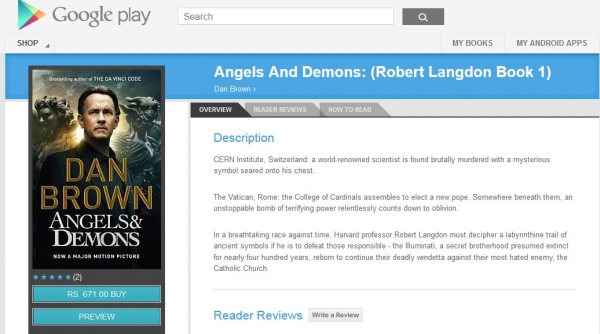 As mentioned above, you can read books bought on the Play Store across devices running Android and iOS and also on your laptops or desktops. For this purpose, Google has released dedicated apps on both the Play Store and the iTunes App Store. We tried out the app on an iPhone 4S, a Nexus 4 and a Micromax Canvas HD and realized that the app gave the best experience on the Nexus. On the Canvas HD's 5-inch display, we noticed that at times the app would force an incorrect page break, that would make text run over to the next page even when it shouldn't.
Google Play Books on Android and iOS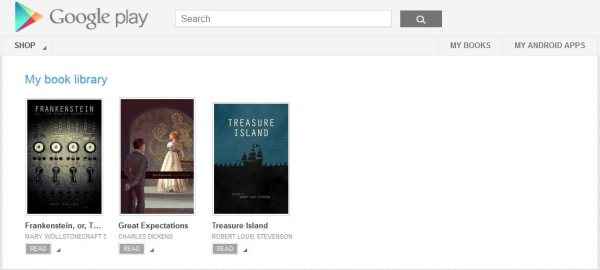 Google Play Books on PC

On the iPhone 4S, the app works well and formatting isn't an issue but there are a couple of disadvantages. The first and more serious one is that, as mandated by Apple, you can't buy books directly from the app. In fact, due to Apple's (dumb as hell) policy, Google hasn't added even a link to its Play Store website. As a result, if you want to buy a book, you'll need to open the browser and manually go to the Play Store website. The second disadvantage is a little subjective as we felt that the iPhone 4S' 3.5-inch display was a little too small for comfortable reading.
Buying a book from the Play Store makes that book available to you across all your devices where you have logged in using your Google account. What's even neater is that Play Books remembers the page you were on in a book when you stopped reading, and lets you read from that page even if you're doing so on a different device.
Although it was only launched yesterday, there's already plenty to like about Google Play Books. If you own an Android device, you owe it to yourself to use this service. It will be interesting to see how Google improves the store over the course of the year while competing with other services like Amazon's Kindle and Flipkart's Flyte.